Listen to season two of "A Little Green," an Avocado Green podcast featuring stories of lives saved, changed, inspired, and transformed by the power of nature.
Listen on Apple Podcasts
Listen on Spotify
Listen on Google Podcasts
Listen on Stitcher
"Save the planet." It's a simple, yet powerful phrase for the environmentally conscious.
We're at this watershed moment in the climate crisis. And it's no secret we're here because we haven't always shown up for the planet. But the planet has always shown up for us. So for season two of A Little Green, we're reconnecting with the environment by exploring personal experiences of how the planet has saved us.
Real stories, told by the people who lived them — of lives saved, changed, inspired, and transformed by the endless power of nature and this beautiful planet we call home. Join us on the journey.
Listen to all eight episodes of A Little Green Season 1 here.
Episode 1: Sailing the World to Save a Culture
"One of the powers of this little canoe…is keeping these really important parts of our culture, our history, and our traditions alive." —Lehua Kamalu
Thousands of years ago, Polynesian seafarers did something remarkable: they navigated their way across endless miles of open ocean guided only by the stars, the wind, and the sea, ultimately arriving in Hawaii. As a child, Lehua Kamalu grew up hearing this epic story, and in 2022, she was the first woman to captain and navigate that ancient route. To kick off season two of A Little Green, Lehua shares how one historic canoe and its crew could help preserve Hawaiian culture and the health of our planet.
Visit www.hokulea.com to learn more about the Polynesian Voyaging Society.
Related Stories:
Hokule'a, The Hawaiian Canoe Traveling The World By A Map Of The Stars
Why You Should Care About Slowing Ocean Currents
---
Episode 2: The Power of Hiking
"It was almost the revelation of my own humanity." —Mike Furhmann
Spending just two hours a week in nature can improve your mental and physical health. That's the conclusion researchers at the University of Exeter Medical School came to in their 2019 study. That analysis would change Mike Furhmann's life forever. After struggling with anxiety and depression, he would go on to hike more than 13,000 miles of the country's most spectacular trails. Along the way, he learned to manage his mental health, was inspired to pick up a camera, and made lasting connections with fellow wanderers.
Content Warning: This episode contains a brief discussion of suicide, which may be upsetting to some listeners. If you or a loved one is in crisis or having thoughts of suicide, help is available, please call 988, the National Mental Health and Suicide Prevention Hotline, or visit their website at www.988lifeline.org.
Visit www.portraitofahiker.com to follow Mike's journey.
Related Stories:
How Covid-19 Brought Us Back to Nature
How Park Prescriptions Improve Health
A Beginner's Gear Guide to Backpacking
The Mind-Body Benefits of Vitamin D
---
Episode 3: Camping to Save a Marriage
"Nature saved my spirit, saved my marriage, and created a safe place for me to…find purpose and meaning in what life really is about." —Necota Staples
Sonya and Necota Staples fell in love in college, got married, and bought a house in the suburbs of Atlanta. But happily ever after wouldn't be that simple. They went on a camping trip that changed the trajectory of their marriage, and their relationship with nature, forever.
Follow @staplesintents on Instagram or visit staplesintents.com to follow their work.
Related Stories:
How 'Black Folks Camp Too' Is Making the Outdoors More Inclusive
How to Stay Active Outdoors in Winter
---
Episode 4: How an Endangered Butterfly Inspired Hope and Healing
"You have to figure out how to use your wings and what they're for." —Nichole Alexander
Nichole Alexander spent three years raising endangered butterflies while incarcerated. The butterflies weren't the only beings that metamorphosed along the way. Nichole had experienced immense loss and years of discouragement within the prison system. Nature provided respite, a healing environment, and a newfound confidence that would inspire Nichole to better her community and make the world a more just place.
Visit sustainabilityinprisons.org to learn more about their programs.
Related Stories:
What Is Intersectional Environmentalism?
8 Ways to Increase Outdoor Recreation Diversity
5 Things You Can Do For Bees This Summer
7 Essential Mental Health Podcasts
---
Episode 5: How Poetry Is a Form of Climate Activism
"That started my journey to being an activist and an artist." —Elizabeth Shvarts
In 2022, the State of New York named Staten Island's Elizabeth Shvarts its Poet Laureate. Ten years earlier, her home was destroyed by Hurricane Sandy; the experience opened her eyes to the devastating impacts of climate change at a young age. Elizabeth devoted herself to poetry and channeled her exceptional gift into climate action, becoming part of a community of young people driving change.
You can follow Elizabeth on Instagram @elizabeth.shvarts.
Related Stories:
Why the Number of Climate Migrants Will Continue to Rise
Using Art to Process Eco-Anxiety
How Climate Cafes Are Helping People Deal With Eco-Anxiety
How Creativity Makes Us Happier
---
Episode 6: How Birding Makes Nature Accessible For All
"Oh my gosh, this is my very best self. And I am happier than I have ever been." —Virginia Rose
Virginia Rose grew up loving nature. She rode horses and went backpacking with her family until a sudden accident changed her life forever. Virginia would go on to pursue a career in education. After retiring, Virginia found an unlikely hobby that would reconnect her with the outdoors and with an integral part of herself. Her experience would launch a movement to make nature more accessible for all.
Visit birdability.org to learn more about Virginia's work.
Related Stories:
What Does Leave No Trace Mean?
---
Episode 7: Cultivating Happiness With Organic Farming
"It's a connection with Mother Nature and it's a way to find yourself." —Javier Zamora
As a child in Michoacán, Javier Zamora remembers planting radishes and picking citrus. When he came to L.A., he built a comfortable life for himself and his family, but everything changed when the 2008 recession hit. We follow Javier through the ups and downs of his journey and how he ultimately found his way back to tending to plants and his community.
Check out Javier's farm and learn more about organic farming at jsmorganics.com.
Related Stories:
Why Regenerative Agriculture Produces Healthier Soil and Farms
Why Local Farmers Need Our Support Now More Than Ever
How to Support the Slow Flowers Movement
How Food Forests Help Solve Food Insecurity
---
Episode 8: How Nature Connects Us With Our Authentic Selves
"I am part of it, and it is part of me." —Lance Garland
Lance Garland was supposed to get married at 18 and become a preacher. But that was never really in the cards for him; he knew early on that he was gay. Inspired by writers like Jack Kerouac, he forged his own path and found himself in the wilderness. In the season finale of A Little Green, Lance takes us on his first backpacking trip, one that would empower him to embrace his authentic self and share his story with the world.
Read more of Lance's work at lancegarland.com.
Related Stories:
How Brave Trails Creates Safe Spaces For Queer Youth
How Healthy Forests Benefit All of Us
The Nonprofit That's Building Community with Sustainability
Do you have a story to share? Tell us how nature has changed your life @avocadogreenbrands on Instagram.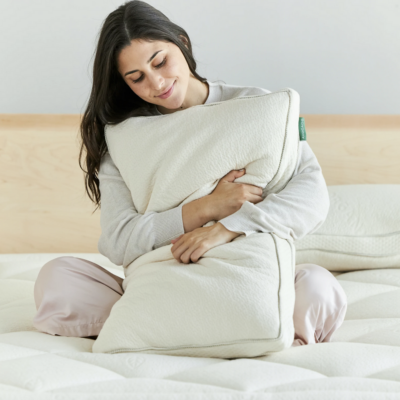 Shop Pillows
The Essential Organic Pillow Collection
Gentle, breathable, non-toxic support.
Buy Now