In the food desert neighborhood of Browns Mill in Atlanta, Urban Forest, the largest food forest in the country, provides the community with access to fresh, affordable produce, and herbs.
On seven acres in the Browns Mill neighborhood of Southeast Atlanta, anyone can show up and pick community grown fruits, vegetables, mushrooms, healing herbs, nuts, and more. They can meet neighbors and volunteers who come to care for the plants and gather food of their own — and they don't have to pay a cent for any of it.
It sounds like something out of utopian fiction, but it's very real. Currently, the Urban Forest at Browns Mill is the largest in the U.S., boasting at least 100 fruit trees and 30 garden beds. And it may be a huge step toward — and future model for — increasing food security around the country.
Read more: This Permaculture Garden Is Healing a Town
Access to nutritious, affordable food is often a matter of geography, and it disproportionately favors wealthier and whiter areas. The Browns Mill Food Forest exists to address these disparities in one part of Atlanta; as of 2019, about 30 percent of the city lives more than half a mile away from fresh food, and Browns Mill itself is considered a food desert.
Nationally, about 5.6 percent of Americans live in a low-income community with low access to fresh, affordable food, according to a 2017 study. Many food deserts are likely to be in remote rural or urban areas; they may be underserved because they're farther away from distribution centers or considered undesirable places to build grocery stores and supercenters. It's also possible for a place to be considered a food desert even if options exist, because residents themselves are disenfranchised from accessing nutritious food; there may not be good public transportation options in place to reach those stores, or residents simply can't afford the food available for purchase.
Community gardens, urban farms, and increasingly common food forests can fill that gap by producing food right where it's most lacking — and often offering it at a much lower price or for free. Some studies have estimated that utilizing vacant lots to produce food could meet a significant amount of major cities' needs, not only for produce but also products like eggs and honey. Gardening or farming in food deserts also offers many other benefits — like the simple fact that gardening decreases stress and that the organizing required to create these spaces is likely to lead to action on other community issues.
Catherine Bukowski and John Munsell write in The Community Food Forest Handbook that the first food forest opened in 1997 in Asheville, North Carolina. By 2018, there were as many as 70 food forests in the U.S. Food forests expand on the concept of community gardens, which are estimated to have been around since the 1890s. "An on-the-ground, physical food forest mimics the spatial and functional patterns of a naturally occurring forest ecosystem," Bukowski and Munsell write. "The term food forest signifies a highly integrated community of plants that has various vertical and horizontal plant and root layers that provide edible products." The forest utilizes space from bottom to top, or rather from root vegetables, fungi, herbs, shrubs, and flowering plants up to smaller fruit trees and a "canopy" of large fruit and nut trees.
A food forest not only provides a larger and wider variety of foods than community gardens, but eventually grows to become a beautiful, shaded neighborhood hangout, too. In addition to fresh produce, the Browns Mill forest offers walking trails and blooming flowers that attract birds and butterflies. There are also community cooking or gardening classes, as well as some paid employment and training opportunities for residents. And it puts "local" first in just about every way you can think of, including the fact that it was previously a family-run pecan orchard — how much more Atlanta can you get?
Food forests democratize the kind of farm-to-table, holistic-lifestyle mindset that is so often only available to those with plenty of disposable income. Part of what makes Browns Mill so revolutionary is that it allows easy access to produce that has a deep sense of place, like healing herbs, in-season produce, and native plants like black walnut and mulberry trees that have been around since the property was a farm.
In fact, according to AgLanta, the City of Atlanta's urban agriculture hub, the previous owners of the Browns Mill Farm, Ruby and Willie Morgan, used to leave extra produce on their fence posts for anyone to pick up. In that way, the Browns Mill Food Forest follows in a legacy of urban agriculture that's ultimately built on the concept of neighbors helping neighbors.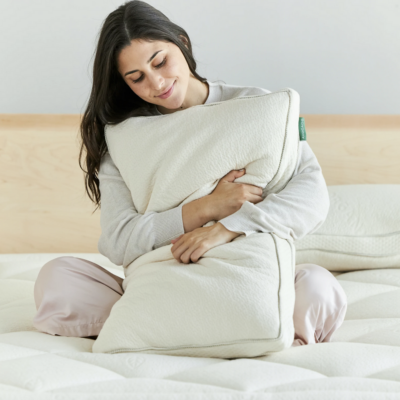 Shop Pillows
The Essential Organic Pillow Collection
Gentle, breathable, non-toxic support.
Buy Now