Climate change is affecting coffee quality and production — and making prices soar.
The scent of freshly brewed coffee evokes different memories and feelings: hectic commutes, slow mornings watching snow fall, late nights cramming for tests… and perhaps a note of anxiety? That may not be just the caffeine talking; concerns about the future of coffee (even down to its flavor) are rising along with its price, thanks, in part, to the effects of climate change.
Coffee is one of the most popular beverages in the world. Its complex flavors rely on a delicate balance of environmental factors and resource-intensive farming practices — both of which don't bode well in a world more intensely affected by climate change. It requires 37 gallons of water to produce about one cup of coffee, according to the United Nations' Food and Agriculture Organization.
"Harvest seasons for tea and coffee plants are shifting. This makes it really hard for farmers to plan. Climate change is also burdening farmers with a loss of crops in some seasons as well as changes in quality."
As a crop, it's also sensitive to fluctuations in temperature and moisture, making it particularly vulnerable to unpredictable weather patterns already affecting the top coffee production areas in the world. A 2014 study predicted that climate change could reduce the amount of land suitable for growing coffee by about 50 percent by 2050.
Read more: Why Regenerative Agriculture Produces Healthier Soil and Farms
Brazil, in particular, is the world's largest coffee producer and is experiencing its worst drought in nearly a century. Not to mention recent supply chain issues that have hit coffee prices hard. In December 2021, coffee prices rose to the highest they've been since 2011 and represented the highest price increase of any commodity in 2021. For farmers, these changes are far more devastating than for consumers who may be paying slightly more for a daily latte.
"Harvest seasons for tea and coffee plants are shifting. This makes it really hard for farmers to plan," says Selena Ahmed, an ethnobotanist and professor of sustainable food systems at Montana State University. "Climate change is also burdening farmers with a loss of crops in some seasons as well as changes in quality."
Ahmed has been studying another complex aspect of how climate change is affecting coffee, both for growers and drinkers: quality, as in flavor, aroma, caffeine level, and other factors that make up the experience of consuming coffee. "Think about a cup of really good coffee that smells amazing, tastes delicious, and makes your body feel good," says Ahmed. "Now think about a bad cup of coffee that smells and tastes kind of strange and weak." That's what's at stake when growing conditions change.
The attributes of a good cup of coffee, she says, are largely determined by phytochemical compounds that plants produce, which are sensitive to changes in the growing period and are also affected when plants are processed for our consumption. "Crop quality is fascinating to examine because it influences the flavor, nutritional and health attributes of food and beverages," says Ahmed. "So much of our food is flavorless these days — and this is directly related to agricultural practices and environmental factors."
Read more: How to Be a Climate Activist
In a Frontiers in Plant Science paper published in October 2021, Ahmed and her co-authors carried out a systematic review of existing studies that observed coffee quality in relation to environmental and agricultural factors like water stress, carbon dioxide, and temperature. They found two factors most strongly connected with the sensory attributes of coffee. Increased light exposure decreases quality, according to one study they cited. Improper shade of coffee plants "was associated with brewed coffee that was bitter, grassy, astringent, and lacking aroma." Increased altitude, meanwhile, improved quality, an observation that fits alongside the reality that many coffee growers at lower elevations are already increasingly vulnerable to the effects of climate change.
But, the researchers point out, the possibility that many coffee growers will need to relocate their operations to respond to climate change presents all kinds of difficulties. Aside from the obvious economic considerations, they cited "socio-cultural challenges associated with moving small-holder communities who may have knowledge and identity tied to a place." Those more intangible aspects of climate adaptation hit close to home, says Ahmed. In Montana, her research has linked climate change with increased mental health concerns for farmers and ranchers.
Read more: How Fairtrade Protects People and the Planet
Unfortunately, climate change will continue to make stressful growing decisions more and more of an economic necessity. Ahmed has spent time researching the other popular source of caffeine — tea — and she and her colleagues found that increased monsoons in southern China are associated with decreased flavor attributes in tea grown there. "Consumers are willing to pay less for this tea, and this tremendously impacts farmer livelihoods," she says.
When it comes to everyday ways to address these challenges, coffee drinkers can keep an eye out for certifications — like Fairtrade, USDA Organic, Bird-Friendly, and Rainforest Alliance — to ensure they're economically supporting vulnerable growers and farms as well as sustainable practices that support biodiversity.
Whatever the future holds for coffee production, it's clear that one of the world's most essential beverages will be a bellwether for how climate change will affect our most critical food systems.
Read more: How to Limit Plastic Waste With Your Morning Coffee
Have feedback on our story? Email us at [email protected] to let us know what you think!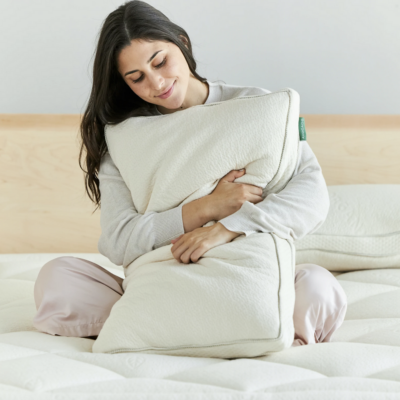 Shop Pillows
The Essential Organic Pillow Collection
Gentle, breathable, non-toxic support.
Buy Now