Upgrade your bed with a mattress topper and say goodbye to tossing, turning, and that sinking mattress feeling.
When we finally slip under the sheets at night, we want to be instantly comfortable, feel tension melt away, and drift off into restorative slumber. But if your mattress is too firm, soft, or is starting to sag, a restful night's sleep is likely just a daydream. 
Enter: the mattress topper, an affordable and easy way to level up the feel of your bed, prolong its life, and add a touch (or more) of support.
Toppers come with a range of constructions, so you'll want to find what that suits your needs. Here are our favorite mattress toppers for every type of sleeper.
Read more: Signs It's Time to Replace Your Mattress
1.
Eco Organic Mattress Topper
Best For: Back and stomach sleepers on a budget.
Featuring a super accessible price point and two different thickness and firmness options, our Eco Organic Mattress Topper is made to match every budget, sleeping style, preference, and body size. The 2-inch construction adds pressure-point relief and an extra layer of comfort, while the 3-inch design delivers the same benefits but with more loft.
When it comes to firmness, the medium-feel Eco Topper — crafted with GOLS-certified organic latex — delivers the ideal support for back and stomach sleepers. Alternatively, the plush-feel version is perfect for side and stomach sleepers. Made with soft, FSC®-certified Talalay latex, it's more contouring and alleviates shoulder and hip pain. No matter which Eco Topper you choose, rest easy knowing it's certified organic.
2.
Organic Latex Mattress Topper
Best For: Back sleepers who need added support.
Also available in two feels, our 2-inch Organic Latex Mattress Topper marries GOLS-certified organic Dunlop latex with GOTS-certified organic wool and an internally quilted ticking made with GOTS-certified organic cotton to provide cushioning support that cradles the body's natural curves. Is your mattress too soft? Our firm topper (D75 medium-firm latex) adds gentle support and resilience.
On the flip side, if your mattress is too firm, our plush topper (D65 soft latex) provides a more plush feel. Either way, we add a generous layer of certified organic wool to wick away moisture, add bounce, and allow air to circulate naturally so you can enjoy cool, relaxing sleep. Oh, and we also make a Vegan version of this mattress topper without the wool.
Read more: Why Latex Mattresses Cost More
3.
Alpaca Wool Mattress Topper
Best For: Combination sleepers looking for added pressure relief and cloud-like support.
Crafted without latex, our Alpaca Wool Mattress Topper adds a light, breathable layer to your bed. Our Standard version, which is medium-firm in feel, features two layers of GOTS-certified organic wool sandwiched between a thick, 2-inch layer of natural alpaca to provide supportive comfort. Four hand-stitched elastic straps keep the topper in place, so you don't have to worry about bunching or sliding while you sleep.
Want something softer? Our Luxury Plush version is plusher and features more loft. Lightweight and pillowy, we stitch the cover from GOTS-certified organic cotton in a 233 thread count percale weave to prevent shedding of the alpaca. Inside, we generously stuff the topper with silky, natural baby alpaca fiber — a reference to the finest, softest wool on the animal, not its age — ethically sourced from the Peruvian Andes.
Read more: Why We Love Alpacas
4.
Luxury Organic Mattress Topper
Best For: Sleepers who want to feel like they're at a 5-star hotel.
Our Luxury Organic Mattress Topper is our plushest topper — and the ultimate indulgence. We craft the topper with six luxurious layers of the finest natural and organic materials on the planet. It features a soft, 2-inch GOLS-certified organic latex core wrapped in four layers of premium, breathable fibers, including ethically sourced alpaca fiber, silk, GOTS-certified organic cotton, and GOTS-certified organic wool from our own Himalayan herds. The result is a best-in-class topper that will treat your body to cloud-like comfort night after night.
Read more: The Best Fabrics For Deep Sleep
Have feedback on our story? Email [email protected] to let us know what you think!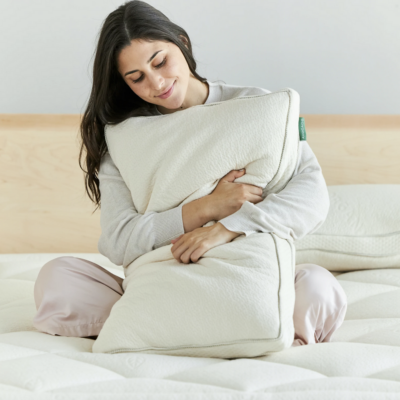 Shop Pillows
The Essential Organic Pillow Collection
Gentle, breathable, non-toxic support.
Buy Now