Ditch the booze and opt for a healthier, alcohol-free cocktail, aperitif, or glass of wine that tastes as good as the real thing.
My pandemic drinking habits have oscillated wildly. From the month I got way, WAY too deep into the art of cocktail making, to a self-enforced stint of cold turkey. Turns out — neither end of the spectrum felt great to me. I don't like hard no's, and I like having a drink to close out the day. It feels nice to take a pause and relax, but I don't always want to get a buzz.
Luckily, the drinking world is right there with me. According to the latest report by market research firm IWSR, consumption of beer, wine, spirits, and ready-to-drink products that contain little or no alcohol are expected to increase 31 percent by 2024. And a range of new no- or low-alcohol options have cropped up to answer the call, focusing on the social and health benefits of imbibing rather than drinking to get drunk.
Here are some of our favorite spirits and brews that are redefining what it means to have a drink.
1.
Athletic Brewing Co. Non-Alcoholic Brews
I started noticing a lot of runners I follow — like marathoner Molly Seidel — holding the same turquoise and yellow cans in Instagram photos. Upon further inspection, I realized they were drinking Athletic Brewing's non-alcoholic craft beers, which have won awards against full-booze IPAs. Founder Bill Shufelt says he liked beers, and he really liked going to bars and socializing, but he was sick of hangovers and the less fun side of drinking. So, he made it his mission to brew non-alcoholic beer that still tastes good. He nailed it. I'm partial to the Free Wave Hazy IPA.
It's hard to fake the tang and depth of wine without aging grapes, so Acid League — which makes what they call 'Wine Proxies' — isn't trying to fool you into thinking you're drinking a Pinot. Instead, they mix bitters, botanicals, fruit, and more to create acidity, body, and spice for a similar experience. They release three new proxies each month, and they brew up inventive flavors like springy, tangy Greener Grass, which incorporates Riesling grapes, licorice root, and verjus.
To make you feel good without making you feel drunk, Kin's line of 'euphorics' subs alcohol for adaptogens. Their canned Kin Spritz, for instance, is infused with Rhodiola Rosea — thought to support the balance of cortisol and nootropics — and is meant to supplement that hit your pleasure and reward neurotransmitters that alcohol targets. It also tastes like ginger and hibiscus, which is an added bonus.
4.
Hella Cocktail Co. Bitters & Soda
For one of my go-to no-booze liquid treats, I've been doctoring up seltzer water with some bitters — and maybe a Luxardo cherry if I'm feeling wild — for a sparkly, bubbly drink. Hella Cocktail Co. has elevated that mix with their line of canned Bitters & Soda. Each flavor — like the tangy Dry Aromatic, which gets its depth and digestive benefits from French gentian root — is complex and effervescent. You can fancy them up with fruit (or add alcohol!), but they're great on their own, especially, I think, for drinking outside.
5.
Ghia Non-Alcoholic Aperitifs
Recognized by their orange-y, mauve, pink-hued color, booze-free brand Ghia was inspired by Mediterranean aperitivos — the bitter, bubbly, low-alcohol cocktails that founder Melanie Masarin's family drank before dinner during summers at the beach. She sought to create a similar experience focused on slowing down and pausing your day to have a drink — but without the booze. Tangy Ghia Aperitifs channel the same tastes as the alcoholic version, but with herbal ingredients instead of spirits.
6.
Savyll Beverage Co. Alcohol-Free Cocktails
If you want your alcohol-free cocktail to actually taste like a cocktail, check out Savyll's line of canned and bottled drinks, which cut the booze without cutting anything else. Their Gin and Tonics, Palomas, and Moscow Mules mock the real thing without coming close to a sugary, immature mocktail you might get at a bar or restaurant.
Curious Elixirs has taken the alcohol-free cocktail and elevated it. Their five different elixir mixes loosely mimic traditional cocktails, but rely on adaptogens for the just-as-good-as-the-real-thing flavor. Elixir #1 is based on a Negroni, but instead of Campari and Gin, it includes some of my favorite botanical pick-me-ups like gentian and Rhodiola Rosea.
Read More: Why You Should Try Adaptogens
Chris and Rose Bax, a couple who spent decades teaching the culinary world about the power of wild herbs, have launched their own line of botanical, zero-alcohol spirits. They essentially made booze, but swapped ingredients that would infuse liquor with alcohol (say, potato for vodka) for distilled, organic, Fair Trade, and sustainably grown wild herbs to produce their bittersweet Sea Buckthorn and herbal Verbena spirits. They're slightly gin-like — so they taste great with tonic — and they're part of a growing number of botanical spirits. If you're sold, try out AMASS Riverine Spirits, which takes its tasting notes from the native plants of the Pacific Northwest, or Seedlip Distilled Non-Alcoholic Spirits that come in punchy varieties like Garden — think hints of peas, spearmint, and hops.
If you want to dial back the booziness, but don't feel the need to completely cut out alcohol, check out Haus's sophisticated, low-ABV aperitifs. They come in flavors like Bitter Clove and Ginger Yuzu and fall between whiskey and wine on the alcohol content spectrum, so you get a cocktail-like experience with less of the buzz. The idea is to be social, not sloppy, right?
Share your go-to zero-alcohol or low-ABV beverage with us by tagging Avocado Magazine on Instagram or Facebook with #avocadomagazine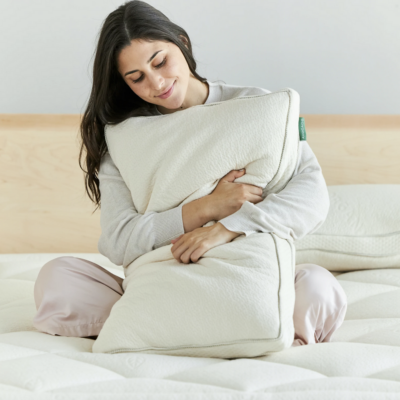 Shop Pillows
The Essential Organic Pillow Collection
Gentle, breathable, non-toxic support.
Buy Now