Collagen peptides, MCT oil, guayusa — we're no stranger to natural foods and supplements around here, but adaptogens?
This one was a new one for me.
As more and more of these supplements kept cropping up, I knew it was time to do a little digging and take them for a spin.
What Is an Adaptogen?
Adaptogens are a classification of herbs that, in a nutshell, make it easier for your body to deal with stressors.
Whether it's the pollution in the air or the junk in your diet, adaptogens have actually been scientifically proven to help the body handle physical, chemical, and biological stress more readily.
Often used for their anti-aging benefits, adaptogens go way back in ancient Chinese medicine, and have now made a comeback as a healthy and beauty superfood. Their unique properties make you more resistant to mental stress, fatigue, depression, anxiety, give you more energy, and can even make your brain sharper and more focused.
How Stress Affects the Body
The overall benefit of ingesting adaptogens is that they're so good at helping your body cope with stress — but what does that even mean?
Stress is more than a negative balance in your checking account or running late for work, it's a series of circumstances, some environmental, but many biological, that cause your body to struggle to keep up.
The results can be scattered and seemingly unrelated to the root cause, ranging from rapid aging to mental fogginess.
With your average pharmaceutical medication for coping with the symptoms of stress causing a plethora of side effects on its own, adaptogens offer a safe, natural alternative that's surprisingly effective.
Studies conducted during World War II on military pilots even showed that adaptogens helped with their focus and performance during highly stressful situations. With the resurgence of this information, adaptogens are being touted as a safer, better, and even cheaper alternative to medications and other therapies.
Meet Moon Juice
To learn more about adaptogens and see how well they worked firsthand, I reached out to the medicinal food expert over at Moon Juice.
Moon Juice was founded by Amanda Chantal Bacon after she had used adaptogens to cure her hypothyroidism. She turned her passion for food as medicine into a company that sells beauty foods and natural remedies in the form of protein powders, teas, skincare products, and snacks.
The founder's story captivated my interest, and I knew I had to give adaptogens a shot.
We Tried It
The good people over at Moon Juice sent me a few things to get me started, and I'll be honest, the whole thing was REALLY different to me. Here's what I tried:
Made with natural ingredients, including brown rice protein and blue spirulina, this protein powder was unlike anything I had ever tried. It was heavier, so I found it was best suited for baking and smoothies — it didn't dissolve into a plain cup of coffee.
There's only one ingredient in this supplement, and it totally took me aback: ground pearls. This calcium-rich extract is a fine white powder and can actually be brushed onto the skin or ingested — I tried a little bit of both.
This antioxidant rich supplement got added with my protein powder to my late-morning smoothies most days. It has a nice, light berry taste with key ingredients like Goji and Schisandra Berry.
Aging, Pores, and Not Enough Energy
I went into my little two week trial not expecting to notice much of a difference. I'm not the picture of health, but I exercise three to five days a week, eat at least a couple of servings of vegetables a day, and put collagen protein powder in my coffee every day.
For this little experiment, I reduced my collagen protein powder to a couple of times a week, and instead committed to using all of these supplements in tandem — usually every day.
I'm reasonably healthy, but work and kids get the best of me sometimes — by about 3 pm most days, I could definitely be persuaded to go to bed. I've been fortunate enough not to have many acne problems, but my addiction to full-coverage concealer has enlarged the pores on my face quite a bit, and the lines under my eyes have become distinctly more noticeable.
In other words, I'm 28 years old, and my body is starting to show some small signs of aging.
Did It Work?
That said, when I started working Moon Juice's adaptogens into my routine, I noticed an almost immediate difference. Before lunch and my afternoon run, I'd make my morning smoothie with the protein powder and Beauty Dust.
In the evening, I'd wash my face, put a bit of coconut oil on my eyes, and dust my skin with the Pearl powder formula.
The results started becoming apparent almost immediately with the Pearl powder — my skin was tighter, smoother, clearer, and my pores were noticeably reduced. In the afternoons, I didn't have to talk myself into a run anymore. My energy levels soared, and it's apparent to me now that my insane productivity during that period was likely another benefit that snuck past me.
In short, this stuff works, and it's officially part of this busy, tired mom's routine.
Sustainable Sourcing
There's something that feels very bougie about dusting pearls onto your face every night, and a part of me wondered, Should I feel bad about this?
What's really great about Moon Juice's products is that, high-end and deliciously body pampering though they may be, they're sourced 100% sustainably and ethically. Their superherbs and supermushrooms are sourced only from sustainable and organic farms whenever possible.
When organic farms aren't an option, get this: Moon Juice works with responsible suppliers to harvest the plants in the wild while preserving their population.
After the ingredients have been sourced and harvested, they're brought back to Moon Juice's processing facility in the PNW where' they're extracted with local spring water in a wind-powered process.
Adaptogens are the real deal, and Moon Juice's will make you feel good inside and out. Take them for a spin, and show us how you like to take them on Facebook or Instagram — @AvocadoGreenMagazine and @MoonJuice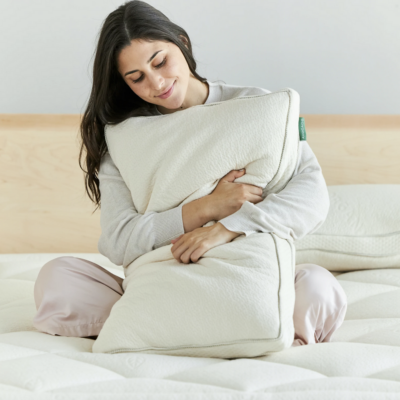 Shop Pillows
The Essential Organic Pillow Collection
Gentle, breathable, non-toxic support.
Buy Now