Alpacas are cute, cuddly, and easy on the environment. Plus, when ethically sourced, their wool is a superior renewable fiber that's better for farmers, consumers, and the planet.
Move over goats and sheep. We have a new favorite furry animal — the alpaca.
Not to be confused with their larger relative, the llama, these cute bundles of fluff are known for their docile, social personality and adorable, child-like features. But alpacas are actually an ancient breed that has been domesticated for more than 6,000 years by the Incas and raised for their fine fibers.
Alpaca fiber — or fleece — exhibits a soft silky texture that rivals luxury materials like wool and cashmere. And due to its versatility and comfort, the renewable fiber is becoming increasingly popular in the apparel industry. Even better, it's considered to be one of the most sustainable materials when sourced ethically.
Here are a few more reasons to love alpacas.
Super Soft & Strong
Alpaca fiber possesses special characteristics that make it softer and stronger than sheep's wool. More hair-like than wool-like, each fiber contains a hollow center that gives it a lightweight yet flexible quality. And compared to its cashmere counterparts, alpaca fiber is less prone to pilling.
This unique structure also makes alpaca fiber exceptionally thermal-regulating, so you can wear your favorite alpaca sweater in any climate and throughout the seasons — no sweating in the summer or shivering in the winter. Another perk? Since it doesn't contain any lanolin like wool, alpaca fiber is hypoallergenic, less itchy, and extremely cozy.
Alpaca fabric is also naturally odor and wrinkle-resistant, as well as water and stain repellant, which makes it easy to care for. A quick hand wash is sufficient to keep your clothes clean and fresh over time. Plus, thanks to the magnificent, durable quality of these fibers, garments made from alpaca are long-lasting investment pieces that you can expect to wear for years to come.
Read more: Why Rayon Is Such a Harmful Fabric
Low Environmental Impact
Beyond its versatility and functionality, natural, untreated alpaca fiber is entirely biodegradable, making it an ideal renewable resource for sweaters, sweatpants, throws, duvets, and mattress toppers. And because alpaca is available in 22 naturally occurring colors, designers and consumers alike can enjoy a variety of stunning hues without having to worry about toxic dyes or chemicals during processing.
Avocado
Alpaca Duvet Insert
279.00
Shop
That's why Avocado only uses 100 percent baby alpaca fiber — a reference to the finest, softest wool on the animal and not its age — in our Alpaca Collection. By doing this, we allow the rich, natural Earth tones of the fiber to speak for themselves.
In addition to a garment's lifecycle, raising large herds of livestock has ecological consequences on the local habitat. However, unlike goats and sheep, alpacas are much gentler on the Earth. They have soft-padded feet and don't damage the root systems of the plants when they graze. Consuming only 1.5 percent of their body weight and small amounts of water each day, alpacas have a minimal impact on the environment they inhabit.
Avocado
Alpaca Long Cardigan by Hass
193.00
Shop
Read more: Why Organic Cotton is THE Thing You Should Always Buy Organic
Ethical Sourcing Supports Local Communities
The alpaca has long served as a significant symbol of Peruvian culture and history. Currently, Peru is the largest alpaca fiber producer in the world. About 85 percent of Peruvian alpaca farms are run by smallholders, which provide a vital source of income for rural communities. Unfortunately, the exploitation of small-scale farmers in developing countries like Peru is not uncommon in the supply chain.
To ensure that profits support local communities and that farmers are paid a living wage, Avocado sources materials from Pacomarca, a sustainable alpaca network and regenerative farm in the Peruvian Andes. Once a year, the team visits the breeders directly to shear the animals and purchase the fibers. By cutting out the middlemen, Pacomarca maintains 100 percent traceability of its products while empowering local farmers with training and humanitarian assistance.
Alpacas aren't just gentle animals that are calming to be around; they're easy on the environment and are better for workers, farmers, and consumers. And for many rural families in the Andean highlands, these mammals play an important role in their livelihoods.
So the next time you're wrapped up in a soft alpaca sweater or cozying up to an alpaca in real life, take a moment to appreciate how awesome these animals are.
Read more: The Incredible, Renewable Power of Linen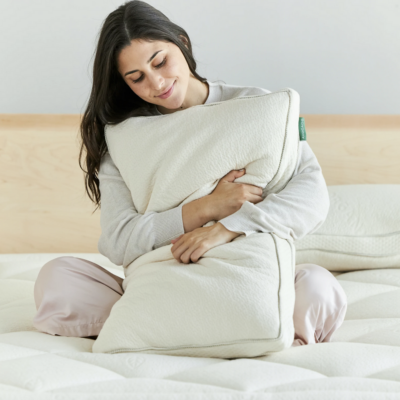 Shop Pillows
The Essential Organic Pillow Collection
Gentle, breathable, non-toxic support.
Buy Now