Natural, organic, and sustainable fabrics feel and sleep better — and are better for the planet, too.
The right mattress and pillows are game changers. But have you given any thought to the fabrics you're sleeping on — or in? Compared to their synthetic counterparts, natural, organic bedding and sleepwear are made without toxic chemicals, have a lower environmental impact, and just feel better.
For example, cotton, when not grown organically, is one of the dirtiest crops out there. It's cultivated and processed with harmful pesticides, fertilizers, and herbicides associated with cancer, asthma, and birth defects. Cotton also has a massive water footprint. It's estimated that it takes 712 gallons of water to produce one cotton t-shirt.
Other synthetic materials commonly used in bedding and sleepwear have their own problems. Polyester, acrylic, and nylon are all petroleum-based textiles whose processing produces the greenhouse gasses that contribute to climate change. Cellulose-based rayon — the third most popular textile in the world — requires highly toxic solvents to make and contributes to deforestation. One thing these textiles have in common? When produced, processed, and washed, they all shed microplastics into our waterways, soil, and air.
Sustainable, organic materials are softer, cozier, and more luxurious than anything synthetic. Plus, you can rest easy knowing the linens or loungewear you're slipping into aren't harmful for you, your family, or the planet.
Here are the best fabrics for sleeping and lounging.
Read more: Why Rayon Is Such a Harmful Fabric
1.
Lenzing-certified Modal 
Made from the pulp of beech trees — which require little water to thrive — Modal is a silky soft material originally developed in Japan. Lenzing-certified modal is the textile industry standard that verifies ethical and sustainable material sourcing and manufacturing. The cellulose-based textile is biodegradable, compostable, and produced through an eco-friendly, closed-loop process that recycles expended water as well as 99 percent of the non-toxic solvent used during manufacturing.
And because it's more durable than rayon and has a silkier quality than cotton, Modal is the perfect fabric for cozy pajama sets and robes.
2.
Organic Cotton 
Organic cotton really does matter. The farmers who grow GOTS certified organic cotton — which we use to make our impeccably soft Organic Cotton Sheets — don't use pesticides. The renewable textile also has about half the carbon footprint of conventional cotton and requires around 70 percent less water. GOTS also validates fair and ethical treatment for the farmers, which results in safer, more sustainable communities.
Cotton is also durable, breathable, and naturally wrinkle-resistant. If you're on the search for high-quality organic cotton sheets (or duvet cover), look for a 400-thread count or higher and a sateen finish that creates a satiny feel you'll want to wrap yourself in. For the ultimate in eco-luxury, you can't go wrong with 1,000 thread count organic cotton bedding made from Suvin cotton — one of the world's rarest extra long staple cotton varieties.
Read more: Why Cotton Is THE Thing You Should Always Buy Organic
3.
Silk
Don't let the lustrous, lightweight feel of silk fool you. This natural, biodegradable fabric is strong and durable. It's planet-friendly, too. Silk needs less water to harvest than other popular fabrics. And Mulberry silk, in particular, is ideal for pillowcases and comforters. Known for its exceptional quality, Mulberry silk is woven from the cocoons of domesticated silkworms that feed on the leaves of the mulberry tree, and certifications like Standard 100 by OEKO-TEX® ensure it's toxin-free.
Most people don't know that silk bedding is also hypoallergenic, thermoregulating, great for your hair and skin, and can even help prevent wrinkles by reducing tension on your face. Sounds like it's time to start sleeping with silk!
Read more: Upgrade Bedtime With a Silk Pillowcase
4.
Organic Linen
Ah, linen, the breezy fabric known for the best beach pants. Turns out, it's also one of the most sustainable fabrics out there. Linen is woven from the renewable stalks of the flax plant, one of the oldest cultivated plants in the world. The entirety of the plant is harvested (its seeds are common for baking), and, if untreated, the fabric is entirely biodegradable.
So it makes sense that this wondrous textile also makes incredibly cool and breathable bedding. Linen is weightier and more durable than cotton, with a textured feel and elegant drape. And when it's GOTS certified organic, like ours, you can sleep easy knowing it's responsibly and ethically grown without toxic chemicals or herbicides.
Read more: The Incredible, Renewable Power of Linen
5.
Organic Hemp
Hemp is a super plant. Even better, the fabric's durable, thermoregulating nature means hemp sheets and bedding will keep you cool in the summer and warm in the winter. Farmers have cultivated hemp for fabrics for thousands of years. Growing it requires a third of the land and a quarter of the water as cotton. Hemp is a regenerative plant. Its roots grow up to nine feet deep, so they return 60 to 70 percent of nutrients back to the soil. And like with other textiles, organic is always superior. Non-organic hemp requires intensive chemical treatments to process the plant quickly and cheaply. GOTS certified organic hemp, on the other hand, is held to the gold standard for environmental and social responsibility among fibers.
In addition to being immensely breathable, hemp bedding is hypoallergenic, antibacterial, has a similar, elegant texture to linen, and gets softer with each wash. Avocado's hemp bedding is also MADE SAFE® certified and stitched in a premium 165 gsm weight.
Read more: The History of Hemp
6.
Alpaca
Once reserved for Incan royalty, alpaca wool is now one of the most sought-after fibers in the world. It has the delicate texture of cashmere, the luster of silk, and the functionality of sheep's wool. Alpaca wool is also a high-functioning, lightweight material that's temperature- and moisture-regulating, flame-resistant, antimicrobial, and hypoallergenic — ideal characteristics for a duvet insert.
But when seeking out bedding made from alpaca wool, it's important to ensure it's made from wool that's ethically sourced. Our all-season duvet insert is exactly that. The duvet's alpaca wool is responsibly sourced from a high-elevation meadow in the Peruvian Andes. Our farmers sustainably and ethically harvest the wool taking the utmost care for the well-being of the sheep.
Read more: How the Responsible Wool Standard Elevates Farming
Have feedback on our story? Email [email protected] to let us know what you think!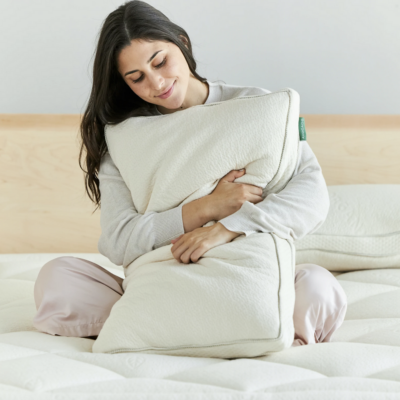 Shop Pillows
The Essential Organic Pillow Collection
Gentle, breathable, non-toxic support.
Buy Now