Avocado is proud to be the only mattress company using wool that meets the Responsible Wool Standard. This ensures our farmers maintain best sustainable practices for the sheep and land.
Humans have relied on wool as a natural resource to create blankets, clothes, and other textiles for more than 10,000 years. But many people don't realize the true power of the fiber.
Wool outperforms synthetic materials in just about every way. It's guaranteed to keep you warm on a cold evening, and its breathable, thermoregulating fibers will also help you stay cool when it's hot. (This is why it's a preferred material for both winter and summer adventure sports and one of the reasons we use it in many of our mattresses and toppers.) It's also entirely biodegradable, moisture wicking, naturally fire resistant, antimicrobial, and hypoallergenic.
Read more: Our Organic Wool
The problem is, there's a dark side to the wool industry. Domesticated sheep have been bred to overproduce wool, so their coats need to be sheared in order to prevent overheating. Oftentimes, this is done in early spring, when it's still too cold for sheep to lose their coats. It's estimated that approximately one million sheep die each year as a result of premature shearing.
The most popular type of wool, Merino, comes from Merino sheep and is widely used in the fashion industry because of its soft feel and fine fibers. These sheep have been bred to have wrinkly skin in order to produce — you guessed it — more wool. However, because of this, urine and moisture can get trapped in the folds of the skin, which attracts flies that lay their eggs there. Once hatched, the maggots eat away at the sheep's skin. To prevent what is known as "flystrike," farmers put sheep through a cruel process called mulesing, where they cut large strips of flesh off the backs of their legs and around their tails to create smooth, scarred skin that doesn't attract flies. This is typically done without anesthesia.  
Read more: How This Food Forest In Atlanta Is Helping Solve Food Insecurity
Other inhumane treatment inflicted on sheep with prized wool include "tooth-grinding" — a process of grinding down a sheep's teeth in order to reduce tooth loss and extend their reproductive life. Lambs have been reported to have their ears punched, their tails chopped off, and many male sheep are castrated without anesthesia.
At Avocado, the health, safety, and ethical treatment of our sheep matters. That's why we're proud to be the only mattress company that uses wool certified by the Responsible Wool Standard. This strict certification ensures our farmers maintain best practices and look out for animal welfare — from responsible land use and sustainable grazing to handling, sheering, and medical care.
Avocado wool is also GOTS organic and OEKO-TEX Standard 100 certified and sourced from our own herd that roams and grazes on a 40,000 hectare meadow that we manage in the Northern India Himalayas.
We also implement responsible social and environmental standards throughout our entire supply chain. Once our wool is harvested, it's cleaned using only water and GOTS-approved soap. This is different from the majority of other wool processors, who typically use acid and chemicals in the cleaning process. Many brands also rely on chemicals like bleach and sulfuric acid to bond wool fibers together and mix them with synthetic materials like polyester. That's not how Avocado does things. Instead, we slowly separate our wool fibers using large looms filled with up to 45,000 German steel punch needles.
By owning our own sheep, we're able to verify our farmers are engaging in sustainable practices — our sheep roam from pasture to pasture to prevent overgrazing and degradation — and are treating our sheep humanely while providing safe, ethical work for the local community. We provide more than 100 farmers and 400 herders with a living wage and access to medical care.
Operating our business in a sustainable, ethical way isn't always the easiest or the most cost efficient, but it's the right thing to do — and it's what you can always expect from Avocado.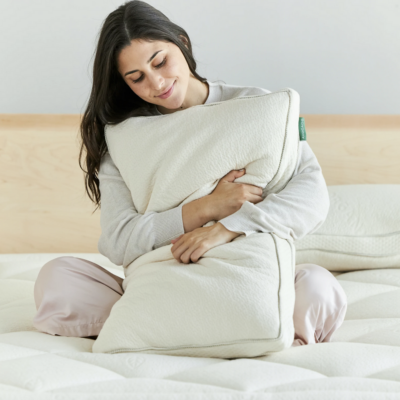 Shop Pillows
The Essential Organic Pillow Collection
Gentle, breathable, non-toxic support.
Buy Now