The increase in coffee consumption — and methods used to make it at home — are taking a toll on our environment. Here are four easy tips to de-plastic your morning routine and limit waste.
A morning coffee is a ritual for millions of people. And while moderate intake is linked to numerous health benefits — including energy and potential longevity — it also contributes a substantial amount of waste and pollution.
More than 50 percent of American adults drink coffee every day — representing over 150 million daily drinkers, according to 2021 statistics by E-Imports. This makes the U.S. the leading consumer of coffee globally, with Americans consuming 400 million cups daily. But what do these numbers mean for the environment?
Coffee production results in more polluting processing plants, river waste, and the disturbance of ecosystems and wildlife. Not to mention, the billions of K-Cups that are used each year. It's estimated that these plastic-covered pods used by coffee machine brands Keurig and Nespresso can take anywhere from 150 to 500 years to break down. In the meantime, they pile up in landfills where they emit climate change-causing greenhouse gases.
But while coffee drinking may never be entirely sustainable, there are ways to reduce its carbon footprint with a better-for-you cup that doesn't hurt the planet. Here are four easy ways to limit plastic in your coffee routine and make your morning ritual more eco-friendly.
Read more: How to Actually Remember Your Reusable Coffee Cup
While the paper or carton cups you're given in coffee shops help to keep your beverage warm, they're not all recyclable. A majority of these cups are coated in plastic — and it's estimated that 16 billion of these paper cups are used each year. The environmental impact: the destruction of 6.5 million trees, four billion gallons of water wasted, and enough energy to power more than 50,000 homes.
An easy solution? Investing in a reusable cup. Reusable cups have a lower environmental impact, according to a report by the Center for Sustainable Systems. This is especially true if you use cold water or an energy-efficient dishwasher to clean them. Plus, many local shops offer discounts to customers who bring in their own cup or purchase one of theirs. So it's a win for you and the environment.
Coffee farming has a huge negative impact on the environment, so it's important to know where your beans are coming from. Make sure to choose your coffee beans from farms that use sustainable practices. This includes limited or no pesticides and minimal water use and sustainable crop management.
Many farmers have switched from traditional practices to sun-grown techniques — where trees are cleared for the coffee to grow in the direct sunlight. This method destroys plant diversity and has led to the clearing of more than 2.5 million acres of forest in Central America. If you're unsure which beans to buy, purchase them from Certified B Corporations and Fair Trade sources. These companies support sustainable business practices that are better for people and the planet.
Read more: Yerba Mate: The Jitter-Free Coffee Alternative
3.
Purchase An Eco-Friendly Coffee Machine
Reduce the waste of single-use plastic with an eco-friendly coffee machine. Choose a machine that's more energy-efficient — these options are typically less complex and non-electric. (Think pour-over coffee makers, a French press, cold brew.)
When deciding which machine is right for you, there are a few details to consider: energy consumption, materials used, and what will be thrown away once your cup is brewed. Check to see if there's any plastic your machine uses or how your machine is packaged — there are plenty of makers that rely on mostly glass pieces and parts.
Buying in bulk is a great way to save money and decrease the use of plastic packaging. On a yearly basis, 145 million coffee bags are thrown away — a number that we can help shrink when we buy in bulk.
Try different roasters including Brooklyn Roasting Company (they use reusable, recyclable tin-steel can packaging) or Sweet Bloom, where the bags are biodegradable and compostable.
Read more: Alternatives to Plastic Coffee Makers
Have feedback on the story or know of other sustainable coffee drinking methods we should check out? Let us know what you think by emailing [email protected]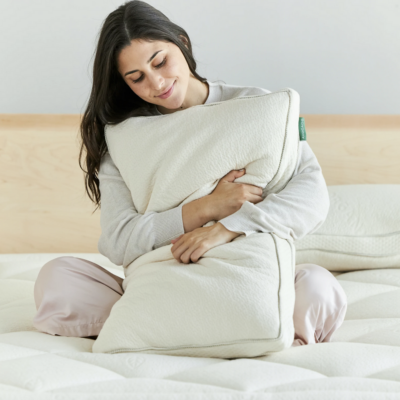 Shop Pillows
The Essential Organic Pillow Collection
Gentle, breathable, non-toxic support.
Buy Now