Fairtrade not only ensures health, safety, fair treatment, and better incomes for farmers and workers, it incentivizes sustainable and organic practices that protect our environment's natural resources.
This is the latest in our 'What It Means' series, where we unpack the meaning and value behind important sustainability concepts.
Fun fact: Fairtrade isn't a coffee industry term. The certification actually applies to every sort of product out there — from clothing and produce to home goods and beauty products. It's based on the principle that producers, companies, and consumers have a moral responsibility to put people and the planet first. In other words, it holds businesses accountable for doing the right thing in all aspects of their organization. 
But what does "doing the right thing" actually mean, and how does Fairtrade measure the impact of responsible choices by businesses? To become Fairtrade Certified, companies must meet strict social, environmental, and economic standards, such as providing safe working conditions, protecting the planet, enabling sustainable livelihoods for farmers and workers, and engaging in community development funds.
It's a stringent and painstaking process, which includes detailed reporting at every level of a business, from material sourcing to processing to the final product. The effort it takes to provide full transparency and initiate ethical supply chains is well worth it — and not just for the sake of transparency and ethics — although that's a good reason in and of itself.
"It's an equitable approach to trade that ensures that farmers and workers are getting a fair deal, better pay, better working conditions."

Meg Buckley, Partnership and Development Specialist at Fairtrade America
Read more: What Are Carbon Offsets?
"[Fairtrade] changes lives by seeking to change trade," says Meg Buckley, Partnership and Development Specialist at Fairtrade America. "It's an equitable approach to trade that ensures that farmers and workers are getting a fair deal, better pay, better working conditions. And then seeking to address many of the world's greatest challenges from poverty to child labor to climate change, which all greatly impact many of the people who are at the beginning of the supply chain."
To ensure farmers receive fair and equitable pay, they get a minimum price for their goods. This standard protects them from fluctuations in the market, guaranteeing stable income even if the market value of their goods falls.
For every Fairtrade-certified product sold, the business selling it also pays a small premium to the organization's Community Development Fund. The farmers and workers then decide how that money, which is distributed as a lump sum on top of their income, is used and distributed, effectively putting it back into the community. Funds are often used for grassroots development projects, including schools, health services, clean water infrastructure, additional agriculture equipment, or turning a farm organic (which translates to higher pay in the long run).
Read more: How the Responsible Wool Standard Elevates Farming
For example, in 2009, Vasudha Jaivik Krishak Kalyan Samiti (VASUDHA), a registered society in India of 1,524 smallholder cotton farmers across 47 villages in the district of Khargone in the state of Madhya Pradesh, used their premium to build a local school. Now, more than 450 children (including girls) whose parents are members have the opportunity to get up to a 12th-grade education. VASUDHA has also used the funds to invest in its own non-GMO seed production program, develop its own chemical-free fungicides — which it sells to farmers at cost — and install drip irrigation for 125 farmers across 125 acres, which has helped them conserve water use by 30 to 40 percent. A recent study also found that the average income of Fairtrade cacao farmers in Côte d'Ivoire has increased by 85 percent from 2016 to 2021 due to a rise in revenue from sales.
And in 2020, farmers across a range of geographic regions were able to use the premium funds to respond to the pandemic — it enabled them to purchase personal protective equipment and establish Covid testing centers and sanitation facilities, says Buckley.
"The premium is especially beneficial in helping our producers build climate resilience," says Buckley. "Farmers are often at the front lines of the climate crisis and experience some of the greatest impacts of it."
By paying farmers a living wage, Fairtrade incentivizes producers to minimize their environmental impact through standards like the banned use of pesticides and GMO seeds, eco-friendly cultivation, and organic farming. The demand for organic farming is huge — specifically organic cotton. Thanks to initiatives like the Fairtrade Cotton Standard, brands can invest in higher-quality cotton that's safer for producers, factory workers, consumers, and the environment. At the same time, they're helping Fairtrade raise awareness for issues faced by cotton farmers (like climate change), enabling them to provide organic farming training, and inspiring more companies to source Fairtrade-certified cotton. As a result of their efforts, and increased consumer demand for more responsibly- and sustainably-sourced materials, Fairtrade-certified cotton sales rose 118 percent from 2019 to 2020.      
Read more: The Businesses Championing Climate Change Legislation
The impact of Fairtrade is enormous — more than 30,000 products now carry the logo and nearly two million farmers and workers worldwide are Fairtrade certified. In the last year, those farmers received more than $208 million in premium funds. Fairtrade's social, economic, and environmental standards work together to protect our planet and create a better reality for workers. It's an all-around win for ethical business, people, and the environment. 
"If you go to your local grocery store and you don't see any bananas that are Fairtrade, or avocados that are Fairtrade, ask for it," says Buckley. "Demanding that you want to see these changes and investments in the people that are in their supply chains is the best way to support the work of Fairtrade."
Have feedback on the story? Email us at [email protected] to let us know what you think.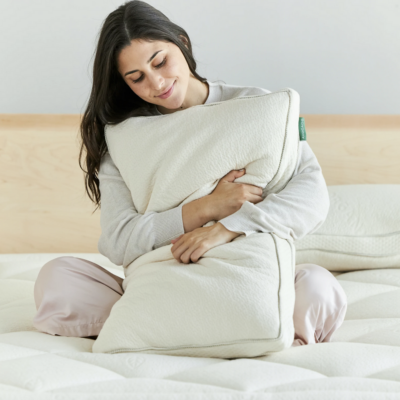 Shop Pillows
The Essential Organic Pillow Collection
Gentle, breathable, non-toxic support.
Buy Now