Stuff We Love
A Beginner's Gear Guide to Backpacking
We spoke to four seasoned backpackers and thru-hikers to get the low-down on the backpacking gear they never leave home without.
If you're gearing up to take your first backpacking trip, hold off on hitting up REI until you look around the house first; there's a good chance you already have some of the stuff you need.
The plastic forks and spoons you saved from takeout deliveries are suitable cutlery, and you have full license to pack the tank top you got from running a 5K 10 years ago. No need for a fancy water vessel, either — an empty Gatorade bottle might not be insulated, but it'll do the trick and is virtually indestructible.
Read more: Stuff We Love — The Eco-Friendly Lighter You'll Never Throw Away
For the rest of the essentials, we reached out to four backpackers who've put their gear through the ringer on trail. We asked them what they'd recommend to someone preparing for their first big trek. They shared hard-won recommendations about the things that made a big difference on their journeys — the equipment that proved to be reliable and increased comfort. Here's their expert advice.
Max Crooks and Jaye Groves – A non-binary couple with a love for the outdoors and section-hiking, Max and Jaye are ambassadors for Hello Ranger — a group that showcases communities connected by National Parks.
1.
Injinji Trail Midweight Crew socks ($17)
If you run into Max Crooks on the Pacific Crest or Tahoe Rim trails, they'll definitely be wearing these socks. "[I] absolutely refuse to wear anything else," they said. Injinji's design reduces between-the-toe blisters and helps with stability by distributing weight evenly between each digit. These Trail socks are also breathable as heck thanks to a mesh top and sweat-wicking fabric.
Injinji
Trail Midweight Crew Socks
17.00
Shop
2.
Enlightened Equipment Revelation sleeping quilts ($280)
The Revelation unzips flat like a blanket when it's hot and cinches up to trap heat when it's cold. Still, it weighs less than a pound and is super packable. That might be why it's Jaye Groves's favorite piece of backpacking equipment. Bonus points that the quilt comes in a variety of sizes and temperature ratings, so you can find the right fit for your adventure.
Enlightened Equipment
Revelation Sleeping Quilt
280.00
Shop
This tool is another Max Crooks favorite — for good reason. It prevents blisters from forming and stays put for days at a time, making it a go-to among long-distance hikers. A few strips of this can significantly improve comfort on the trail, and it's waterproof and breathable to boot.
Read more: 9 Eco-Friendly Products Your Pet Will Love
Liz Thomas – Also known as "Snorkel," Liz is an Appalachian Trail speed record-holder, gear reviewer, and winner of the National Outdoor Book Award for her how-to thru-hiking guide.
4.
Montbell Tachyon Parka Women's windshirt ($99)
The first time record-setting thru-hiker Liz Thomas set out on the Appalachian Trail, she didn't bring any rain gear except for this windshirt. Thomas wouldn't advise readers of her gear review site, Treeline, to take this tack, and she's invested in more weather-proof apparel since her maiden voyage. But the two-ounce Montbell windshirt remains a must-have for Thomas because it protects against light rains and wind every time.
Montbell
Tachyon Parka Women's Windshirt
99.00
Shop
When we asked Thomas what piece of backpacking gear has lasted her the longest, she named her spoon without hesitation. "It's not like there's a newer, lighter version," she said. Thomas's titanium spoon has held up through many meals, but she's said swiping utensils from a froyo shop works just as well as a titanium version.
Nhandi Singleton – Nhandi first heard about thru-hiking in 2017. A year later, she trekked from Mexico to Canada on the Pacific Crest Trail. She learned a lot on that 2,650-mile journey, and even got a trail name: "Sea Lion."
6.
Thermarest NeoAir sleeping pad ($219)
It's not luxury on the ground, but after a day of trekking, this pad is pretty darn comfortable, according to thru-hiker Nhandi Singleton. She slept on the Thermarest NeoAir for five months straight while hiking and now swears by it. That's because this number is easy to blow up, lightweight, and very packable. The only downside is the crinkly sound the sleep system makes when Singleton rolls around at night.
Thermarest
NeoAir Sleeping Pad
219.00
Shop
7.
ULA Circuit backpack ($255)
Even after thousands of miles logged, Singleton's Circuit is still in good shape and comfortable as ever. The two-pound pack punches above its weight in terms of durability, owing to the hardy nylon fabric and rugged foam-aluminum frame. This brand makes some of the most popular backpacks for serious hikers, so even if this hauler doesn't float your boat, another might.
ULA
Circuit Backpack
255.00
Shop
Share your can't-live-without hiking and backpacking gear with us by tagging Avocado on Instagram with #avocadomagazine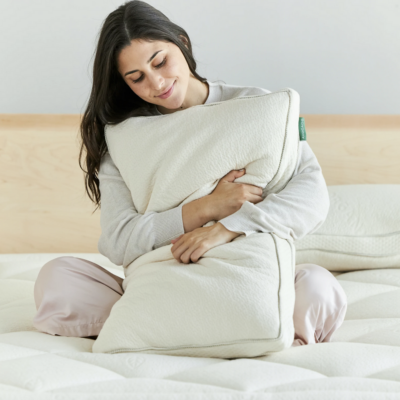 Shop Pillows
The Essential Organic Pillow Collection
Gentle, breathable, non-toxic support.
Buy Now