Stuff We Love
9 Eco-Friendly & Sustainable Products Your Pet Will Love
From dog food to treats, beds, and toys, these are our favorite eco-friendly and sustainable pet products.
Whether you're a new dog owner or you grew up with them, nothing compares to the joy our furry companions add to our lives. And if you're borderline obsessed (raises hand), you know that only the best toys, beds, and treats will do. So, we took it upon ourselves to curate a list of sustainable pet products that both you and your furry friends will love.
1.
West Paw Zogoflex Toy, $10
This colorful, hard chew toy is made of Zogoflex material that's BPA- and phthalate-free, non-toxic, FDA compliant, and dishwasher safe. Even better, when it's time to replace it, you can send it back to the company and they'll recycle it to make future products. Did we mention West Paw is also a certified B Corp?
West Paw
Zogoflex Zisc®
12.95
Shop
2.
The Honest Kitchen Bone Broth Bites, $9
Slow baked in small batches, these flavor-packed savory snacks are made with 100% human-grade meat and only real ingredients. That means no additives, preservatives, byproducts, fillers, corn, wheat, or soy. Warning: Your dog will be obsessed.
The Honest Kitchen
Bone Broth Bites
8.99
Shop
3.
Avocado Organic Dog Bed, $199+
Our Organic Dog Bed is the Cadillac of pet beds. It's 100% GOTS organic certified, anti-odor, and naturally non-toxic, hypoallergenic, and antimicrobial. We pair an inch-thick layer of GOLS organic certified latex with three inches of breathable coconut husk to create the ultimate cloud-like cushion. And the sweat-absorbing, 100% GOTS organic certified cotton cover can be easily removed and washed, so you don't have to worry about muddy dog paws.
Avocado
Organic Dog Bed
238.00
Shop
4.
Avocado Organic Dog Pillow, $39+
Anti-odor, biodegradable, and 100% GOTS organic certified, our Organic Dog Pillow is the perfect complement to our dog bed. It features the same sweat-absorbing, easy-to-clean cover, plus a durable organic cotton canvas liner filled with vegan buckwheat hulls that meet the global standard for food safety. The side zipper allows you to add or remove fill as needed to ensure a comfy, contouring pillow that supports happy doggy dreams.
Avocado
Organic Dog Pillow
39.00
Shop
5.
Avocado Dog Bed Frame, $299+
Our Dog Bed Frame is a mini version of our luxury human bed frames. It's crafted using reclaimed, FSC®-certified (C156138) Douglas fir and a non-toxic, water-based ECOS wood stain. That means your pup won't be exposed to volatile organic compounds (VOCs) or other harmful chemicals. Pair it with our dog bed and pillow for the throne your dog deserves. 
Avocado
Dog Bed Frame
299.00
Shop
6.
Buck Bone Organics Elk Antler Dog Chews, $25
Buck Bone Organics takes antlers that elk, deer, and moose naturally shed and hand cuts them into a mouth-watering delight for your doggo. There are various sizes available for different breeds, and if your pup prefers a softer chew, they offer a "split" antler with exposed marrow.
Buck Bone Organics
Elk Antler Dog Chews
24.99
Shop
7.
Wild One Triangle Tug, $16
If your dog is a fan of tug-of-war, this toy is a must. BPA- and phthalate-free, it features a 100% natural rubber triangle attached to a 100% natural cotton rope. Multi-dog household? This'll keep them entertained for hours.
Wild One
Triangle Tug
16.00
Shop
8.
Sundays Dog Food, $60 (for four weeks)
This company is doing things differently — by air-drying their dog food. They only use clean, human-grade ingredients like USDA beef, and the drying process helps bring out those natural, delicious flavors while preserving the nutrients inside. It also creates a jerky-like texture and taste that'll make every dinnertime a treat.
Sundays
Air-Dried Food
59.00
Shop
Upgrade your dog's style with these sustainable — and fashionable — bandanas. The heritage-inspired designs are made in the U.S. using natural, renewable materials like wool and American and Japanese cotton fabrics. They're so cute, may as well splurge for more than one.
Billy Wolf
Billy Wolf Bandanas
22.00
Shop
What's your favorite eco-friendly dog product? Let us know by sharing with us on Instagram or Facebook.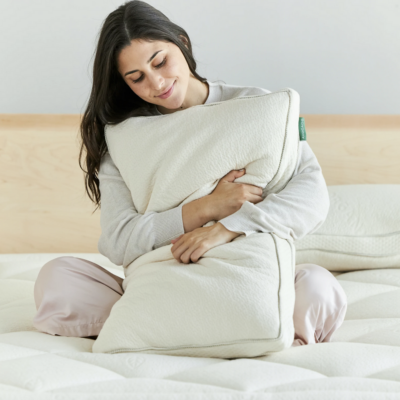 Shop Pillows
The Essential Organic Pillow Collection
Gentle, breathable, non-toxic support.
Buy Now