It's more important than ever to treat the Earth with respect when we go outside. Here's how to camp sustainably.
Is it possible to "leave only footsteps" when camping? How should we think about recreation in this climate era? Whether you're pitching a tent in your backyard or planning a weeklong camping trip, it's easy to get overwhelmed when you consider how your outdoor time might affect the people, wildlife, and environment around you.
The good news is it's absolutely possible to camp in a responsible way. New research even shows that bringing a sustainable mindset to camping may help you live responsibly in other parts of your life.
"I don't think we can ever pretend to achieve perfection," says Heather Balogh Rochfort, an outdoor journalist, author, educator, and co-founder of WildKind, an outdoor community and camping resource for families with kids. However, we can "try to leave the environment better than we found it, and minimize our impact as much as possible."
When it comes to sustainable camping, the key is to break things into manageable steps. There are phases to any outdoor experience — anticipation, travel, onsite, and recollection. Here's how to reduce your impact at every stage.
Read more: 7 Sustainable Travel Tips For Conscious Adventurers
"If people come to their destination prepared for whatever activities they're going to do, they're much less likely to leave a trace or have impacts on the natural world."
Anticipation
Organizing a camping trip is like planning a vacation. The more time you spend researching, making reservations, and anticipating your group's needs, the more fun you'll have.
Dana Watts is the executive director of Leave No Trace, an outdoor organization that uses seven principles to educate people about how to minimize their impact. For Watts, the planning stage is key. "If people come to their destination prepared for whatever activities they're going to do, they're much less likely to leave a trace or have impacts on the natural world," she says.
Read more: What Does Leave No Trace Mean?
Research Your Location
Start with where you want to go — and when. Do you want to visit a new-to-you landscape, a well-known national park, or a close-to-home destination? Once you know where you're headed, research the organization that oversees and cares for the land, or contact the land manager. They'll have specific instructions for where to camp, as well as activities that may or may not be permitted (such as building campfires and observing wildlife). Land managers will also have information about cultural practices to take into consideration, and the history of Indigenous lands you may be recreating on.
Some campsites, like those managed by the National Park Service, may require reservations. Others allow dispersed camping, so you'll have more flexibility in terms of where to park your car or pitch your tent. State and local parks have their own guidelines for how to use the land and where to camp. Book directly through the land manager, or try Hipcamp or Recreation.gov, both trustworthy resources for making camping reservations.
Get the Gear
Camping gear doesn't have to be fancy, but it's vital that you have the right equipment to keep you warm, dry, and protected from the elements. Do you plan to visit rainy Olympic National Park in October? Or arid Southern Utah in mid-June? Research the location you're visiting and make a list of the things you'll need to stay comfortable.
If you're new to camping, consider borrowing big pieces of gear, like a tent, sleeping bag, sleeping pad, camp table, chairs, and a cooler. Retailers like REI Co-op, Patagonia, and Sports Basement offer a broad selection of used camping gear — a more sustainable option than buying brand new. Some communities are even beginning to offer gear lending libraries. However you obtain the essentials, plan to pack moisture-wicking layers as well as rain gear for daytime exploring and nighttime rest, as well as sun protection and first aid.
Read more: Eco-Friendly & Sustainable Camping Gear We Love
Check in With the Group
Camping is a team sport. To further reduce your impact, assess the confidence of each group member and plan activities that are a good fit for everyone. Reaching your campsite late or unprepared can lead to environmentally impactful choices like pitching your tent in an undesignated spot or building a fire outside of a campfire ring. Plus, when you plan activities that are within everyone's comfort zone, you're less likely to need help getting out of a sticky situation.
Travel
The average car emits about 4.6 metric tons of carbon dioxide per year. It's no wonder, then, that one of the most effective ways experts say we can mitigate our carbon footprint is to reduce car and airplane travel. But camping often requires travel. So can you do so sustainably?
Reset Expectations
"Anyone who steps outside their door is in the outdoors," says Watts. You don't have to travel to a backcountry campsite or wilderness area to go camping. Instead, plan a trip close to home. State and local parks are filled with natural wonders that rival those of the popular national parks. Plus, traveling fewer miles means less time sitting in traffic.
Carpool
If you're camping with friends or family, consider piling into the same car to save gas and emissions. A side benefit to carpooling is you'll be able to see what everyone is bringing and avoiding doubling up on gear — plus, more snacks! Some municipalities even offer public transit to campsites and trailheads.
Read more: Easy Ways to Use Less Gas This Summer
Consider Carbon Offsets
Carbon offsets allow you to pay to remove carbon from the atmosphere or prevent greenhouse gasses from getting there in the first place. Though carbon offsets aren't a substitute for reducing your impact, they can help equalize your footprint. Use a carbon calculator to help estimate the footprint of your next adventure — just make sure you're using a reputable organization like the American Carbon Registry, the Bonneville Environmental Foundation, or Verra.
Onsite
Part of camping is tuning into the things that make nature so special. Turning your attention to the natural world, in fact, is a key step to practicing sustainability once you're out in the wild. "If you're more aware, you'll make smarter decisions," says Rochfort.
Leave It Better Than You Found It
Start paying attention and caring for the Earth the second you step onto the trail or pull into your campsite. Stay on the trail to avoid trampling delicate flora and fauna when you're hiking. Once you're at your campsite, pitch your tent in a designated area and camp at least 200 feet from bodies of water like lakes and streams. Follow campfire guidelines and, if fires are allowed, be sure to build them in a designated fire ring.
For Watts, Leave No Trace isn't about policing people's behavior. "It's about empowering people so they can make the decision to protect the environment when they're out there," she says. That includes being respectful of other recreationists. Bringing music, pets, and technology into the outdoors can be jarring for wildlife and others who are also trying to enjoy the space, so if you do, be cognizant of those around you. And research the rules and regulations of the destination you plan to visit before heading out.
When it's time to head home, scan the environment. Can you leave your campsite more beautiful than you found it? Check for debris you or others may have left behind and bring home the soapy gray water from doing your camp dishes. Leave anything you found on the trail or at the campsite — like rocks, shells, wildflowers, and driftwood — in nature.
Recollection
The best camping trips end with a car (or bus) ride home recounting your adventures. Chances are, you'll be eager to get back out there. But before you plan your next trip, reflect. From a sustainability perspective, what went well, and what can you improve next time?
Whatever your goal, be easy on yourself and remember that exercising compassion for the environment is the first step to becoming a more sustainable camper.
Read more: How Covid-19 Brought Us Back to Nature
Have feedback on our story? Email [email protected] to let us know what you think!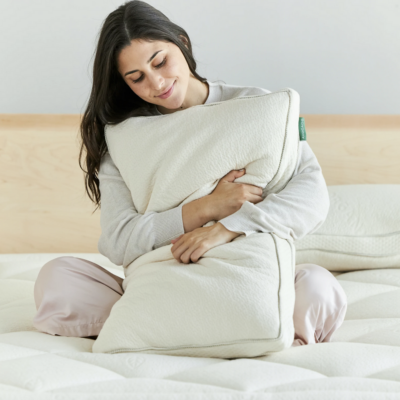 Shop Pillows
The Essential Organic Pillow Collection
Gentle, breathable, non-toxic support.
Buy Now