Sleeping under the stars often means snuggling up against polyester fabrics coated in flame retardant chemicals, and you know what? It kinda kills the vibe.
When you're trying to reconnect with nature, it feels a lot better to do it with gear that was actually made with Mother Nature in mind. This list is full of awesome products that do just that — put planet first and also make your stay at her place a little more civilized.
Water Dog Hydration Backpack
If you're big on backpacking but not petroleum-based fibers, there's a hydration pack that you need to see. The Water Dog Hydration Backpack is made from Repreve, a material made from recycled plastic PET water bottles. It's lightweight, strong, breathable, and kicks a few extra plastic bottles out of the landfills in the manufacturing process.
Marmot Never Winter Treadlight Long Sleeping Bag
As a gawky tall girl, I love me some long sleeping bags, but polyester and flame retardants? No thanks, no thanks at all.
This mummy-style sleeping bag from Marmot is extra long for taller campers (WOOT) and made from recycled polyester and recycled down. It's lightweight and rated down to 30 degrees fahrenheit too, so it's great for fall camping.
Zoom Versa Rocket Stove by EcoZoom
If a rocket stove sounds like the last thing you'd want to take on a camping trip, think again. These little powerhouses are basically just stacking metal barrels, but their unique design creates an ultra-hot, super-small fire.
The result is that the soot and carbon pollution created by the fire is superheated, and very little pollution is created — you wind up with steam more than you do smoke. You also get tons of heat for very little fuel. You can burn firewood, charcoal, biomass — just about anything in it — and you can burn it a lot cleaner than with a conventional campfire.
It's also perfect in dryer regions that are at greater risk for wildfires since everything is contained.
This unit from EcoZoom is portable and easy to use for rocket stove first-timers. Don't be shy — you'll love it when you try it.
Sea to Summit Wilderness Soap
Keeping the grime at bay on camping trips doesn't have to involve smelly soaps and slimey bars. These dry soap leaves by Sea to Summit are perfectly portable, fragrance and paraben-free, and 100% biodegradable. They even comply with the Leave No Trace principles!
Ruffwear Highlands Portable Dog Bed
Bringing your dog along for a camping trip? Ruffwear makes adventure gear for canines that's built to withstand the elements and keep your pooch comfortable. This portable bed is machine washable, insulated, and made of 50% recycled fibers.
Rimturs Mountain Daypack by Klåttermusen
Klåttermusen makes some fine lookin' bags designed for adventurers, but you'd never know it with their effortless style. As at home on the subway as they are on the trails, this Mountain Daypack is rugged enough for thorny brambles and is made out of organic cotton and recycled polyester for a lighter footprint.
Compostable Paper Plates by Preserve
Bigger camping gatherings typically call for disposable dishes, and not many can argue with the logic there. Hauling a massive tote of dirty dishes home with you doesn't exactly sound appealing.
Cut Mother Nature some slack though — disposable dishes don't have to be at the detriment of the environment. These compostable paper plates by Preserve Products are made from plants right here in the US and are completely non-toxic. Bring your trash home to the compost pit instead of throwing it in the dumpster.
Avocado Green readers use discount code AvoGreen25 for 25% off!
Patagonia's Synchilla Fleece Blanket
Patagonia leads the charge when it comes to sustainable outdoor gear, and that's definitely true for this practical, eco-friendly fleece blanket. Made from 85% recycled polyester fleece, you get all of the cozy with none of the fossil fuel dependency that comes with fresh polyester.
Where are you camping this year? Tell us on Facebook or Instagram and tag us in the post — @AvocadoMattress or #AvocadoGreenMagazine!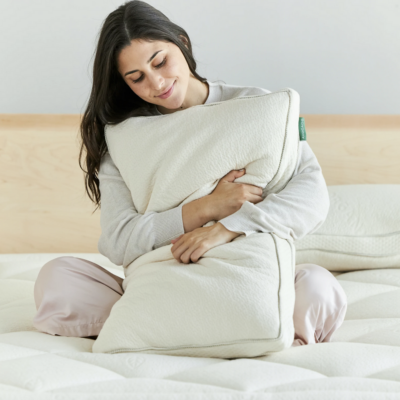 Shop Pillows
The Essential Organic Pillow Collection
Gentle, breathable, non-toxic support.
Buy Now