The land you're on was stolen. Land acknowledgements are a reminder of that history and how it continues to impact Indigenous people today.
If you're in America, it's likely that in any given moment, you're on stolen Indigenous land. One of the most fundamental things you can do to address that in your everyday life is learning about and acknowledging Indigenous people's history and their ongoing impact, where you live and beyond. Here are a few things to keep in mind to understand the history of the land you're standing on, and sharing it with others.
The Why of Land Acknowledgement
Quite frankly, it's the least you can do. But it's also important to think about what it really means, to you and your community. "It's a simple way to honor the Native population," wrote Cali Wolf of Native Women's Wilderness in an Instagram explainer on land acknowledgement. Knowing what Indigenous groups are, or have been, stewards of a particular place is still a deeply important step to take, whether you're just there for a visit or have lived there for years (and maybe never given it much thought). So much of America's history involves the theft of Native Land as well as the mistreatment, murder, and manipulation of Native Americans. Land acknowledgement, in its own small way, offers a frequent reminder that the nation stands on stolen land and that Indigenous people remain, in many places, dedicated and sovereign stewards to places that many Americans love. In that way, think of it as just the start of a bigger conversation about staying aware and involved, wherever you live.
When to Think About Doing a Land Acknowledgement
The most common use of land acknowledgements are in public presentations. Cultural or educational institutions, for example, have recently encouraged speakers to start their talks with a word on the land the organization was built on. Even if you're not the type to give public lectures, consider that you may be able to encourage workplace managers or others who are in those positions to incorporate land acknowledgements into their work. On a more everyday basis, you're most likely to consider a land acknowledgement on social media, where you're also talking to a lot of people at once and very likely sharing photos or memories of trips on Indigenous land. And of course, you don't need any audience at all to learn more about the Indigenous history of places where you live, visit, or are just curious about.
How to Learn More
Activists and educators have developed tools for anyone who wants to know more about the land they're on, and doesn't know where to start. Native Land Digital, a Canadian nonprofit, runs a website and app (iOS/Android) that will tell you the territory you're on. They've also made the information available by text: send the number (907) 312-5085 a location and it'll send back the same information. The Instagram account Indigenous Geotags regularly posts the Indigenous names for mountains, national park lands, and other outdoor spots. Remember that this is just the start of your research; you'll need to confirm that it's correct in the first place. Research the potentially multiple Indigenous nations who the land belongs to, their history, and the history of their displacement from the land and/or treaties that negotiated Native Americans' and colonists' ownership of the land (and whose promises were often broken by the American government). Indigenous nations will often have their own websites where you can learn more, including proper pronunciation of their names and original territory names.
How to Perform a Land Acknowledgement
In a public speaking setting, a land acknowledgement will usually be a few sentences explaining not just the fact that you are on Native land, but how you've reflected on the Indigenous communities you're acknowledging. In their guide on land acknowledgement, the Native Governance Center recommends not sugarcoating the past. "Use terms like genocide, ethnic cleansing, stolen land, and forced removal to reflect actions taken by colonizers." At the same time, acknowledge how those Indigenous communities are still here and doing important work. On Instagram, you may geotag your posts with the correct Indigenous land name, and maybe share some of the context you've learned in the caption.
What Next?
Acknowledging the impact of Indigenous communities where you live is an ongoing conversation. Find out how you can support the work of Indigenous groups near you, and how you can push the institutions in your life to take more responsibility. Learn more about efforts to return land to Indigenous communities or strengthen their sovereignty, and support Indigenous-led organizations that have already been fighting for climate justice, Indigenous rights, and other changes.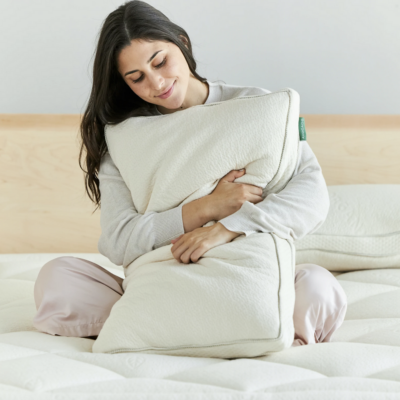 Shop Pillows
The Essential Organic Pillow Collection
Gentle, breathable, non-toxic support.
Buy Now