Traveling is wonderful but carbon intensive. Lessen your environmental impact with these sustainable travel tips.
Travel is one of life's great privileges. And during the summer, when airbnbs and cabin rentals fill up months in advance and PTO notifications reading 'at the beach' are on the calendar, is the perfect time to get out of dodge.  
But whether you're packing the car for a road trip or jet-setting to a tropical paradise, there are ways to limit the planetary impact of your vacation. To help you out, we're sharing our six favorite sustainable travel must-haves so you can embark on your next adventure while keeping your environmental footprint to a minimum.    
Read more: How to Maintain a Bedtime When You Travel With Kids
1.
Avocado Mini Pillow (Organic or Molded Latex), $49-$54
Consider our Organic Mini Pillow or Mini Molded Latex Pillow the perfect sustainable travel companion. A scaled-down version of our flagship Green Pillow, our luxuriously soft organic mini is made with 100 percent GOTS organic certified cotton, GOLS organic certified latex, and renewable kapok fiber fill for cozy, comfortable sleep. For firmer support, our mini molded latex pillow features a cloud-like GOTS organic certified cotton cover and an FSC®-certified (C156139) charcoal-infused latex core that gently contours with your head and neck. The best part? Both are naturally breathable, non-toxic, and made to fit in your backpack or carry-on.
Avocado
Organic Mini Pillow
49.00
Shop
2.
Paravel Luggage, $255-$315
More than 35,000 trees planted, 8,000 tonnes of CO2 offset, and more than two million plastic bottles upcycled — that's Paravel's environmental impact to date. A carbon-neutral travel brand, their luggage is ethically crafted from eco-friendly materials like recycled polycarbonate, vegan leather, and OEKO-TEK Standard 100 and Global Recycled Standard-certified nylon and canvas made from recycled water bottles. The lightweight wheeled Aviator comes in carry-on, carry-on plus, and checked luggage sizes — and no matter which color you choose (we're partial to the Safari Green), you'll be traveling sustainably and in style.
Read more: 6 Essential Environmental Books 
3.
Que Reusable Water Bottle, $20
Recognized by the Getty and Museum of Modern Art for its impeccable design and hailed by campers, music festival-goers, and beach bums for its functionality and sustainability — Que has created the ideal travel water bottle. BPA-free and non-toxic, the collapsable bottle is made of food-grade silicone that compresses from a full-size to a small water bottle, meaning it can fit literally anywhere. And when you use Que you'll be reducing your plastic waste and helping protect land in the Peruvian Rainforest at the same time — the company donates 10 percent of all profits to the Rainforest Trust.
4.
reVessel Stainless Steel Tupperware, $60
Plastic containers are toxic for you and the environment. That's why we love reVessel's compact, reusable, food-grade stainless steel containers. Durable and resistant against rust and bacteria, their Adventure and Explorer series of leak-proof, modular kits are made for your next escape. Featuring a bamboo lid that doubles as a cutting board, opt for a small, single-serve container for snacks and small bites, or pack one of their larger, modular options for an all-day excursion. Either way, when you get home, you can throw them in the dishwasher for easy cleaning.
Read more: A Beginner's Gear Guide to Backpacking
5.
Avocado Alpaca Throw – $149
Elegant, lavishly soft, and highly breathable, our Alpaca Throws are perfect for breezy mornings by the ocean, cool evenings under the stars, and long plane rides. Made from 100 percent alpaca fiber that's ethically sourced from a sustainable alpaca network in Peru, our throws are naturally dyed and cleaned, so they're free of harsh, toxic chemicals. And because they're made from natural materials, they're also hypoallergenic, antimicrobial, temperature- and moisture-regulating, and flame-resistant.
Avocado
Alpaca Wool Throw
149.00
Shop
Getting out of your normal routine and unplugging has its perks — but both flying and driving to your destination releases greenhouse gas emissions that contribute to climate change. Though some do so voluntarily through programs like Climate Neutral, businesses in America don't pay a carbon tax. But there are several ways for individuals to step up and pay one to make trips carbon neutral. Sustainable Travel International and atmosfair both provide offsets for air travel, while Clear lets you purchase offsets for flights, road trips, and hotel stays.
Read more: What Are Carbon Offsets?
Traveling is amazing, but it's essential we all continue to follow Covid best practices to keep our communities safe. If you've come into contact with someone who has tested positive for Covid-19, or you're having Covid-related symptoms, please stay home.
Share your favorite sustainable travel must-haves with us by tagging @avocadomattress on Facebook or Instagram.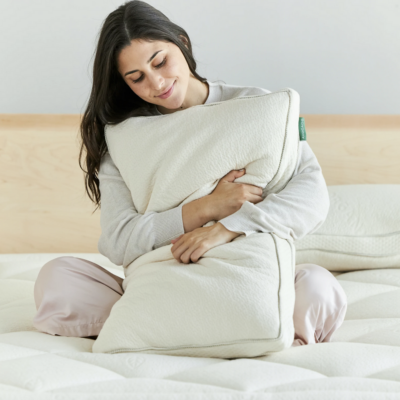 Shop Pillows
The Essential Organic Pillow Collection
Gentle, breathable, non-toxic support.
Buy Now