From poignant stories of environmental racism and the devastating effects of sea level rise to a look into our profound connection with nature, these books will give you a new perspective on the climate challenges we're facing and inspire you to take action.
How do we live in the world now? What's changing? What can we do about it? How did we get here, and why is it so unfair? If you — like me — constantly have those questions running through your head, then we've got the perfect reading list for you.
Consider these books the baseline for your modern environmental literature library — they look at the beauty and brokenness of the world around us, and try to find ways to make it better. Here's our roundup of six essential planet-focused reads.
1.
Braiding Sweetgrass by Robin Wall Kimmerer
Kimmerer, a plant ecologist and enrolled member of the Citizen Potawatomi Nation, presents a unique view of human's impact on the natural world, and she brings it all to bear in Braiding Sweetgrass. The collection of stories highlights physical connection, Indigenous knowledge, and how people can — and must — be caretakers of the Earth. Kimmerer covers a ton of historical, cultural, and scientific ground, but she does it gracefully, intertwining lessons that plants can teach us, with pieces about what it means to be an ecologist and a mother, and stories about what she wants her students to learn from the natural world. As the title suggests, she braids together strands of knowledge and science that are traditionally kept separate, expertly crafting a story that is stronger and more interesting for it.
2.
The Nature Fix by Florence Williams
Why does it feel so good to be in nature? Science journalist Florence Williams, asks that question and many more about why, as she says, "nature makes us happier, healthier, and more creative." Throughout the book, she dives into research about why the outside world is good for us, from the way taking a walk releases cortisol to the deep mental health benefits of forest bathing. The idea that nature is good for us has been around for centuries, and science is just starting to figure out the reason. Williams is along for the exploration, and she brings us with her by way of her lively writing.
Read More: How Covid-19 Brought Us Back To Nature
3.
The Sixth Extinction by Elizabeth Kolbert
In the last century or so, humans have altered life on Earth more and faster than any other force before us. The industrial revolution set off a wave of ecosystem changes that have irreparably damaged the planet, and we're in the midst of what's gearing up to be a devastating extinction event — the beginning of which is already beginning to happen. Kolbert, who is clear-eyed and just the right amount sentimental, stares straight into that ecological crisis to see what we're doing and what we could change. This read is not exactly uplifting, but it's 100% crucial.
4.
Rising: Dispatches from the New American Shore by Elizabeth Rush
When do we decide that places can't be saved? And what do we do then? Rush's lyrical, deeply reported look at how climate change is impacting coastal areas — and what we stand to lose to sea level rise — was rightfully a finalist for the 2019 Pulitzer Prize. She travels to a range of understudied, underserved places in the coastal U.S. — from the New Jersey coast ravaged by Hurricane Sandy to the drowning tribal community of Isle de Jean Charles — to tell the true, wrenching stories of people who are struggling to hold on to their homes in the face of rising water. It's a story told particularly well through Rush's detailed, empathetic gaze.
Read More: Keeping Up With Climate Change
5.
Salvage the Bones by Jesmyn Ward
Sometimes fiction can tell truer stories than fact, and that's the case with Ward's Salvage the Bones." The novel portrays a young girl in Mississippi whose world is falling apart as Hurricane Katrina bears down. Her vivid depictions detail the catastrophic impacts climate change is having on the most vulnerable and how nothing is fair in the face of warming, weather, and structural inequity. Environmental racism is a term that gets thrown around a lot, and Ward shows all the entangled ways that place, poverty, racism, and inequity are linked — and how these problems are amplified in the midst of natural disaster. The book is gripping, heartbreaking, and hard to forget.
6.
Under the Sky we Make by Kimberly Nicholas
"It's warming, It's us. We're sure. It's bad. But we can fix it." This statement is the subtext of Nicholas's important new book about how to counter climate change through personal action and political force. Nicholas is a climate scientist who wrote a widely read 2017 article about personal carbon use and the most important things you can do to limit your impact (the tl;dr version: have fewer children, drive and fly less, don't eat meat) and Under the Sky we Make carries that forward to provide a plan for the future. But, most importantly, it does it in a relatable, humane way. The most powerful parts of the book are where Nicholas opens up about her own experience. She outlines the very real fear and grief that comes from witnessing climate change and how that can be a catalyst for action.
Read More: How Younger Generations Are Driving Environmental Change
Have a favorite book about the environment or climate change? Let us know by tagging us on Instagram using #avocadomattress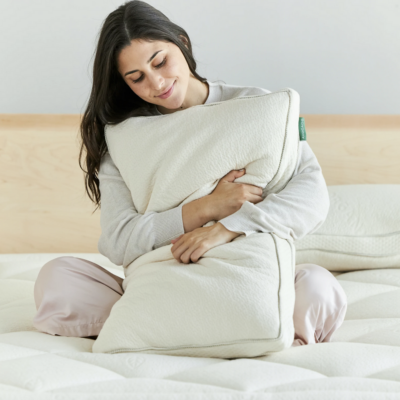 Shop Pillows
The Essential Organic Pillow Collection
Gentle, breathable, non-toxic support.
Buy Now