Traditional media's coverage of climate change is problematic. Here are 7 sources to keep up with the world's most important story.
Broadly speaking, traditional media ignores climate change. It isn't for lack of public interest in the topic. In 2018, 81 percent of registered voters said they supported the Green New Deal, which would transition 100 percent of the country to clean, renewable sources within 10 years, according to a national poll conducted by Yale.
And yet, the authors of a Columbia Journalism Review article called "The Media Are Complacent While the World Burns" write, "At a time when civilization is accelerating toward disaster, climate silence continues to reign across the bulk of the U.S. news media. Especially on television, where most Americans still get their news, the brutal demands of ratings and money work against adequate coverage of the biggest story of our time. Many newspapers, too, are failing the climate test."
Thankfully, some of the best minds on the topic are finding other ways to get the story out. There are many, many more — and we'll hope you share them with us — but here are seven great sources to follow to stay on top of the most defining, and dramatic, story of our time.
Emily Atkin is a force. The journalist left The New Republic in 2019 to do original reporting on the climate crisis. She publishes it all in her regular newsletter, with free and paid versions, "for people who are pissed off about the climate crisis." She scores great interviews and her reporting and analysis is inimitable. In short, it's firey, smart truth-telling that you won't find anywhere else. Here's a fitting example of her weekly intro, from an October letter:
"Have you drank any water yet? If you haven't, consider it. Water is tight. Also, consider bananas. They're basically pure carbohydrates. And you'll need all the energy you can get for today's issue, which is about how Big Oil companies spent years mimicking Big Tobacco's business strategies as a way to gain profit, but as a result, are now facing the same threat Big Tobacco faced: Death by litigation."
Bill McKibben gets it. In 1988, he wrote The End of Nature, the first general-audience book about global warming, and he's been covering the topic through other books and in the New Yorker ever since. He is the godfather of climate change reporting. McKibben is also the founder of 350.org, a climate campaign working in 188 countries. His newsletter, sent every Wednesday night through the New Yorker, is neither technical, dense, nor, though he would certainly have a right after decades of widespread inaction, angry. Each version includes a thoughtful intro summarizing the latest news, an interview with someone — usually young, often a person of color — on the front lines of the fight against climate change, as well as "Climate School," a weekly list of new climate-focused resources, and the "Scoreboard," which summarizes recent wins and losses in the fight. He closes each week with something that's inspiring him at the moment — something we could all use more of right now.
Okay, the Guardian, founded in London in 1907, is not exactly untraditional. But their climate coverage, with nine full-time reporters, has crushed for years. Speaking of traditional outlets, the New York Times has a solid climate section that regularly publishes great graphics, and the Washington Post's section, led by Pulitzer-Prize winning reporter Chris Mooney, is a steady resource worth a shoutout, too.
Want to know what Gen Z thinks? They're the generation leading the climate movement, after all. Jerome Foster II, a recent high school graduate, is one of its brilliant young leaders. He's the founder of One Million of Us, a campaign to register one million young voters this fall, and the co-founder and editor in chief of the Climate Reporter, an international, youth-led publication dedicated to the climate movement. The stories are smart, thoughtful, and energizing.
Grist's mantra lately is don't freak out, figure it out. The practical, at times irreverent nonprofit publication was founded in 1999 in Seattle, and is dedicated to climate, social justice, and sustainability news. Grist still maintains its fearless independence and is dedicated to original reporting and analysis. I get the Weekly, a simple round-up of the week's top stories, in my inbox each Friday.
Kristy Drutman wants to change the face of environmentalism. She's a Filipina-American whose podcast, Brown Girl Green, hosts environmental leaders and discusses inclusion, diversity, and creative solutions in the environmental space. A recent episode about environmental racism explores environmental justice and the false choices between jobs and environmental action.
The Intersectional Environmentalism movement blossomed in the wake of the protests over the police killing of George Floyd. The inclusive version of environmentalism advocates for both the people and the planet. The website and Instagram feed are resource hubs, curating great follows and stories in the environmental space that support marginalized communities.
Writing for Vogue, founder Leah Thomas says, "The systems of oppression that have led to the deaths of so many Black people were the same systems that perpetuated environmental injustice. This realization pointed me to the term 'intersectional environmentalism,' and compelled me to introduce it into environmentalist dialogue — to spark conversation and mobilize the environmental community to be anti-racist and not complicit."
How are you keeping up with climate change? Share your favorite sources with us Facebook or Instagram @AvocadoMattress.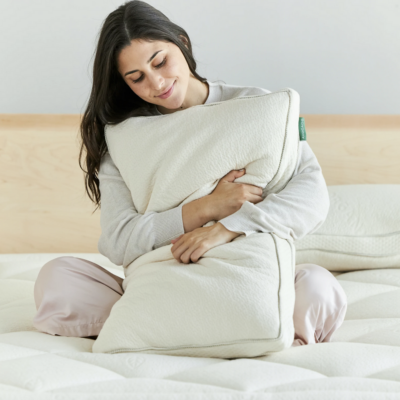 Shop Pillows
The Essential Organic Pillow Collection
Gentle, breathable, non-toxic support.
Buy Now