Lifestyle
How Covid-19 Brought Us Back to Nature
How the Covid-19 nature boom has helped us reconnect with the outdoors and discover a new-found appreciation for the environment.
Back in March 2020, (how has it been a year already?) when Covid-19 was first widely acknowledged in the U.S., restaurants shut down, people sheltered in place, and others fled from crowded cities to rural communities. Almost immediately, nature responded, too. In Los Angeles, a city notoriously known for bad air quality, the peaks of the San Gabriel mountains were visible from downtown, a phenomenon that rarely, if ever, occurs. In Venice, Italy, the country's famous canals, once murky, began to clear up. And like in Los Angeles, the peaks of Mount Kenya could be seen from Narobi. All over the world, animals came out from their forest hiding spots to explore the empty streets in now-quiet neighborhoods and cities. 
As spring turned to summer, it became clear that social distancing and being stuck inside was our new reality for the unforeseen future. The Covid-19 nature boom took off. Whether for exercise or mental health, people across the country — myself included — took the opportunity to reconnect with the thing that had mesmerized us at the beginning of the pandemic — nature. 
Read more: How This Atlanta Food Forest Helps Solve Food Insecurity
Public lands all over the country experienced surges in visitation. In June 2020, Pennsylvania State Parks recorded more than 1 million more visitors than the same time the previous year. Utah State Parks experienced a 33 percent uptick — or 2.6 million more visitors — from 2019 to 2020. North Carolina State Parks saw a record 19.8 million visitors, Colorado Parks and Wildlife logged a 30% increase in visitation in 2020, and West Virginia State Parks saw a 227% increase in online reservations in June 2020. In early November, Washington, D.C.'s Rails-To-Trails Conservancy reported an 80% increase in trail usage.
As a result, some parks closed to stop the spread of the novel coronavirus — but outdoor recreational gear still flew off the shelves. In April 2020, sales for traditional bikes, indoor bikes, bike parts, bike helmets, and other accessories grew 75% to $1 billion, according to The NPD Group. By category, lifestyle and leisure bikes under $200 grew 203%, front suspension mountain bikes were up by more than 150%, and children's bikes increased by 107%. Meanwhile, sales of paddle sports gear (kayaks, paddleboards, rafts, and canoes) were up 56% in June 2020, golf equipment sales grew 51%, camping equipment sales increased 31%, and binoculars sales for bird-watching expanded 22%, according to The NPD Group.    
Read more: This Permaculture Garden Is Healing a Town     
In addition to providing an outlet for exercise, the extra hours outside likely helped some people cope throughout Covid-19. Studies indicate that access to green spaces such as forests and parks are linked to health benefits, including recovery from mental fatigue and stress reduction. So, it makes sense that as the negative mental, emotional, and physical effects of a global pandemic began to take shape, droves of people started to seek solace in the outdoors.
Since the beginning of Covid-19, the crowds that laced up their hiking boots, hopped on a bike, and jumped into their kayaks have begun to wane. Destinations like Mount Rainier and Big Cypress National Preserve actually ended 2020 with a decrease in visitors. But whether the motivation to get outside was short-lived or has turned into a life-long connection, the important thing is, we've rediscovered nature in a major way. Just remember, if you're trekking the trail, going for a bike ride, or hitting the water, make sure you're enjoying the outdoors responsibly and following the principles of Leave No Trace.
In a time when the effects of climate change have never been more dire, this renewed appreciation for the outdoors has helped remind us how amazing, and precious, our Earth is — and why it's so important to protect it.
Tell us how you've been spending your time outside by tagging us on Instagram at #avocadomattress.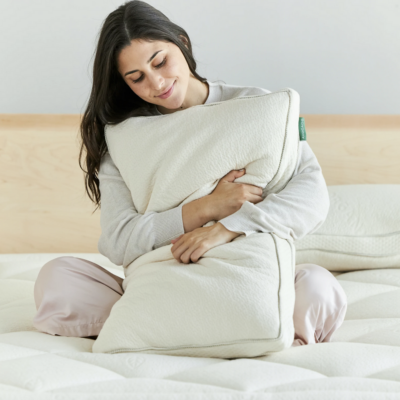 Shop Pillows
The Essential Organic Pillow Collection
Gentle, breathable, non-toxic support.
Buy Now