Leave No Trace is a nonprofit that encourages people to get outside and enjoy nature, while empowering them to preserve our trails, parks, and open spaces.
This article is part of our What It Means series, where we break down environmental topics in accessible ways. Explore previous articles in the series: What Are Carbon Offsets? and What Are Biodegradable Products?
When was the last time you went walking, hiking, biking, kayaking, or camping and didn't come across trash on the ground? Yeah, that's never happened to me, either. If that realization made you upset, well… that was the point.
Humans are responsible for most — if not all — of the damage inflicted on our planet. But we're also charged with protecting it. That's the call the nonprofit Leave No Trace heard loud and clear about 25 years ago. The organization seeks to teach individuals and communities the importance of getting outside and enjoying nature while empowering them to preserve our trails, parks, and open spaces. Advocating for the outdoors and the future of our Earth is also at the core of Avocado's values. That's why we're proud to partner with Leave No Trace as part of our 1% for the Planet commitment. For the first six months of the year, we'll be donating 1 percent of our annual revenues to support their global initiatives.
Read more: 1% For the Planet Names Avocado Its Inaugural Pinnacle Award Winner
The idea that ethical standards should be tied to outdoor activities emerged in the '60s when multi-day backpacking trips and connecting with nature started to become more popular among mainstream culture, says Dana Watts, executive director at Leave No Trace. By the early '90s, there were a handful of groups practicing the basic fundamentals of Leave No Trace, but they needed the support of a nonprofit to develop a more defined curriculum and spread the message. They united under Leave No Trace.
"We're still somewhat small, but mighty," says Watts. "We have programming and operations in every state in the U.S. and hundreds of different partner groups throughout the world that have come to us for various reasons: to use the messaging or training. We've translated the seven principles into 10 different languages."
The Seven Principles of Leave No Trace provide an easy-to-understand framework for adventuring outdoors while minimizing your impact on the environment. Here's what they are:
Adequately preparing for an outdoor adventure ensures you'll be able to stay safe and enjoy yourself while minimizing your impact on the land.
2.
Travel & Camp on Durable Surfaces
By understanding the terrain where you're hiking, walking, or camping — and staying on marked trails — you can avoid damaging the land and waterways.
3.
Dispose of Waste Properly
Waste you leave behind negatively affects wildlife, pollutes water, and degrades ecosystems. Do your part by keeping the land free of trash.
Don't take rocks, plants, or archeological artifacts you find home with you — leave them where they are to maintain the land's beauty.
Instead of a campfire, invest in a camping stove. Camping stoves keep land damage to a minimum, don't require firewood, and can be used in all weather conditions.
For your safety, and the health of animals, observe wildlife from a distance. You should also avoid touching, feeding, or picking up wild animals.
7.
Be Considerate of Other Visitors
Be mindful of your actions — like noise level — so everyone can have fun in the outdoors.
These guidelines aren't just for day hikes and weekend camping trips. You can practice some form of "leave no trace" anytime you go outside, but also in your home.
"I have always contended that it's not just a switch that you turn off and on — this ethic that you have," says Watts. "We're finding that people who are going outside with Leave No Trace are also bringing that ethic back home. They're doing these things like recycling, changing out their light bulbs, using reusable bags — things that really do have a greater impact on the climate."
The seven principles are the backbone of the organization, but there are other ways the nonprofit spreads the message of protecting and preserving our environment. They provide awareness workshops, training courses, and education initiatives for kids. And their Hot Spot Program identifies wilderness areas, forests, parks, and preserves that have been damaged from overuse and works to restore them. It's also a way for individuals to get involved with Leave No Trace on a local level — you can see if there are nearby hot spots in your area with their interactive map. Since 2010, Leave No Trace has rehabilitated over 100 hot spots across the country.
In 2021, the organization is focusing on the first and last principle — the two that are evolving the most quickly, says Watts. Because of the pandemic, more people have been exploring and connecting with the outdoors for the first time, which is great for our physical and mental health. But not being properly prepared can mean unnecessary harm to the environment.
"In a lot of ways, our work has never been more important and more critical to get that entry level information to people," says Watts. "So it's not confusing, it's not intimidating, it's still very welcoming, but it's an easy intro to Leave No Trace."
And the last principle — the concept of being kind to one another couldn't be more relevant right now.
"[It's] really about diversity, equity, and inclusion," says Watts. "How do we make sure that the outdoors truly is a space for all and that people really do feel welcome… We're looking at our programming and making sure that we are partnering with different groups who have [diversity and inclusion] as a priority."
Read more: Why Outdoor Recreation Needs a Facelift
Our planet is precious and, unfortunately, it's often taken for granted. Thanks to the diligent work of organizations like Leave Not Trace, more people than ever understand how vital it is to protect our environment. We only have one Earth, and it's up to us to make sure it's here to enjoy for generations to come.
Learn more about Leave No Trace by checking out their website or Instagram.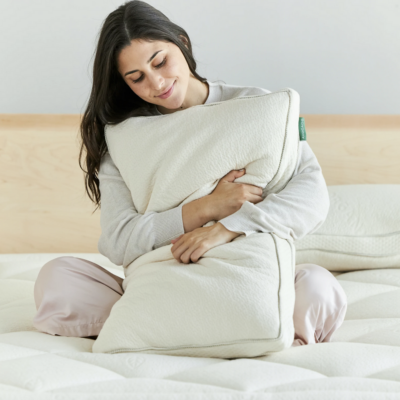 Shop Pillows
The Essential Organic Pillow Collection
Gentle, breathable, non-toxic support.
Buy Now