Here's what you need to know about the terms "biodegradable" and "compostable."
Have you walked down the aisles of grocery stores looking for sustainable products on the shelves and stumbled upon a product that describes itself as biodegradable? What does that even mean? Living sustainably has a variety of ambiguous terminology behind it, and while you may want to invest in products that are listed as biodegradable, you should first become informed about what that term actually means.
Biodegradable is best described as an item that can decompose into smaller pieces by bacteria, fungi, or microbes that are then absorbed by the surrounding environment without leaving any environmental impact. With biodegradability, natural materials can break down into either water vapor, carbon dioxide, or other organic materials. 
Read more: Why the MADE SAFE Logo Matters
Eco-friendly bio-based products are where it gets tricky for consumers. While some biodegradable products are formed from plant-based materials such as cotton, latex, sugarcane or corn starch, some biodegradable products don't necessarily fully break down. One study showed that some biodegradable products are bad for the environment because they release methane, a greenhouse gas, as they break down.
Still, they're a better alternative to plastics, which more or less never break down, and are made with more extractive materials that are devastating to the environment, like oil, as compared to natural, renewable materials, like cotton, flax, or latex. 
Read more: How the Responsible Wool Standard Matters
The reason scientists are skeptical about biodegradable products is the limited research performed on product lifecycles. Recent studies have shown that many biodegradable plastics were not decomposing in a short time span. The Federal Trade Commission ruled that brands can label products biodegradable if they decompose in a reasonably short time span, which is often ambiguous because there is no threshold for what counts as "reasonable."
It's almost important to understand the difference between the terms "compostable" and "biodegradable." An item that is 100 percent compostable means it will compost in a specific composting setting, whereas the biodegradable label effectively means the product can decompose in any natural setting — though this is not well-regulated or well-understood by researchers.
As consumers, it's important to understand what these terms actually mean, as it allows us to make educated choices about what is best for our communities and the planet. While items made with natural materials that are labeled "biodegradable" have less of an impact on the environment than those made with synthetic materials, researchers are still understanding the true life cycle and impact of biodegradable products.
Of course, the best thing we can do is limit our use and consumption of these items in the first place, and, when we have to choose, select the item that has the lesser impact on the environment.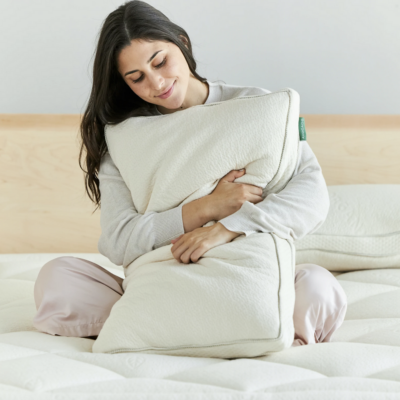 Shop Pillows
The Essential Organic Pillow Collection
Gentle, breathable, non-toxic support.
Buy Now