Lifestyle
Why the MADE SAFE® Logo Matters
MADE SAFE is a nonprofit organization that makes it easy to find safe, non-toxic products you and your family can feel good about using.
This is the latest in our 'What It Means' series, where we unpack the meaning and value behind important sustainability concepts.
You don't have to search hard to find harmful or toxic ingredients in your home. In fact, most people know that everything from their curtains to their cosmetics, food packaging, appliances, kids toys, and — yes, even their mattresses — contain harsh chemicals and substances. There's a big reason why this matters.
Nearly 40,000 synthetic chemicals are used to develop consumer products in the U.S. — less than one percent have been heavily studied, according to the EPA. And long-term exposure to materials like carcinogens, endocrine disruptors, flame retardants, heavy metals, high-risk pesticides, toxic solvents, and harmful VOCs (volatile organic compounds) can put consumers at risk for serious health issues. Think reproductive problems, hormone disruption, skin irritation, cancer, and more.
That's why the MADE SAFE certification is so important. They put clothing, shampoo, toothpaste, cleaning products, bedding — you name it — through rigorous scientific testing so companies like Avocado can provide customers with trusted, healthy, high-quality products. At Avocado, we believe in investing in the health of our customers and the planet, so all our certified organic mattresses and bedding products come with the MADE SAFE stamp of approval.
Mattresses without the MADE SAFE guarantee are often made with synthetics, including polyurethane foam containing harmful compounds like isocyanates, which can cause difficulty breathing, skin irritation, and chest tightness, and release gaseous VOCs. Studies have found that the concentration of VOCs inside our homes, compared to outside, is up to 10 times higher due to less ventilation. Extended exposure is known to cause health risks like throat irritation, headaches, and damage to the liver and central nervous system. This isn't limited to adult mattresses, either. Many crib mattresses are also made with polyurethane foam, and in clinical studies, babies that slept on new mattresses experienced four times the amount of exposure to VOCs than babies who slept on used mattresses. The reason? Newer baby mattresses use more chemical additives to keep the foam softer. When it comes to crib mattresses, always look for one with the MADE SAFE logo.
Here's a breakdown of other toxic materials you can expect to find in mattresses without the MADE SAFE certification.
Memory Foam: A type of polyurethane foam, memory foam varies in the amount of chemicals added by the manufacturer. However, it uses an Isocyanate compound called TDI (Toluene Di-Isocyanate), and, according to the EPA, long-term exposure to TDI is known to affect the respiratory, gastrointestinal, and central nervous systems.
Flame Retardants: Found in mattresses, sofas, and other household products, flame retardants contain harmful carcinogens which can create health risks like cancer or hormone disruption.
Plant-Based Foam: This material sometimes includes a small amount of soybean oil or caster oil mix along with other petroleum chemicals, which are harmful to the body. Because the ingredient label may not be straightforward, it's important to ask whether the foam being used is made with 100% plant-based substances or just a trace amount, which is often the case.
Polyethylene Foam: Similar to polyurethane, polyethylene foam contains fewer materials, but uses bio-based products or petroleum-based products, which can be harmful.
Latex-Based Foam: When used in a natural, organic form, latex is considered a more sustainable option because it doesn't emit VOCs. However, mattresses that use synthetic latex still release chemical VOCs.
One thing is clear. The everyday products we buy, use, and consume — and what they're made of — can have an effect on our short- and long-term well-being. But thanks to organizations like MADE SAFE, we can hold companies accountable and rest easy knowing brands that proudly display the logo are a trusted, safe, and healthy choice for you and the environment.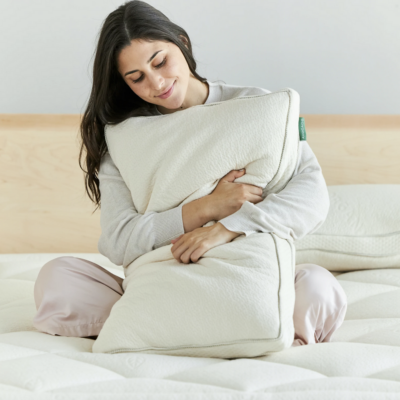 Shop Pillows
The Essential Organic Pillow Collection
Gentle, breathable, non-toxic support.
Buy Now