Research consistently shows that getting outside is great for overall mental and physical health. Now, physicians are prescribing time in nature to improve wellness.
One day a couple of years ago, Gina Besenyi found herself at a park with a group of kids. They were wandering around with tablets, evaluating the park's cleanliness, amenities, and other qualities. All in a day's work for the assistant professor of exercise behavioral science, who studies disparities in access to environmental resources and how that affects health behaviors.
A major focus of hers is park prescriptions, or rather, specific guidance from healthcare providers to spend active time in nature, which sits right at the intersection of preventive health and equitable access. As the concept grows in popularity, park prescriptions are spreading the idea that not only is nature a critical part of mental and physical health, it should also be one of the most accessible.
"There have been studies that compare the same activity indoors versus outdoors, and you would assume that physical activity wise, they're getting those same benefits. But when you do it in a space that has nature, then you have this additional benefit."
A growing number of studies support the idea that not only is physical activity important — where it happens can have serious additional benefits, both for mental and physiological well-being. And unlike a gym, the outdoors provide sights, sounds, and smells that can soothe, make exercise more enjoyable, and improve other health outcomes. "There have been studies that compare the same activity indoors versus outdoors, and you would assume that physical activity wise, they're getting those same benefits," says Besenyi. "But when you do it in a space that has nature, then you have this additional benefit." A 2019 study found that at least 120 minutes in nature per week resulted in a higher likelihood of self-reported good health or well-being. Another study found that long periods spent in nature could reduce rates of high blood pressure, and another saw reductions in stress, anxiety, depression, and fatigue.
When the pandemic shut down gyms and other indoor places where people exercise, Besenyi says, a lot of people started spending more time outside and realizing what a great health resource it is. A study published at the end of 2020 found a 69 percent increase in visitation to natural areas and urban forests around Burlington, Vermont, and the Outdoor Industry Association reported a national increase in outdoor recreation in 2020, including an 8.4 percent increase in day hiking. "I think we're having sort of our day in the sun here, our day outside," says Besenyi, laughing. "Because it's really highlighting that we need these resources and they need to be accessible, they need to be equitable."
Read more: How Covid-19 Brought Us Back to Nature
While parks haven't always been seen as a public health resource, park prescriptions have gained momentum as a way to bridge that gap. The idea is that a primary care physician or secondary provider like a physical therapist or mental health counselor could write a prescription for activity in nature, with specific directions that could be filled by patients much like any other prescription. Besenyi says ideally, a prescription offered information on the frequency, intensity, duration, and type of activity, in addition to giving a specific location like a park where the activity could take place. In a recent study, she and her colleagues found that many of the healthcare providers they surveyed were interested, but many also thought that resources would be helpful in prescribing outdoor time. "They did indicate that they needed some help and resources. You know, 'If I'm going to be prescribing parks, I need access to that park information,'" she says.
Besenyi grew up in rural Kansas and spent a lot of her youth playing outside; now that her career is spent researching the benefits of that lifestyle, she spends a lot of her time thinking about how to make sure more people have the same opportunities that she did. Access to green spaces, public parks, and other community nature resources often breaks down along racial and socioeconomic lines, and a legacy of racist housing policies has accounted for even a lack of trees in some urban areas. Awareness of resources is important, too: a survey by the National Recreation and Park Association found that the second most-cited reason that people say they don't use park and recreation amenities is that they're not aware of the programs or facilities available to them.
Read more: How Environmental Racism Makes Urban Heat Islands Worse
Besenyi and her colleagues are developing ways to make it easier for patients and their healthcare providers to find information they need about the green spaces available to them, including an app called the Electronic Community Park Audit Tool, which brings together information on parks, trails, and public exercise amenities like basketball courts, and allows users to search and rate each spot. "It would be super easy if a physician could type in your address and pull up all of your resources and be able to say, 'Here's your closest local park. And it looks like it has some decent ratings for how clean and nice it is, and it has all these amenities,'" says Besenyi.
That, in turn, can alert people to disparities in nature access in their own community. "This technology could help someone advocate for their space," she says. Hence, the trip to the park with the kids and the tablets, to use the app she and her colleagues developed. "We watched how much they got engaged in the process and started thinking civically about what they could do to help improve their community," she remembers. "I think that giving people tools to help them have a voice in the conversation is a good place to start."
Looking forward, Besenyi is also researching the best "dose" of nature, so to speak, and ways to incorporate park prescriptions in sustainable ways that build on existing programs and can be easily billed for like any other healthcare service. The principle behind all her research questions is simple, though: Time outdoors should be available to everyone, and it should be a part of daily life. "Being active outdoors should be feasible year-round," she says. "It doesn't take a gym membership. It doesn't take a lot of money to be able to go and do these things."
Read more: How 'Black Folks Camp Too' is Making the Outdoors More Inclusive
Have feedback on our story? Email us at [email protected] to let us know what you think.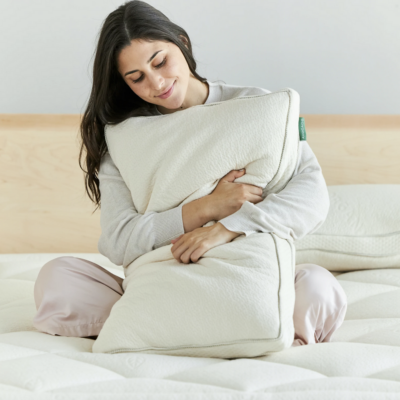 Shop Pillows
The Essential Organic Pillow Collection
Gentle, breathable, non-toxic support.
Buy Now