Advocacy
How 'Black Folks Camp Too' Is Making the Outdoors More Diverse
Black Folks Camp Too is on a mission to promote unity in the outdoors while getting more of the Black community out enjoying nature.
In October 2019, Earl B. Hunter, Jr. stepped onto the stage at the Outdoor Economy Conference in western North Carolina and, in front of a crowd of 500 people from 15 states, sang the first two refrains from Sam Cooke's "A Change is Gonna Come." He was officially introducing the room of mostly white outdoor industry professionals to Black Folks Camp Too, his newly launched marketing company whose mission is to make a positive change in the industry — to help it become more diverse and inclusive. 
"Black Folks Camp Too works to remove generational fear, add knowledge, and invite more Black people to camp and enjoy the outdoor lifestyle — with any and everyone," says Hunter. "And while we do that, we promote unity in the outdoors."
The catalyst for the company was an epic summer camping trip Hunter took with his son in 2017. Over three months, the father-son duo visited 49 campgrounds and traversed 20 states and provinces. At the time, Hunter was a marketing executive at SylvanSport, an outdoor company that specializes in adventure and pop-up trailers, so the trip was half work, half adventure. But the two had an amazing time — bonding, getting in touch with nature, and even seeing Mount Rushmore for the first time. What they didn't see? Campers that looked like them. In fact, they encountered exactly one other Black family during their trip.
Hunter was accustomed to being one of the only Black professionals in his line of work. According to the Outdoor Industry Association's 2021 Outdoor Participation Trends Report, 71 percent of existing outdoor participants were white, and 11 percent were Black. Hunter's trip made him realize there was an opportunity. One in which he could use his marketing expertise and his connections to educate the industry about how to make the outdoors more welcoming while encouraging more Black people to enjoy nature. He set out to do exactly that.
"Folks particularly in the outdoor industry are just figuring out that they need to get in the boat and start rowing, too, to make sure this happens," says Hunter. "It's not just on Black folks to get other Black folks in the outdoors."
Read more: How 'Brown Girls Climb' is Making The Outdoors More Inclusive
Since 2019, Black Folks Camp Too has made a tremendous impact in both the industry and in the Black community. The company has connected close to 400 people to the outdoors through camping, backpacking, kayaking, and other adventures. Their website is full of resources like the best places to camp, different types of camping, where to find a camping or RV store near you, and camping tips. They've also partnered with companies like Boulder, Colorado-based RV manufacturer Colorado Teardrops, and organizations like North Carolina State Parks to help them create more welcoming and inviting spaces for all, particularly Black people.
"We want a network of folks who believe in what we believe in, and they're the ones who are really driving this thing, which is a lifestyle," says Hunter.
Then there's the company's Unity Blaze campfire logo, which represents the idea that everyone, everywhere should be treated equally. When people see the Unity Blaze at a park welcome center, an outfitter, or on the backpack of fellow outdoor enthusiasts, there's an unspoken understanding that they're in a safe, inclusive space. Colorado Teardrops, for its part, has committed to putting the Unity Blaze on all of the approximately 150 trailers it plans to roll out this year.
"It doesn't matter your race, your age, or your gender. We believe that all folks have something to say around the campfire," says Hunter. "We want to make sure that we encourage more Black folks to go out in the outdoors so they can be around that campfire as well. Once we educate more Black folks about the outdoors, why it's important for us to be in the outdoors for our health, for our wealth, and all those things, then they can choose whether they want to be in the outdoors."
Read more: What Does Leave No Trace Mean?
This logo and message are also at the heart of the company's partnership with Leave No Trace. As part of their collective Unity Blaze Patch Project, proceeds from sales of the Unity Blaze Patch and other initiatives (like their coffee collaboration with Treeline Coffee Roasters) will help fund the CampUS Scholarship Program, which will provide outdoor education and outdoor industry training to 20 scholarship recipients per year and a Digital Education Initiative. The scholarship is open to all but aims to provide an opportunity for alumni of Historically Black Colleges and Universities.
"If it's not sincere, meaningful, measurable, and sustainable, we don't want to be a part of it," says Hunter. "We have an opportunity as an outdoor community to create unity while we're introducing new people to the outdoors. Folks think you have to hang off a cliff to be in the outdoors. You don't. You don't have to be the fittest person in the world — ripped abs and big muscles and all this kind of stuff. We want to encourage everyone to treat everyone, everywhere equally in the outdoors."
Read more: How Covid-19 Brought Us Back to Nature
Have feedback on the story or know of another organization doing amazing work in the outdoor industry? Let us know by emailing [email protected]. And follow along with Black Folks Camp Too on Instagram @blackfolkscamptoo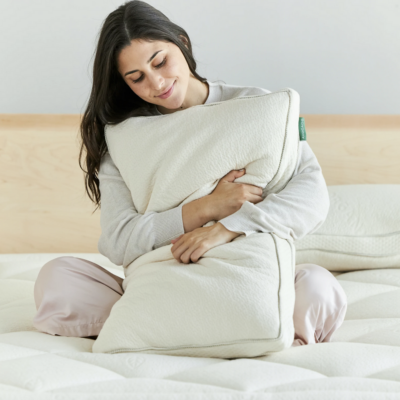 Shop Pillows
The Essential Organic Pillow Collection
Gentle, breathable, non-toxic support.
Buy Now