Brown Girls Climb is a multi-state organization providing safe spaces for women and LGBTQ people of color to explore climbing.
Cindy Su's nerves are wracked as she drives from Boston to New Hampshire. She's en route to her first climbing meetup hosted by Brown Girls Climb (BGC), a group that organizes inclusive and accessible outdoor opportunities for self-identifying women and LGBTQ people of color. Su doesn't know anyone at the meetup (which is partially why she's nervous), but her sister went to a BGC event a month earlier and "met some dope Women of Color," which prompted Su to check it out, too. The other reason Su's nervous is because it's shortly after the 2016 presidential election and Su, who is a first-generation Chinese-American, feels unsafe driving through New Hampshire — a state where Trump lost by a razor-thin margin. She plows ahead anyway.
When Su arrives at the site, her apprehension melts away.
"It was just wild walking in," says Su. "I remember being like, 'Wow, there are other Women of Color climbers! This is it, this is what it needs to be every time!'"
Su had been climbing for three years by the time she attended her first BGC meetup, but struggled to find people to mentor her. She also experienced "really unfortunate instances where people were really racist, super sexist, or didn't take [her] seriously as a climber," says Su. The BGC meetup couldn't have been more different.
"I just felt so validated. I felt like this was the community I was looking for," she says.
A 2019 report on the state of climbing by the American Alpine Club (AAC) found that the vast majority of climbers are white and male. On the very next page of the AAC report, BGC is named as a group making climbing "more welcoming and equitable."
Read More: 8 Ways to Increase Outdoor Recreation Diversity
BGC started as a virtual community but blossomed into an in-person one. In 2016, Bethany Lebewitz, the CEO of BGC, created an Instagram account — @browngirlsclimb — to showcase women climbers of color and tell their stories. Soon after the initial post, other leaders in the community began contributing to BGC — shaping the organization into what it is today. The account's popularity swelled, and, as of this writing, it has more than 40,000 followers.
Social media is one of the main ways that meetup attendees find out about the group. According to BGC leaders, about half of people learn about the collective through Facebook and Instagram, while the other half catch wind via word of mouth.
The inaugural BGC meetup in 2016 was held at a bouldering area called Northwest Branch in Maryland. It was attended by three people, including Lebewitz and Brittany Leavitt, the regional director of BGC. Fast forward to 2021, and BGC has established 23 chapters in eight states.
At a typical meetup, about half the participants are climbing for the first time. For Leavitt, part of BGC's allure is that it's a supportive environment for all skill levels.
"You're in a space where you're among other folks where — whether they're at the same climbing level as you, or above you, or brand new — it's a space of comfort and simple joy and like really defining the beauty of climbing," says Leavitt. 
Read More: This Powerful Documentary Celebrates BIWOC Reclaiming the Outdoors
This type of supportive community is one Leavitt didn't have access to when she began climbing. Leavitt says her climbing "origin story" isn't that riveting, but it's worth noting considering the organization she later founded; her journey began alongside white men at a college climbing wall. She wanted to learn and improve but didn't feel supported and was often left behind on climbing trips because she didn't have the gear. Now, some of the same people who excluded Leavitt are working alongside her in the outdoor industry. 
"It's a full circle moment," says Leavitt. "For me, it's not a slap in the face, it's just like, 'See? I ended up working in the same field, doing the same kind of thing!'"
After five years, BGC continues to grow. Leavitt is organizing a program that offers training to BGC chapter leaders who want to advance their outdoor skills and outdoor education. Local leaders will be able to take discounted wilderness first aid classes or go through Single Pitch Instructor training and then bring that knowledge back to their communities.
BGC also recently kicked off a crowdfunding campaign with the goal of raising enough money to support full-time and part-time positions. The organization is also launching a marketplace featuring outdoor gear companies created by Black, Indigenous, and People of Color (BIPOC) that are invested in social and environmental initiatives. And, of course, meetups are happening, too.
Read More: What is Intersectional Environmentalism?
In May 2021, the New England BGC chapter — which Su now leads — had its first in-person meetup in more than a year. During the pandemic, meetings were held via Zoom, but it just wasn't the same as gathering in person. More than 20 people attended the meetup at Central Rock Gym, and Su was stoked.
"The energy was so amazing. This is what I wanted to do," says Su. "We are creating an environment where Women of Color feel safe."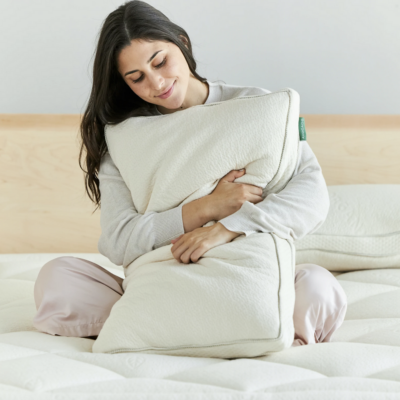 Shop Pillows
The Essential Organic Pillow Collection
Gentle, breathable, non-toxic support.
Buy Now