A personal plea for us all to do our part to help increase outdoor recreation diversity and inclusion.
Dear friends of the great outdoors,
As a Black woman who loves to engage with nature in many ways, I have something on my heart. In the last eight years of my adult life, I have grown to love hiking, trail running, snowboarding, river rafting, swimming, foraging, and anything that keeps me enjoying the outdoors with my children. I grew up in the city and spent a minimal amount of time doing recreational outdoor activities that required expensive gear or a level of outdoor education. Upon moving to the mountains and becoming a mother set on spending as much time outside raising my kids as possible, I realized a disparity in the outdoor community.
Me. I am that disparity.
In outdoor recreation and the activities surrounding nature, the population is disproportionately white and tends to lack diversity and culture. Growing up, I assumed that things like snowsports, backpacking, hunting, and National Park visits were things only white families did. I never felt a sense of belonging to those spaces and therefore stayed mostly away from them.
I know what you might be thinking, well Black people don't enjoy snow or cold weather or Black people don't enjoy the outdoors. These thoughts are called biases or stereotypes — mostly false ideas that derive from society or a lack of understanding about a race that is not your own. These thoughts are harmful and often perpetuate the idea that there is no problem within the outdoor community, and race conversations should stay out of the outdoors.
Sure, nature is mostly free until you start thinking of what it takes to get outdoors safely. Tents, backpacks, sleeping pads, coolers, hiking boots, training, permits, passes, and time. At the end of the day, access to the great outdoors is not accessible to everyone, and the idea of being comfortable and safe in a space where the community doesn't fully respect you for you, is, frankly, terrifying.
Speaking from my lived experience here. I know that this letter is a hard read for some, but we may never truly heal as a community if we continue to ignore or slap bandaids on issues with such deep roots.
When I started my Instagram (@she_colorsnature), I didn't expect to go on a personal growth journey, one that has led me down a road of understanding what it means to dismantle white supremacy and pretty regular self-guided American history lessons. I will just inspire more Black people to get outdoors, I thought! Unfortunately, our country's past and present are interwoven with structural racism and white supremacy that continue to bleed into all industries and communities, not excluding the outdoors. It is impossible for me to encourage Black people to get outdoors without talking about why the history of the outdoors in our country has been an unwelcoming space for some cultures more than others. I cannot talk about hiking and getting into the backcountry without drawing clear lines for people to understand why there is a lack of diversity on the trails today.
Peeking into our American history, you don't have to go very far back to see that the outdoors was a space where many Black people found refuge away from white folks who were trying to end their lives. Trees were often used as a weapon to commit murder and celebrate killings against Black people who were "overstepping" their boundaries in white communities. The outdoors is very much a space where racism needs to be addressed and regularly talked about. Communities of color hold generational traumas surrounding the outdoors synced to the majority white community that represents it. Acknowledging there is a problem is the first step to recovery of any form, and I am here to say that racism is 100 percent alive and well in the outdoors.
By this point in my letter, you might be experiencing feelings of frustration, guilt, shame or irritation. Trust me, I understand, I didn't always want to see it for what it is either. From my lived experiences, the sometimes toxic, status-quo outdoor culture can be ugly, harmful, and destructive. My intentions are not to shame any race or point a finger at you personally, but to draw attention to the need for an anti-racist practice. I have no agenda to push, just a motivation for an outdoor community that is more inclusive and accepting of my daughters than it was for me.
A greater understanding of inclusivity requires a real commitment to anti-racist work, alleviating concepts, practices, and policies that lead to harm and pain for BIPOC (Black, Indigenous, and People of Color) in the outdoors. Taking a larger look at how you conduct yourself when diversity enters the outdoor community, and how the brands and organizations you support are creating a more equitable space for folks who identify as Black, Indigenous, or a person of color.
I came up with eight ways that individuals and organizations can become a community that I want to be a part of, pertaining to outdoor recreation of all sizes and shapes.
#1 — Toss out the white washed narrative behind the term "outdoorsy."
We are all "outdoorsy." We all belong in nature and not one race or culture is more fitting or worthy of a relationship with Mother Nature. God's creation is for all to enjoy, and it's never too late to get started.
#2 — Make outdoor gear and education more accessible to everyone.
As I mentioned before, outdoor gear and accessibility is not equitable. Education costs an arm and a leg and teaching positions lack the representation needed to support BIPOC student attendance. White-led outdoor organizations need to take the lead on providing grants, scholarships, used gear garages, gear kits, and fundraising focused on getting more marginalized communities into the outdoors.
#3 — Create marketing and representation that includes but does not tokenize Black and Brown people.
Tokenism is the practice of making only a perfunctory or symbolic effort to do a particular thing, especially by recruiting a small number of people from underrepresented groups in order to give the appearance of sexual or racial equality within a workforce. Tokenizing is inhumane, it is disingenuous, and it's often a quick fix that is not sustainable in any community.
#4 — Action across the industry to actively hire and create a safe space for Black and Brown people in the workplace.
This action should be guided by anti-racism education. Hiring BIPOC without creating a healthy environment void of tokenism, racism, homophobia, and stereotypes will be harmful for the people you attempt to bring on your team.
#5 — Every CEO (or person in leadership) commits to being anti-racist, while actively checking and stopping their decisions based in bias, prejudice, and toxic masculinity.
Suggested reading here: Me and White Supremacy by Layla F. Saad and How to be an Anti-Racist by Ibrahm X. Kendi. These may help you learn to see every person for who they are: human beings deserving of the space they want to responsibly take up outdoors.
#6 — When we say diversity in the outdoors, that includes people with disabilities, plus-size people, LGBTQ+, and all religions.
Although my work is directed at getting more Black people into the outdoors, my empathy does not end there. It extends to all people. Justice for the ones who are unspoken for, the ones in need of an advocate. Diversity is larger than race.
#7 — Acknowledge Native land and actively try to help our Indigenous friends reclaim it when possible.
We are all on stolen land. Download the Native Land app and begin to understand the history of whose land you recreate on and the initiatives that may be in place to help them reclaim land back. For example, the Wenatchi Land Back initiative, where they are actively accepting donations for a community center for their young adults and children to have a space to safely congregate.
#8 — Express true, genuine, and authentic allyship, not self proclaimed allyship. A model of allyship where your actions speak much louder than your words.
Allyship is not a medal you can receive, it is a state of being or a commitment to live a certain way. Your actions will reflect it, and the people around you will feel it. It is similar to a life commitment to sobriety. You can say you are sober, but if you don't commit to action-based practices everyday, it means nothing.
If you have come this far in my letter, you are a member of the outdoor community I want to be a part of. A community where I can be on the trail comfortably and safely. A community that isn't taking action based on old biases and stereotypes. This is a community that I want my children and future grandchildren to take up space in, to learn from, and to thrive in.
You are my people.
Thank you.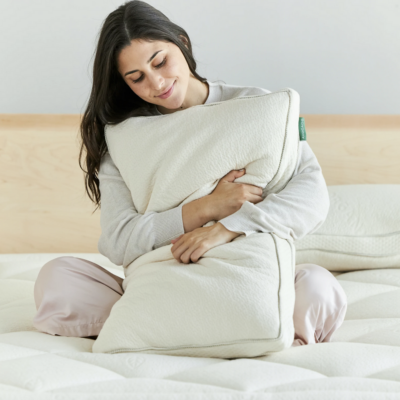 Shop Pillows
The Essential Organic Pillow Collection
Gentle, breathable, non-toxic support.
Buy Now