Good for you, good for the planet — here are 5 tips for foraging in your own community.
Foraging is the practice of searching, identifying, and gathering food in one's environment — a practice since the dawn of humans and a sacred tradition for some Indigenous groups.
Plants, herbs, and trees provide many fruitful delights every year that have supplied local species their source of food. While you may think that foraging is only done in forests or natural parks, your own neighborhood is likely loaded with foraging opportunities. But foraging isn't as easy as it seems. One of the best ways to learn about foraging is to learn about its ancestral roots and the importance of regenerative practices. Keep in mind that misidentification of a plant can be dangerous — you want to be 100 percent sure of exactly what something is before popping it in your mouth. This is especially important for mushroom hunting, as many edible and toxic species appear similar.
Many people combine foraging with hiking. In many regions, you can find fruit such as raspberries, blueberries, or pawpaw while on a hike. While foraging has become an increasingly talked about topic for sustainable and ethical living, it's also important to note that depleting natural resources in an unsustainable way can create damage to the local ecosystem. Only take what you need. Foraging shouldn't be focused on consuming everything you see. Foraging can be a bit intimidating but here are some great steps to get you started
#1 — Read a Foraging Book
I cannot emphasize the importance of learning the background and science behind edible plants and their properties. One of my favorite books to learn an introduction of plant species is Complete Guide to Edible Wild Plants, Mushrooms, Fruits, and Nuts : How to Find, Identify, and Cook Them. This book covers urban environments where many people live and teaches you how to search, identify, and properly harvest them.
#2 — Avoid Contaminated Soil
Stay away from any railroads, toxic buildings, and freeways when foraging as they are known to have a high level of contaminants within the soil. Eating these types of food are highly toxic and it's advisable to stay away from any type of soil that is poisoned.
#3 — Find a Mentor
For many of us, asking for help or mentorship provides other opportunities on how to connect with nature. Local Facebook groups, organizations in your area, or friends are a great place to start when trying to find someone.
#4 — Keep a Journal
Record the local edible plants in your area and by season. Recording information and data is important when foraging as it makes you recognize natural life cycle patterns of when edible plants bloom, wilt, or grow. Not only will you remember what to harvest that season, you can also recall what dishes you made with them. Make sure that you are picking just a bit to not deplete the plant's resources.
#5 — Get Permission
If you are foraging in a wildlife center or park, ask whether or not you can forage and, if so, inquire about the endangered species in the area. As much as we want to pick everything we see that is edible, it's important to also conserve edible plants for their respective ecosystems.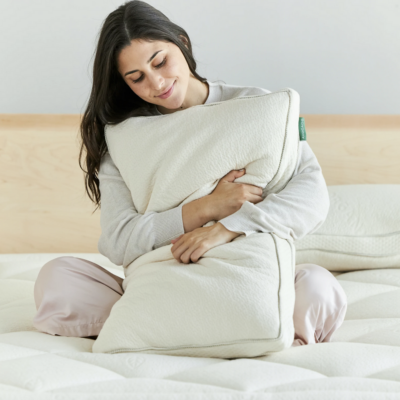 Shop Pillows
The Essential Organic Pillow Collection
Gentle, breathable, non-toxic support.
Buy Now