Imported flowers can rely on cheap labor and pesticides, and come with a massive carbon footprint. Here's how to look for local alternatives and support the slow flowers movement. 
More than a decade ago, before becoming a champion of the domestic floral industry, Debra Prinzing was a journalist covering gardens and home design. While on assignment, she met flower farmers up and down the West Coast and found a renaissance of small-scale outfits — most an acre or less — producing heirloom, ephemeral florals you couldn't find at flower shops or grocery stores.
"I kept hearing these David and Goliath stories of small farmers up against the multibillion, multinational infrastructure of the flower industry," says Prinzing. "That disconnect really bothered me and propelled me to do more storytelling around it."
Nearly 80 percent of cut flowers are imported, primarily from South America, the Netherlands, and Kenya. Due to longstanding trade agreements, imported flowers are significantly less expensive for retailers than domestic varieties, but the environmental footprint from transportation is vast. By the time most flower shipments reach the U.S., they've already covered thousands of miles, and are then transported to far-flung destinations across the country. And while some international suppliers commit to ensuring fair trade and sustainable practices, international regulations around floral farming are lax, particularly when it comes to the use of chemical pesticides and workers' rights.
In 2018, The Washington Post reported that in the three weeks before Valentine's Day around 30 freight planes loaded with roses landed in the U.S. every day from Colombia alone. Those trips accounted for nearly 115 million liters of airplane fuel, 360,000 metric tons of CO2, and more than 15,000 tons of flowers. Prinzing notes the aesthetic shift to a delicate, gathered look rather than "perfect" blooms stemmed in part from an attempt to outsmart the importers — varieties like sweet peas, garden roses, and dahlias do not ship well.
Read more: 12 Edible Flowers You Can Grow at Home
Delving deeper into the industry resulted in Prinzing's first book, The 50 Mile Bouquet: Seasonal, Local, and Sustainable Flowers. It highlights floral farmers and designers at the forefront of the then-burgeoning seasonal flowers movement — dubbed "Slow Flowers," by Prinzing — dedicated to an awareness and appreciation of origin, traceability, and ecological footprint. (She sees a clear parallel to the slow food movement but says slow food is decades ahead of the flower industry, pointing to Alice Waters' Chez Panisse in Berkeley laying the foundation for a generation of farm-to-table restaurants in 1971.)
"When you buy local flowers, you know you're supporting a family farm or an urban grower working with a quarter of an acre in their backyard."
Prinzing's next title, Slow Flowers: Four Seasons of Locally Grown Bouquets from the Garden, chronicles a year-long journey creating bouquets sourced from her own yard, occasionally supplemented by a local farm-to-florist cooperative in Seattle. Out of these works grew SlowFlowers.com, an online directory of American-grown farms, florists, shops, and studios committed to growing and using local, seasonal blooms, and the Slow Flowers Society, a community with annual events, a publishing imprint, and an eponymous podcast.
"It's easier than ever to find someone growing flowers in your community that you can support and get to know," says Prinzing. "And putting a face to the flowers is perhaps the most important component in saving domestic floral agriculture. When you buy local flowers, you know you're supporting a family farm or an urban grower working with a quarter of an acre in their backyard."
Prinzing doesn't see imported blooms going anywhere soon (if ever) and would rather focus on supporting the growing market for domestic flowers. When the pandemic disrupted international supply chains, florists and flower enthusiasts across the country turned to local and domestic flower farmers. According to a 2022 survey by the National Gardening Association, 65 percent of respondents said buying locally cut flowers and flower arrangements is "very or somewhat important," up from 58 percent in 2021.
"Even if we're still flooded with imports, those flowers tend to go more mass market," says Prinzing. "Designers are buying from local flower farmers and tagging them on Instagram like a chef might tag their purveyor of mushrooms. It's now part of the story."
Here's how to follow Prinzing's lead and support the slow flower movement in your community.
Read more: How to Collect, Press, and Preserve Flowers
Tips For Making Mindful Floral Purchases:
1.
Search Suppliers
Directories like SlowFlowers.com and the Farmer-Florist Collective aim to connect consumers, farmer-florists, and floral designers interested in local, seasonal flowers.
Choosing a florist who values sustainability for a wedding or large event can significantly reduce the environmental impact, from opting for plant-based packaging instead of floral foam (made from microplastics that will never biodegrade) to using bleach and dye to artificially color flowers.
2.
Check the Label
The "Certified American Grown" (CAG) seal certifies blooms across the U.S. are of domestic origin. And state-specific organizations like BloomCheck, California's first sustainable cut flower certification program, establish best practices to ensure farms are socially equitable and environmentally sustainable.
3.
Get Social
Find local-to-you farmer-florists or floral designers with hashtags like #locallygrownflowers or #seasonalflowers.
4.
Think Seasonally
"If you develop an interest, you're going to start seeing flowers with new eyes," says Prinzing. "You'll see things in bloom and begin to pick up on seasonality — that you should buy those peonies now, and not in December. You might even be inspired to buy your own packet of seeds."
Read more: A Sustainable Alternative to Bouquets: Dried Floral Arrangements
Have feedback on our story? Email [email protected] to let us know what you think!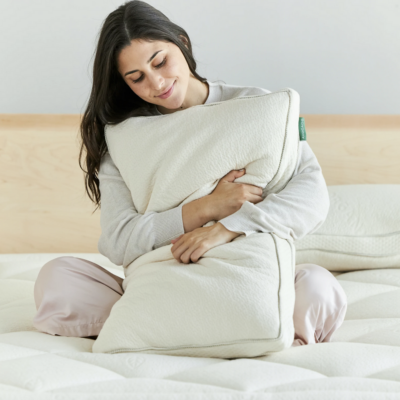 Shop Pillows
The Essential Organic Pillow Collection
Gentle, breathable, non-toxic support.
Buy Now