Transform any dish, drink, or dessert into a colorful work of art with sustainable and stunning edible flowers you can grow at home.
Throughout the spring and summer, I often pick up plastic packs of edible flowers for lemonades, cakes, or cocktails I'm bringing to get-togethers with friends. Edible flowers are a simple, budget-friendly way to add that "wow" factor to dishes, drinks, and desserts. The colorful gems come in a variety of flavors, too — from sweet and citrusy to fruity, minty, or peppery. What I don't love is the plastic packaging they come in.
Luckily, growing edible flowers at home is easy, sustainable, and comes with a whole host of mental health benefits. Gardening and being in nature are shown to reduce anxiety, stress, and depression, boost your mood, and help with concentration. There's nothing more rewarding than planting flowers from seeds and watching them bloom and grow. Plus, you won't have to worry if they've been sprayed with chemical pesticides or herbicides.
A few tips to keep in mind. You can pick your flowers the day of or store them in a container in the refrigerator until you're ready to decorate — most flowers will last a few days in the refrigerator. Or, to make flowers last longer, dry them to save for later. Keep a few extras you collect during the summer on hand so you can spruce up teas, coffee, and baked goods during the gray winter months.
Ready to start your own flower garden? Here are 12 edible flowers you can grow at home to create culinary creations that look almost too good to eat.
Read more: How to Collect, Press, and Preserve Flowers
This plant is entirely edible — leaves, stems, flowers, and all. The seeds can even be pickled and used to top salads or avocado toast. The flower's vibrant yellow, orange, and red hues offer the perfect pop of summery color, and its mild, peppery flavor — similar to watercress or radish — makes it a nice addition to vinegars.
Growing difficulty: Easy
Sunlight: Full sun. Nasturtium can handle partial shade but produce fewer blooms.
These tall flowers add a lovely purple accent to teas and baked goods. They're also great for syrup infusions used in cocktails or spritzers. Floral in nature, lavender flowers feature hints of mint and rosemary and are slightly bitter. Typically, they are annuals, but if you live in a dry climate, you can grow lavender all year long.
Growing difficulty: Easy
Sunlight: Full sun.
Bachelor Buttons are native to Europe but have established themselves as a common variety in the U.S. Traditionally bluish-purple in color, you can now find the frilly flowers in white, pink, and red shades. Ideal for adorning cupcakes and cakes.
Growing difficulty: Easy
Sunlight: Full sun.
You may think of chives as a green stemmed herb that you chop up and throw into omelets or soup, but this plant produces an edible puffy light pink flower, too. Like the stems, the blooms taste like a cross between onion and garlic, but the flavor isn't overwhelming. Toss them on top of sauces, crunchy garlic bread, or infuse them with vinegar.
Growing difficulty: Easy
Sunlight: Full sun.
This plant produces stunning red tubular flowers that emit the scent of pineapple and attract hummingbirds, so it's a must-have in your summer garden. While they don't have much of a taste, their rich color makes them a marvelous garnish. You can also chop them up to elevate the color in jellies and jams.
Growing difficulty: Moderate. Pineapple Sage bushes are easy to grow, but they bloom late in the season, so bring them inside when it starts to get cooler to ensure flowers.
Sunlight: Full sun.
Another plant that is entirely edible, pansies are among the most popular edible flowers due to their diverse colors. Blue, purpose, white, mauve, yellow, orange, and even black, if there's a shade you're looking for, pansies will likely deliver. Eat them raw in a salad (expect a lettuce-like, slightly spicy flavor) or candy them to top cupcakes, summer pies, and bowls of fresh fruit.
Growing difficulty: Easy
Sunlight: Indirect sun. Unlike most perennials, they thrive in fall and winter.
Read more: How to Preserve Herbs, Flowers, and Fruit
A daisy-like bloom that occurs in red, orange, and yellow Calendula has a well-known superpower — the more flowers you pick, the more it produces. Also known as pot marigold, this edible wonder gives off a woodsy sandalwood scent and has a mild vegetal taste that intensifies when dried. Scatter the petals among salads, garnish winter soups like butternut squash, or use Calendula to color cheese and rice dishes.
Growing difficulty: Easy
Sunlight: Full sun or partial shade. Note: Calendula does not like the summer heat and is best grown in spring or fall.
Sunflowers are a summer flower garden favorite, but many people don't know that this towering beautiful plant is edible from sprout to stalk. Slice and fry the roots and add them to mashed potatoes; eat the celery-like stalks raw with hummus; bake the leaves with some olive oil and salt and pepper to make sunflower leaf chips; use the petals for garnish; or roast the sunflower head for a savory, filling snack.
Growing difficulty: Easy
Sunlight: Full sun.
The key to squash blossoms is harvesting them midday when the blossoms are open. That way, they're easier to use. Even better, you can enjoy these blossoms year-round from summer and winter squash varieties. Featuring a subtle orange flavor, they can be eaten raw, stuffed with cheese and baked, or battered and fried. The possibilities are endless.
Growing difficulty: Easy
Sunlight: Full sun.
Used mostly for immune-boosting herbal teas and by Indigenous people as a medicinal herb, this daisy-like light purplish-pink flower has a floral, bitter taste. Known for its soothing, anti-inflammatory properties, DIY echinacea tea is a perfect remedy for sore throats, stomach aches, and headaches. Not a tea person? It makes a great garnish, too.
Growing difficulty: Moderate to easy
Sunlight: Full sun to partial shade.
Another daisy-esque bloom that's ideal for herbal tea, chamomile's bright white flowers give off the scent of apples and have a honey-like sweetness. Boil the flowers for a calming hot tea blend or use them to flavor jams, ice cream, or biscuits. Note: If you are allergic to ragweed, you should avoid chamomile as it may trigger an allergic reaction.
Growing difficulty: Easy
Sunlight: Full sun. However, in hot climates, partial shade is preferred.
If you're walking through your garden and you're hit with the scent of licorice, your yarrow flowers are probably in bloom. These delicate white bunches can be dried if used as a spice — they have a mild flavor similar to tarragon — or you can add them to sorbet, vinaigrettes, yogurt, and fresh fruit. Yarrow is also known to be rich in essential nutrients like vitamins A and C, iron, magnesium, and zinc. It's also pest-resistant.
Growing difficulty: Easy
Sunlight: Full sun.
Read more: How to Make Your Own Herbal Tea Blends
Have feedback on our store? Email [email protected] to let us know what you think!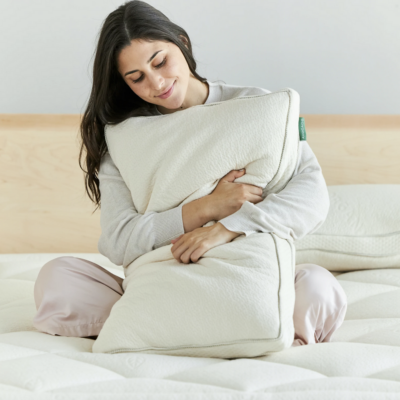 Shop Pillows
The Essential Organic Pillow Collection
Gentle, breathable, non-toxic support.
Buy Now