Ditch the plastic tea bags and artificial flavors. Get creative by making your own herbal tea blends for a comforting cup you can enjoy any time of day.
My ideal day starts and ends with a hot cup of tea. Whether I'm rising with the sun in the middle of a humid summer or snuggling up in a blanket on a snowy winter evening here in the Northeast, my morning and nighttime ritual always includes a steamy herbal blend.
The act of making and enjoying a cup of tea is special to me, so recently, I've gone all in, experimenting with my own herbal creations. It's a fun and easy way to move away from conventional blends that are often made with artificial flavors and packaged in bags made from plastic. (Plastic tea bags have been shown to release billions of microplastics and nanoplastics into tea — and thus, your body.) Plus, it makes me feel a bit better about sipping two to three cups a day.
If you're up for the challenge, grab your favorite infuser or stainless steel strainer, your go-to mug, and try these two simple DIY herbal blends. Both blends are caffeine-free, so they're perfect for the middle of the day, evening, or any time you're in the mood for a comforting cup of tea.
Read more: How to Preserve Herbs, Flowers, and Fruit
To help your stomach digest breakfast and lunch, a simple mint, ginger, fennel, and lemon tea blend will do you good.
What You'll Need:
2 tbsp mint leaves (you can dry these if you have a food dehydrator, but fresh leaves will also work)
½ tsp fennel seeds
½ tsp dried cut ginger pieces (about a sliver of fresh ginger)
Local honey to taste (optional)
Fresh lemon slices (squeeze juice or add whole slices to liquid)
For more restful, healthy sleep, crawl into bed with a relaxing blend of lavender, chamomile, and lemon balm.
What You'll Need:
1 tbsp dried lavender buds
1 tbsp dried chamomile flowers
1 tbsp dried lemon balm
Local honey to taste (optional)
*Always be sure to go with organic and edible flowers
Directions:
Bring water to boil in a tea kettle.
Place all ingredients in an infuser or tea ball/strainer.
Add filled infuser or tea ball/strainer to mug.
Pour hot water into mug.
Let ingredients steep for 5-10 minutes (depending on how strong you like your flavor).
Stir in optional honey, and enjoy!
Another great thing about making your own blends is that you can reuse the herbal ingredients at least twice before throwing them away. And when it's time to toss them, just put them in the compost!
Read more: How to Compost in a Small Space
If you want to truly do it all yourself, and grow, harvest, and dry the herbs and flowers for your tea blends, be sure to invest in a guide to herbal tea. One of my favorites is Wild Tea (that's what I'll be referencing come spring), which includes everything you need to know about planting, harvesting, and drying homegrown berries, roots, seeds, leaves, and flowers.
In the meantime, you can rely on Mountain Rose Herbs for bulk purchases of USDA certified organic and sustainably grown herbs and spices.
Happy sipping!
Read more: How to Make Candles
Do you have your own DIY tea blend recipe that you love? Let us know by tagging @avocadogreenbrands on Instagram or Facebook.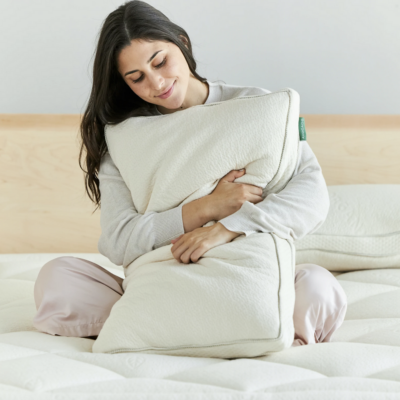 Shop Pillows
The Essential Organic Pillow Collection
Gentle, breathable, non-toxic support.
Buy Now