Fill your space with calming energy and soothing scents — a guide to DIY candles.
Have you ever considered the number of candles you go through in a month? Or how candles affect the indoor air quality in your home? Now that I'm home basically 24/7, I light candles in the morning, in the evening before I go to bed, and I always have a few burning throughout the day to help me stay focused. It's a relaxing ritual. It's also the reason I'm burning through them faster than ever. That's why I decided to start making my own DIY candles.
As a person who suffers from a number of indoor allergies and asthma, I take candle buying very seriously. And with research that suggests conventional candles contain unhealthy and unnatural chemicals, it's time to consider making your own.
Before we jump into the art of candle making, we need to take a minute to talk about fragrance notes and naturally-derived bases. Non-toxic waxes include natural soy, beeswax, and coconut. Until recently, I tended to go with soy. However, after learning that the popularity of soy is leading to deforestation in the Amazon, I started looking for more sustainable, eco-friendly options. So, for this DIY guide, we're going to use beeswax and coconut oil. Here are two simple ways to start making your own non-toxic candles.
What You'll Need:
Jars (I like to reuse old candle containers or mason jars)
8 ounces of pure beeswax
⅓ cup of coconut oil
Pre-tabbed cotton wicks or organic hemp (your local craft supply store might also carry some)
Clothespins
Glass measuring cup
4 quart saucepan
Hot glue gun
Dried lavender and eucalyptus (for added aesthetic)
Lavender Essential Oil Candle Instructions:
Using the hot glue gun, secure the cotton wick to the center of the bottom of your jar.
Once the wick is glued and centered, place a clothespin across the top to keep it upright.
Measure 3 parts wax and 1 part coconut oil into your measuring cup, place it in the saucepan, and turn the stovetop on low to medium heat.
Monitor temperature with your thermometer until wax is at about 150 degrees.
Stir continuously for about 10 to 15 minutes until all wax is liquified.
Before removing from the stovetop, add in a generous amount of organic lavender essential oil.
Let cool for a few minutes.
Grab an oven mitt or a kitchen towel and carefully pour hot wax into your jars, leaving a little under an inch at the top.
Let your candles cool overnight before trimming your wick to desired height — this is key!
*To make a eucalyptus candle, repeat all steps, subbing out eucalyptus essential oil in step six.
Et violá! You have your very own handmade candles ready to be burned day or night. Once you've mastered these, get creative with your fragrance notes — some of my favorites are fig leaves, cedar, cardamom, and blackcurrant.
Did you give our DIY candle guide a try? Share your creations with us on Instagram or on Facebook.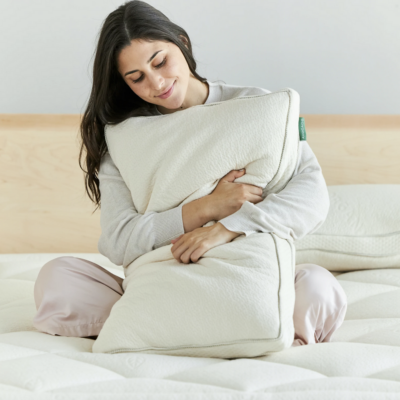 Shop Pillows
The Essential Organic Pillow Collection
Gentle, breathable, non-toxic support.
Buy Now