More sustainable than traditional bouquets, a DIY dried floral arrangement lasts longer and is easier on the planet. Here's how to make your own.
Every May, I head down to the local florist to peruse the stunning flowers bathing in tall, black bins (I especially love gazing at the fresh arrangements keeping cool in the refrigerated section). The reason for my trip is to pick up a special bouquet for my mom, my partner's mom, my grandma, my aunties, and my besties for Mother's Day. I enjoy being able to choose from a selection of different flowers I know each mom will truly admire. For example, my mom loves snapdragons, while my partner's mom adores carnations. But this year, I decided to try something new.
Read more: How to Grow Mushrooms at Home
During quarantine, I became just a little obsessed with making my own DIY dried floral arrangements. It recently dawned on me that these would be a longer-lasting — and sustainable — swap for fresh flowers. So if you're like me and want to make your own unique creations, I've got you covered with some tips I've learned along the way and my go-to shops for beautiful and unique dried flowers and stems. Here's how to make your own DIY dried floral arrangement.
Where To Shop
Let's start with where to find them. First, there's Afloral. The online shop has an extensive selection of naturally preserved grasses and flowers like terracotta sun palms, pink preserved ming fern leaf bundles, purple dried larkspur flowers, and more. (I may have gone a little overboard here once or twice — they have so many different colors and varieties, I couldn't resist!)
The Sill — a plant shop with a cult following and dreamy Instagram — is another great option. The brand recently released dried and preserved stems and bunches, along with pre-made arrangements if you'd rather leave things to the professionals. I'm a big fan of The Linum Burgundy Bouquet.
The Sill
The Linum Burgundy Bouquet
70.00
Shop
Then there's Bloomist. Their dried botanicals feature Earthy tones and can't-find-anywhere-else offerings like dried purple majesty millet and chocolate bunny tails. Plus, they're a 1% for the Plant company — and that's always a win in our book.
Bloomist
Dried Gold Plumosum
24.00
Shop
Read more: How to Propagate Plants
Curate Your Bouquet
When it comes to choosing what works best for each mom or maternal figure, I suggest thinking about the décor in each of their homes. Are there any bold colors that stuck out to you? If you're not sure, a good rule of thumb is to choose bunches of neutral colors that can fit into any design aesthetic, so you can get the most out of each without overbuying.
You can't go wrong with a bunch of palms, eucalyptus, ferns, and bunny tails — these will also help you create your base and introduce height into your arrangement. After you have your base, add dried grasses for more bulk and use dried flowers to add color, texture, and detail.
While it might be nice to also include a vase, you can keep costs low by wrapping each arrangement in newspaper or leftover packaging paper to avoid using any plastic. I love an upcycle moment!
Once you've received your special selections, put on a good playlist, channel your inner florist, and get to creating something unique for every type of mom in your life.
Did you try out our tutorial? Share your dried floral arrangement with us by tagging Avocado on Instagram at #avocadomagazine.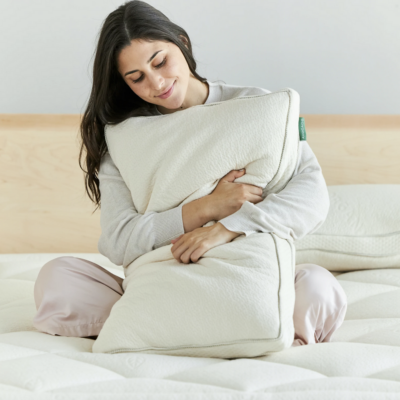 Shop Pillows
The Essential Organic Pillow Collection
Gentle, breathable, non-toxic support.
Buy Now