Art can help us connect with others, create community, and process eco-anxiety and dread about the future of our planet.
July was the hottest month on Earth — ever. Of course, this record-breaking heat and the worsening natural disasters we're experiencing are directly linked to human-caused climate change. And it's happening everywhere.
Western Canada, Washington State, and Oregon, in July, reported temperatures so high it wasn't safe to go outside. The "heat dome" phenomenon killed approximately 500 people in British Columbia, more than one billion marine animals, and contributed to hundreds of wildfires. One such fire, in Oregon, known as the "Bootleg Fire" burned the equivalent of the city of Los Angeles. During the same month, Western Europe was hit with up to two months' worth of rainfall over the course of two days — it's projected that at least 209 people in Belgium and Germany perished in the resulting floods. In Brazil, an uncharacteristic cold snap prompted below-freezing temperatures and snowfall. And hurricane Ida, one of the most powerful storms to make landfall in the U.S., wreaked havoc on New Orleans.
If you're lucky enough to live in an area of the world that hasn't been affected by a climate disaster — chances are, you will at some point in the future. At least, if the IPCC's latest climate report is any indication. (The report confirmed that climate change is widespread, rapid, and intensifying and that some trends like continued sea-level rise are irreversible.) Those facts — along with news of one climate disaster after another — are heavy. And if your mental health is suffering as a result, you're not alone. In fact, it's a natural response.
More than 67 percent of Americans are somewhat or extremely anxious about the impact of climate change on the planet. As someone who regularly covers the climate crisis as part of my job, I've had to grapple with my own feelings of existential dread and eco-anxiety. But lately, art has brought me solace. In the last few weeks, I began metalworking again. It's an art I started to learn in early 2020 and had to put on pause because of Covid. Shutting the door to my office, turning on some music, and filing and hammering pieces of silver or brass to make simple jewelry has been a calming activity, one that's helped me deal with my eco-anxiety.
Read more: Why the Majority of Americans Are Dealing With Climate Anxiety
"Art is really helpful for processing difficult feelings because it activates the imagination and it allows us to sit with our feelings, acknowledge our feelings, and then transform our feelings," says Chelsea Call, an art therapist, educator, and interdisciplinary artist who helps individuals address stress related to the climate crisis. "It also allows us to look at different possibilities for the future, to reimagine what we want the future to look like."
For example, designer, architect, and environmental activist Maya Lin's structural piece Ghost Forest in New York's Madison Square Garden is a reminder of the consequences of human action and climate change and what the Earth may turn into without drastic action. The installation couples 49, 40- to 45-feet-tall dead white cedar trees with soundscapes of calls and bird songs of endangered and extinct animals once native to NYC. And her virtual installation What Is Missing? connects vast biodiversity loss due to climate change with nature-based solutions. Anyone can access her interactive art piece to better understand the impact of the climate crisis, use it to process feelings of eco-anxiety and hopelessness, then channel those feelings into meaningful action.
Meanwhile, German visual artist Liina Klauss transforms beach trash into colorful installations to bring attention to humans' influence on the natural world. Ten years ago, Klauss went camping with her family at a beach in Hong Kong only to find the area littered with trash.
"In that moment, I felt shock, devastation, sadness, and disappointment, and just being overwhelmed by the impact of human action," she says. "I just went into my mode of perception of seeing only colors and automatically my mood shifted and I could get out of that blame and shame, out of accusing humanity, of accusing myself, and I could let creativity flow. That was incredibly relieving and I could see that I had found a way to overcome the shock."
Read more: Channeling Art to Capture This Transformative Moment
She continues to make bright, colorful art pieces from found trash. For her larger installations, she enlists the help of volunteers for debris collection. As a result, volunteers gain a deeper understanding of climate issues like pervasive ocean trash and can connect with others who may also be struggling with eco-anxiety.
"Art helps people connect so they can come together and creatively engage with ways to take action," says Call. "I think about all of the amazing art that has been present throughout different protests in the last couple of years and how those visuals that are present on social media allow people to connect and ingest the information differently. It's very relatable."
The best part? Art comes in many different forms — photography, poetry, painting, even decorating a space — and there's no wrong way to do it. "We're all born with creativity," says Call. "I believe that the act of creating is inherently healing rather than analyzing the product or the end piece, which can help people relieve those judgments and critiques of being an artist or not finding art therapy helpful."
Prioritizing your mental health and working through difficult emotions isn't easy. But taking those small steps to tap into and process your feelings is, in itself, a form of climate action and resilience.
"It's very courageous to engage with emotions related to climate, and it's very much a part of the work of participating in climate justice movements and being present on this planet," says Call. "And no one's alone, even if you feel like you're alone, you're not alone in these feelings or this work."
Read more: 7 Essential Mental Health Podcasts
If you're struggling with eco-anxiety, there are plenty of resources to help you work through climate emotions. This list includes climate-aware therapy, emotional methodologies, communities for climate-focused conversations, climate-specific mindfulness retreats, and more.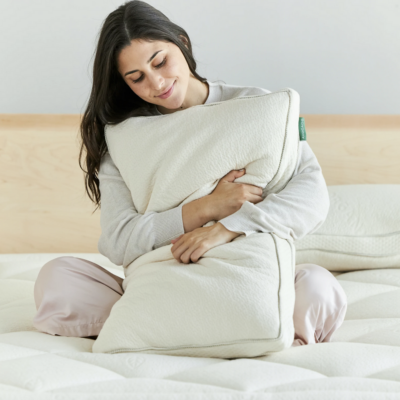 Shop Pillows
The Essential Organic Pillow Collection
Gentle, breathable, non-toxic support.
Buy Now