Three sustainable interior design professionals share how to create beautiful, eco-friendly spaces in your home by upcycling, looking for vintage goods, and sourcing locally.
Sustainable interior design can be hard to nail down. One misstep and you've chosen the wrong couch, a weird area rug, or painted half a room before realizing the color isn't quite right. And lighting and accents are a whole different beast. But perhaps the trickiest aspect of refreshing a space is keeping sustainability in mind.
Sure, opting for two-day shipping from Amazon for that statement wall mirror or plant stand is convenient. And it's hard to resist a discount code from the handful of home décor brands. However, buying eco-friendly furniture, materials, and accents isn't just better for the environment, it's also healthier for you and your family.
Luckily, conscious interior design has never been more popular. So, we spoke to a few sustainable designers about what's trending, their go-to brands, and their insider styling tips.
Read More: 9 Black Interior Designers We Love to Follow
1.
Cristina Ramos and Nu Goteh
Upcycling is at the heart of mandana blvd., a home furnishing shop that's co-owned by partners Cristine Ramos and Nu Goteh. The duo collects and curates unique vintage pieces from flea markets, estate sales, and Craigslist — it's how they created a cohesive aesthetic when they first moved in together and how they stay true to the principles of sustainability.
"It's important for us to all consider, as much as we can, how to minimize our global impact. And starting at home is key."

Cristina Ramos
"It's important to make more sustainable choices in interior design because the constant changing of trends and styles adds to the waste," says Ramos. "It's important for us to all consider, as much as we can, how to minimize our global impact. And starting at home is key."
Ramos and Goteh's personal style is inspired by Japanese minimalism, Brazilian modernism, nature, and natural materials — anything made of real wood is a solid find. "We love vintage art that features people of color, says Ramos. "We love pieces that have a story, that have patina, that look like they've been pre-loved before. Vintage goods bring a sense of warmth into your space, and a uniqueness many can't achieve with items directly from a catalog."
But as for what's trending? The pair says get ready to see the post-modern tessellated coffee tables that had a moment in 2020 replaced with glass-top coffee tables with abstract wooden bases for a cleaner, less bulky look.
"People tend to have tunnel vision with a particular color scheme when trying to style a room, which then leads to a lack of variation in styles and selections. This tends to lead someone down a path of feeling like everything needs to come from one place, which then doesn't leave room for sustainable pieces that are second-hand or vintage," says Ramos.
If you're trying to make more eco-friendly design choices, your local flea market is always a great resource. "And if you bring it home and it just doesn't work in the space, you can always resell/upcycle for something else," says Ramos. "It's all about trial and error with design. And that's the fun part because you create your style identity that way. So happy hunting!"
Read More: 5 Secondhand Sites to Shop Now
The owner of BSW Design, a design-build firm in Ontario, Canada, Brittany Steptoe-Wright specializes in conscious curation and sustainability, something, she says, is at the forefront of both how she lives her life and runs her business. "[Being a sustainable interior designer] makes sourcing a more in-depth process, but one that we feel is worth the effort," she says.
As far as trends go, Steptoe-Wright and her team have been leaning into sourcing locally (we love to see it!), both out of necessity — Covid-19 has thrown a wrench in material supply chains — and to support area businesses that operate with the environment in mind.
"Sourcing locally means a lesser carbon footprint for logistics, keeping money in our local economy, and supporting Canadian businesses," says Steptoe-Wright. You may spend more upfront, but in the long run, "things that are made well, sustainably, and locally are going to be more expensive than items made overseas. What one needs to keep in mind is that these pieces are an investment, not only in their home but also in their health, their local economies, and the planet."
When she can't source locally, the eco-minded brands she often relies on include Cambria or HanStone for stunning countertops — both are North American companies known for trustworthy sustainability practices. For furniture, she loves Mitchell Gold + Bob Williams as well as Gus Modern (From The Source). And when it comes to flooring, FSC® or GREENGUARD Gold certifications validate sustainable and safe manufacturing.
"Don't be afraid to ask the hard questions of your suppliers and manufacturers. When you are able to pull together a beautiful space that is also beautiful for the planet, the feeling is incomparable!"

Brittany Steptoe-Wright
If you're a newbie designer, Steptoe-Wright says doing your research is a must. "Understand what about it is important to you. Is it the overall health of your home? The direct impact on the environment? The end-of-life cycle of the product?" she says. "Don't be afraid to ask the hard questions of your suppliers and manufacturers. When you are able to pull together a beautiful space that is also beautiful for the planet, the feeling is incomparable!"
Read More: Semi-Underground Houses are the Dreamy Sustainable Homes of the Future
DIY, upcycling, shopping small, Earth-derived textures — that's all in Alivia Fields's wheelhouse. A travel photographer with a knack for interior design, she discovered her passion for home decoration during Covid, when Fields and her husband were stuck in the home they recently built and had all the time in the world to make it their own.
"When you are doing something yourself, you really do have a lot more control over the materials you're using, and you can be a lot more intentional about what's going into the project," she says. "That was the initial draw of doing it ourselves. And if you are someone who is more sustainably minded — like myself — you get to choose what goes into your space."
"My first choice is always always going to thrift stores, or searching on OfferUp or Facebook Marketplace."

Alivia Fields
Like Ramos and Goteh, the thrill of finding second-hand gems and giving them new life is one of her favorite sustainability hacks. "My first choice is always, always going to thrift stores, or searching on OfferUp or Facebook Marketplace," she says. "It's super fun to take a piece and be able to see the potential in it." She once scored a $20 solid oak, orange-toned coffee table from OfferUp and sanded it down to reveal a beautiful, natural golden wood underneath — a piece that would easily go for a couple hundred dollars brand new.
And when it comes to trends, don't expect her to suggest hot pink or orange pampas grass for décor. While it was popular during 2020, she's seeing it fade out. Plus, "it doesn't really mature very well and it's certainly not very timeless," says Fields. Instead, she prefers a more natural, organic style, and accents like dried flowers that provide a more toned down, versatile aesthetic — ways you can keep that style and make sure it lasts throughout the years.
Whether you're designing a room from scratch or giving a space a refresh, Fields says the key is taking your time, planning things out, and making sure you're clear about your vision.
"Designing a room can get very un-cohesive very quickly. It's fun to think of a way that you can add to that blank slate even without décor. Whether it's painting an accent wall, or we've done a lot of wooden slat walls that we've painted over or left natural and that has added so much depth. Or even painting a mural or doing a paint that has texture to it — that just gives off so much more personality."
Oh, and always, always purchase the biggest piece of furniture for a room first and build out your design from there.
Read More: A Sustainable Alternative to Bouquets: Dried Floral Arrangements
Share your favorite sustainable interior design tips with us by tagging us on Instagram or Facebook with #avocadomagazine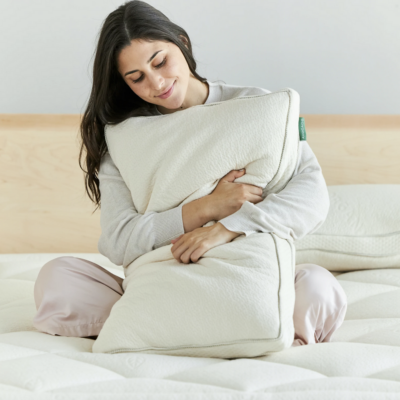 Shop Pillows
The Essential Organic Pillow Collection
Gentle, breathable, non-toxic support.
Buy Now