Quick pop quiz: How many pounds of clothing does the average person toss in the garbage per year?

A: 10 lbs.
B: 30 lbs.
C: 50 lbs.
D: 80 lbs.

If you guessed D, you're right. Shocked? Obviously, no one sets out to throw away 80 pounds of clothing per year, but as the fashion industry balloons to be one of the top polluters in the world—second only to oil— it's becoming hard for our closets, and the earth, to keep up with the demand for the latest looks. With fast fashion—that is, low-price retailers like Zara, Forever 21, and H&M—always offering something new and now at a fraction of designer's price points, consumers—and our wallets—have become complicit in creating this waste, whether we mean to or not.
Of course no one wants to pollute, but if fashion's your thing, it's hard to resist the call of a great look. While we should all strive to cut back on our fast fashion shopping and opt for ethically and sustainably made clothing when the urge to shop strikes—we all know there are those times when a trend just calls to us, or we're looking for something new and fun. Thankfully, as demand feeds supply, so too does it feed solution, and in recent years this demand for new clothing, coupled with our overflowing closets has lead to the emergence of several resale and secondhand sites and apps in the fashion scene that rival traditional retailers in scope and variety.
Gone are the days of driving to your local picked-over thrift store or consignment shop where you might be lucky to find one piece from several seasons ago, now, consumers simply open an app and search for the piece they're looking for—and they're likely to find it. In their size. For a fraction of the cost of purchasing new. Better yet, these same shoppers can list items from their own closets to make a little cash while keeping those pieces from ending up in the trash or landfill.
These secondhand sites not only provide an accessible way for consumers to invest in designer pieces and sell the clothing they no longer need, but many offer recycling incentives, such as ThredUp, which partners with popular sustainable retailer The Reformation to encourage consumers to donate their used goods instead of throwing them out. When shoppers purchase an item from Reformation, they're given a "Clean Out Kit", a shipping bag already stamped and addressed to ThredUp, that they can fill up and send back to the site for resale. In return for donating their clothes, shoppers receive credit to shop Reformation's sustainably made garments.

Gone are the days of the secondhand stigma—what could be more satisfying than rolling up in a great look knowing you kept a few pieces from the landfill and paid a fraction for it? Today we're sharing 5 of our favorite secondhand sites and apps to discover the latest and greatest, the hard-to-find designer, and the totally unique vintage wares you've been searching for:
#1—POSHMARK
Use it to… find great deals on current styles and name brands, like Free People, Reformation, Nike and more.

Launched in 2011, this popular e-commerce app allows users to buy and sell products in a number of markets, including newly-launched home, women's clothing, men's clothing and even makeup. Users are also able to create "boutiques", in which they're able to sell new and wholesale items.

#2—THE REAL REAL
Use it to… score that gorgeous designer handbag—or sunglasses, or designer watch—you've always wanted for a steal.

Luxury more your thing? Head to The Real Real for markdowns on designer and luxury items—or to consign those high-end pieces you can't bring yourself to simply donate or give away. Prices on The Real Real aren't thrift store low, but the selection is akin to having a department store's-worth of designer consignment at your fingertips, perfect for when you're looking for something special or hunting down last year's it-bag.

#3—THREDUP
Use it to… shop thrift store prices on name brand and designers items, all for a good cause.

ThredUp is on a mission to inspire consumers to shop secondhand first—and they make it easy to do with over 40k listings on their site, which spans from women's, to children's, to men's, all at just above thrift store prices. Not only that, but ThredUp makes cleaning out your own closet easy to do with their free Clean Out Kits. Simply request a kit, fill up the included bag, and send in your stuff to be listed and sold on consignment—or, in lieu of a payout, users can opt to have funds donated directly to charities.

#4—DEPOP
Use it to… score on streetwear and vintage, or find those rare '90s sneakers you've been searching for.

Love styling and putting together outfits? Have a closet full of one-of-a-kind pieces to sell? Depop combines the passion for creativity and styling with a secondhand marketplace to create a truly inspiring community within the secondhand world. Use it to search out hard-to-find pieces or rare items—or to sell unique pieces you find along the way, or from your own closet.

#5—ETSY
Use it to… discover vintage finds you didn't know you needed – until now.

The OG of unique, vintage and handmade pieces, Etsy is still a go-to for exactly that. Search out beaded bags, '90s sunglasses and floral sundresses that look like they were bought brand new. Etsy's combined checkout make it easy to shop from multiple vendors—including handmade. With a commitment to supporting the creative, independent community, Etsy makes shopping small second nature.

Do you shop secondhand? Share your tips and tricks with us for shopping sustainably on social by tagging @AvocadoMattress & #AvocadoGreenMagazine!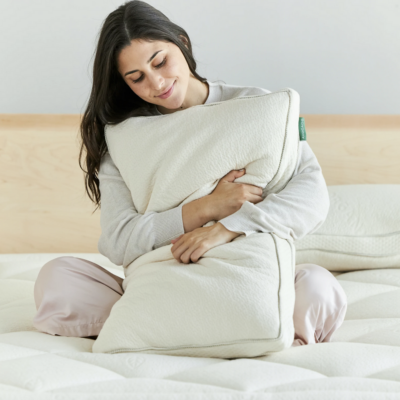 Shop Pillows
The Essential Organic Pillow Collection
Gentle, breathable, non-toxic support.
Buy Now