The climate crisis is causing a mental health crisis, with more than half the country feeling anxious about the future of our planet. Here's how you can find a network to support you if you too are experiencing climate anxiety.
According to a 2020 poll from the American Psychiatric Association (APA), more than two-thirds of Americans (67 percent) are somewhat or extremely anxious about the impact of climate change on the planet, and more than half (55 percent) are somewhat or extremely anxious about the impact of climate change on their mental health. In addition, a majority of Americans are worried about harm from extreme events in their local area, including extreme heat (66 percent), droughts (65 percent), flooding (60 percent), and water shortages (56 percent), according to a recent report from Yale and George Mason universities.
Read More: How Eco-Therapy Can Help During the Climate Crisis
It makes sense. Scientists have long warned about the irreversible impacts of climate change if we continue to rely on fossil fuels, pollute our air, soil, and oceans, and ignore the need for immediate, transformative action. More than 40 years ago, in 1981, the UK's ITV channel broadcast an hour-long documentary, called Warming, Warming, sounding the alarm about carbon emissions' effect on our Earth's atmosphere and the environmental and societal consequences we could face as a result.
Instead of heeding such cautionary advice, it took a barrage of alarming natural disasters — unprecedented hurricanes, wildfires, droughts, and melting polar regions — for global governments to take climate change seriously. The Paris Climate Agreement, seen as the first major worldwide effort to combat climate change, was signed only six years ago, and little meaningful action has taken place since. And while things seem to be looking up thanks to ambitious environmental infrastructure promises by the Biden administration, political hurdles are likely to set steep roadblocks to progress.
Read More: What We Like (And Don't Like) About Biden's Climate Plan
Gen Z — the generation who has grown up with an acute understanding of the climate crisis and will likely bear the monumental cost of earlier generations' dismissal of climate science — are increasingly living with a lingering anxiety about the status of our planet. Of this group, born from the mid-1990s to the early 2010s, 69 percent said the environment affects their physical health and 73 percent said it affects their mental health, according to an April 2021 survey by Blue Shield of California. Additionally, about one in four said that an environmental event or natural disaster has impacted their ability to concentrate in school.
What's becoming clear is that this sense of eco-anxiety is a phenomenon mostly attributed to white people. That's not to say that Black and Hispanic/Latino Americans aren't worried about climate change — they're actually more concerned. A 2020 survey by Yale University shows that Hispanics/Latinos (69 percent) and African Americans (57 percent) are more likely to be alarmed or concerned about the climate crisis than are whites (49 percent). In contrast, whites are more likely to be doubtful or dismissive (27 percent) than are Hispanics/Latinos (11 percent) or African Americans (12 percent).
On its face, the idea that white people experience more climate anxiety, but Blacks and Latinos are more concerned about climate change appears contradictory. But not when you factor in historical context. From segregation and the Civil Rights Movement to housing discrimination, voter suppression, police brutality, and the racial wage gap (which are still happening today, by the way), minority groups, in many cases, are familiar with day-to-day trauma that many white people have never encountered or had to think about.
"The prospect of an unlivable future has always shaped the emotional terrain for Black and brown people, whether that terrain is racism or climate change," Sarah Jaquette Ray, author of A Field Guide to Climate Anxiety explains in an article for Scientific American. "Climate change compounds existing structures of injustice, and those structures exacerbate climate change. Exhaustion, anger, hope — the effects of oppression and resistance are not unique to this climate moment. What is unique is that people who had been insulated from oppression are now waking up to the prospect of their own unlivable future."
Read More: What Is Intersectional Environmentalism?
Put differently, the idea that climate disasters and rising heat levels have the potential to upend life as we know it — and displace large swaths of the population — is hitting white people hard. An uncertain future, hopelessness, and feeling like the government isn't doing enough, these are heavy truths, and anxiety is a natural response. However, for many in minority groups, those realities aren't new. Even as recently as May 2021, the EPA accused Missouri's environmental agency of violating the Civil Rights Act. And marginalized groups to this day are more likely to experience environmental racism, live near toxic waste sites, and be exposed to air pollution than their white counterparts.
Read more: How to Keep Fighting For Racial Justice In Your Community
The takeaway? Lives and our environment are at stake. But it's imperative that we remember we can't solve the problems facing our planet if we don't also address the racial disparities in our communities. Educating yourself is a good place to start. Organizations like Intersectional Environmentalism and Climate Justice Alliance both offer incredible educational resources for learning about climate change action and racial justice initiatives.
Knowledge is empowering. Once you understand there is still hope in reversing the climate crisis — and that you, as an individual have a part to play — it's easier to use climate anxiety as a tool for action. And really, that may be our only fighting chance to save our planet and create a better future for all people.
Read More: This is What Climate Justice Looks Like
If you are struggling with climate anxiety, Climate Psychologists offers workshops, coaching, and psychological support.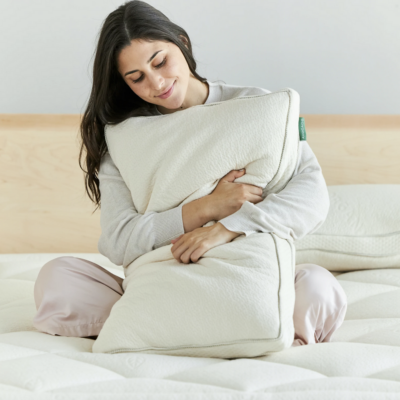 Shop Pillows
The Essential Organic Pillow Collection
Gentle, breathable, non-toxic support.
Buy Now