This ongoing process will look different for everybody, but here are 5 places to start.
America's racial reckoning is a long time coming. And it's going to be a long process, as anyone who's already been advocating against police brutality and the injustices at all levels of society that so acutely affect Black people can tell you. To keep the needle moving, we all need to keep doing the work in our daily lives. Keep learning and having hard conversations, keep protesting, and keep contributing your voice, money, and actions toward making America a fairer place for everyone who lives here. Here are just a few specific ways to keep doing that, with a focus on what's going on in your own community.
Learn About Policing Where You Are
Many people have been fighting to defund the police for years, and those calls have gone mainstream after the killing of George Floyd. Defunding the police means reducing police budgets and increasing spending on other services, like those that address mental health, education, and housing (read more here). If you want to learn more about why police abolition is more effective than police reform, start with this chart from Critical Resistance, which breaks down the difference between actions that take power away from police and those that just put a bandaid on police brutality. One of the most urgent questions to ask right now is: How much money is going to your local police that could be better spent on positive community changes like social programs? All it takes is a Google search — look up your city's annual budget to see how much goes toward police compared to other programs. Look up the breakdown in the police budget for your own precinct or department. Then write to your elected officials, like city council members, to chip away at that budget. If you're not sure exactly what to say, Defund12 provides a crowdsourced list of prewritten emails specific to where you live.
Advocate for Systemic Change in Your Community
As many resources, like this one from MPD150, explain, the other part of police abolition is building up community resources that prevent crime and help people live better in the first place. How available is affordable housing where you live? Are healthcare and mental health services accessible to vulnerable populations? How much funding goes toward public schools? Do your schools and other local institutions have contracts with police? Who in your area is affected by pollution and other environmental issues? There's no one way to best improve your community, so pick areas that matter to you and get to know which officials you can hold responsible, what meetings you can attend, and what on-the-ground work you can do. One more excellent idea is to join or start a mutual aid hub, which puts together resources and organizes collective action within your own community.
Advocate for Alternatives to Policing
Serious violent crimes account for just 1 percent of all calls for service in major cities. Most police spend nearly 40 percent of their time responding to noncriminal calls, like those involving mental health issues, which they're usually not trained or equipped to address. But there are lots of alternatives to calling the police. There's not one easy replacement but a constellation of mental health, de-escalation, and emergency medicine services, among others, that in many cases could step in instead of police. Community crisis response organizations bring many of these services together, and already exist in some cities if you want to support one near you. Otherwise, a good place to start would be this flowchart by Showing Up for Racial Justice, which outlines hotlines and other alternatives to calling the police in various situations. The flowchart provides resources specific to Washington, D.C., but is a helpful template for finding the same resources in your own community. It also offers ideas on bystander and crisis training that you may want to look into if you're interested in getting involved yourself.
Don't Forget About Voting
Voting may feel like a drop in the bucket right now, but it's still important to push for healthy elections and responsible representatives at a local and national level. Especially as November approaches, it's a great time to get involved with initiatives that get out the vote and fight voter suppression, like NAACP's Hustle campaign or Stacey Abrams's Fair Fight. Look into policies that suppress voting in your state — this is a good place to start — and write to your state's election officials about the changes you want to see. In most states, that would be your secretary of state, but here's a chart of how elections are handled where you are.
Spend Your Money Meaningfully
In addition to setting up recurring donations and regularly researching new organizations to support, a final small but helpful action is to simply shop more conscientiously. Black-owned businesses have been disproportionately affected by Covid-19, and are underrepresented on retailers' shelves, among other inequities. Every few months, look at how much of your budget is spent at Black-owned businesses — and how many you know of and support in your own community, too. Research new ones in your area regularly, and spread the word when you find businesses you love. There are plenty of lists out there to start you out, like this one, and searchable databases like this one. And voting with your dollars is important as always: Seek out information on where companies and organizations in your life are investing their money (like funding police or pipelines that run through vulnerable communities), and find alternatives for those whose investments don't align with your values.
How will you support civil rights? Share your thoughts and resources with us @AvocadoMattress.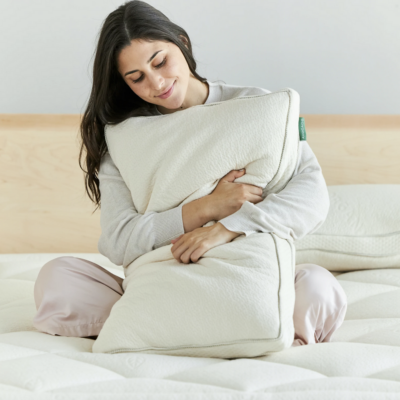 Shop Pillows
The Essential Organic Pillow Collection
Gentle, breathable, non-toxic support.
Buy Now