Tune in to these climate podcasts to learn more about the impacts of climate change and how to be part of the solution.
Scientists deem this year "crucial" for reversing the most devastating effects of climate change. Whether you're new to the world of climate activism or are a long-time advocate for the environment, podcasts are a great way to learn more and stay informed.
In fact, over the past year, podcasts have seen a surge in consumption, with over 100 million Americans tuning in each month. That's not just a win for hosts trying to get their podcast to the top of the "Most Popular" rankings — it also helps spread awareness about climate change.
To make sure you never miss the latest news and information, we're sharing six of our favorite podcasts detailing everything you need to know about the future of our planet.
Read more: Keeping Up With Climate Change — Here are 7 sources to keep up with the world's most important story.
Co-hosted by Mary Annaïse Heglar and Amy Westervelt, Hot Take dives into the media's coverage — and lack of coverage — on climate change. Heglar and Westervelt provide an honest, no-holds-barred discussion, about the environment and climate policies, while analyzing stories you might have missed. Featuring climate activists, environmental reporters, and political experts, the show is a well-rounded critique of the mainstream press. From climate reparations and political instability to colonialism and Indigenous genocide, every episode will change how you feel and think about climate change and how it relates to the issues we face today.
If you're looking for a resource to help deepen your climate knowledge, A Matter of Degrees is a great place to start. Hosts Katharine Wilkinson and Leah Stokes created their show for the "climate-curious." Each episode is a unique take on climate change — weaving together candid conversations and personal stories to inspire and teach their listeners how to make real change. All of the episodes are great, but we highly recommend listening to "Changing Woman: One Navajo's Fight for a Just Transition."
Read more: Why Avocado Green Went Carbon Negative
Aptly named, How To Save a Planet is a podcast full of in-depth solutions to collectively solve the climate crisis. Journalist Alex Blumberg and scientist Dr. Ayana Elizabeth Johnson have great chemistry — offering companies, individuals, and governments actionable steps to make a change. Episode topics range from the reachable goal of 100% clean electricity to unraveling recycling's impact on climate change.
Former Irish president Mary Robinson, comedian-writer Maeve Higgins, and series producer Thimali Kodikara offer listeners an engaging, relatable, and entertaining conversation on climate change and the environment. Mothers of Invention highlights a diverse and inspirational lineup of women fighting for climate change solutions. In a special episode, Bernie Sanders discusses reentering the Paris Agreement, reimagining global governance, and planned migration.
Read more: What We Like and Don't Like About Biden's Climate Agenda
Floodlines captures the tragic story of Hurricane Katrina. Hosted by Vann R. Newkirk II, a staff writer at The Atlantic, this podcast shines a light on residents of New Orleans before and after the tragedy. Everything you know about the incident will be challenged, as the podcast takes the stories from those who were there and investigates the media and government's failure to help people on the ground. Every episode will have you hooked as you dive into the history, facts, and racially unethical response to the 2005 natural disaster.
With more than 40 episodes, No Place Like Home uses personal stories to drive the dialogue around climate change. Mary Anne Hitt and Anna Jane Joyner provide heartwarming and informational conversations about the future of our world, while guest speakers share their personal experiences and viewpoints. From discussions around Hurricanes Katrina and Irma, to climate anxiety and the intersection of climate and racial justice, you'll finish listening with a better understanding of the issues and an optimistic hope for change.
Read more: 3 Earth-Focused Documentaries to Inspire Activism
Have a favorite climate-related podcast? Share it with us by tagging us on Instagram at #avocadomagazine.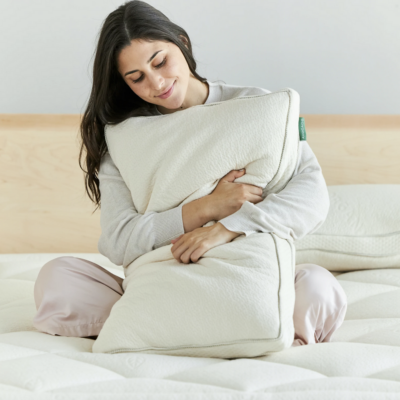 Shop Pillows
The Essential Organic Pillow Collection
Gentle, breathable, non-toxic support.
Buy Now