It's 2018 and now more than ever it seems as though, with each new day, news out of Washington brings more reports of climate destruction. All while scientists are warning against the very real threats of climate change, global warming, and species in peril. Over the past several years one fact has been made abundantly clear: our politicians and leaders do not always have our home planet's best interests in mind.
Case in point: Secretary of the Interior Ryan Zinke's suggestion to the President that the boundaries of several US national monuments be changed to potentially allow for harvesting of natural resources, such as mining and commercial fishing.
It was a suggestion that set off both sides of the political and environmental debate, and only one in a string of perceived and actual offenses against public land and our Earth (Standing Rock being another example). But these are mere blips on the radar after decades — centuries — of the environmental destruction caused by man. Decades of plastics, coal production, poaching, consumption of non-renewal goods and other offenses have impacted the planet in irreversible ways that are only now entering our collective conscious.
A Silver Lining
But the latest news has caused many of us to wake up and take a good, hard look at our own consumption and habits. While it has perhaps taken longer than it should have, you could call the world-wide wake-up call that has taken place a silver lining to the cloud of environmental impact. And leading the charge in many ways are the artists, chief among them documentary filmmakers.
The Resurgence of Documentaries
As more and more people eschew traditional cable television in favor of streaming services, like Netflix and Hulu, the greater public has become more exposed to the fantastic documentaries being made. Previously relegated to public television and specialty cinemas, documentaries have experienced a renaissance of sorts, exposing more viewers to important social and environmental topics. With the rise of social activism, these documentaries have served as inspiration for many people for ways to get involved and work for change.
If you're looking for ways to make a positive impact in 2018, let the three documentaries below inspire your next environmental stand.
#1 — Chasing Coral
Winner of the U.S. Documentary Audience Award at Sundance 2017, Chasing Coral examines one of the most urgent climate issues of our time: the death of coral reefs. Setting out with a team of divers and scientists, the filmmakers aim to get to the bottom of coral reef bleaching, revealing the tragic phenomenon in a gorgeously powerful way. The film took over three years to shoot, with over 500 hours spent underwater with a huge team of people involved – and the time and care spent in creating the film is evident. With expansive shots of healthy and bleached reefs, Chasing Coral sheds light on the underwater worlds being threatened by climate change. Visit the Chasing Coral website to download their Action Guide to find ways to help protect coral reefs and secure clean energy.
#2 — Water & Power: A California Heist
Despite the fact that California has suffered from years of drought, its water system remains in peril. Small farmers and private citizens suffer while big businesses monopolize what little water is available for major profit. Water & Power: A California Heist examines the key players of the California water crisis, speaking with business owners, citizens, and possible culprits to uncover the truth.
#3 — To The Ends Of The Earth

Narrated by Academy Award winner Emma Thompson, To The Ends Of The Earth examines the rise of "extreme energy" and the harmful lengths traditional energy producers will go to extract oil, coal, shale and other resources in the name of keeping up with the status quo. And the climate activists daring to challenge that status quo. Not only does To The Ends Of The Earth clearly explain the extreme measures companies must go to to extract these resources — resulting in irreversible damage to the planet and its inhabitants — the film also showcases the up-and-coming alternative resources and the people fighting to make the change to solar and wind energy. An important watch for anyone looking to inspire change in their own backyard — and beyond.
Do you have an earth-focused documentary to recommend? Share with us on Instagram or Facebook with @AvocadoMattress or #AvocadoGreenMagazine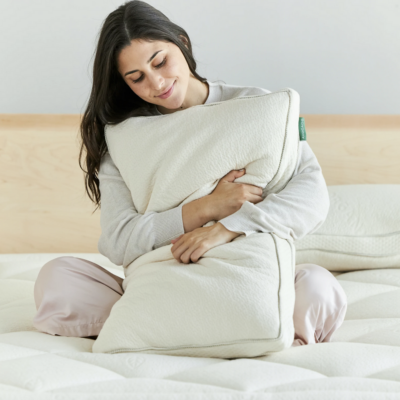 Shop Pillows
The Essential Organic Pillow Collection
Gentle, breathable, non-toxic support.
Buy Now