We need to talk about mental health. These are our favorite podcasts that aren't afraid to have honest conversations, provide practical insights, and share all things mental health.
47.1 million people in the U.S. are living with a mental health condition — that's 1.5 million more than 2020, according to a 2021 report from Mental Health America. For those already struggling, the added pressures of the pandemic didn't help. The sad reality is, even in "normal" times, mental health conditions are often overlooked or left unaddressed by today's society. But they shouldn't be.
Mental health conditions affect people of all ages — children, teens, adults — and demographics. And it's time to stop letting the stigma of mental health keep us from talking openly and honestly, asking for help, or holding ourselves back from living healthier, happier lives.
So if you're looking for ways to cope with mental health, have a friend or family member who is struggling, or want to learn more about the topic, podcasts are a great resource. They provide an opportunity to learn from others who have similar experiences and gain practical tools to implement into your daily life to get through it.
From conversations around depression and anxiety to expert interviews on obsessive-compulsive disorder and paranoia, here are seven podcasts with sincere, engaging, and relatable dialogue around mental health.
Founded by Dr. Joy Harden Bradford, a licensed psychologist based in Atlanta, Georgia, Therapy For Black Girls is a weekly discussion on mental health and the steps needed to become your best self. Her podcast is an informative and down-to-earth breakdown on being a Black woman and the pressure that comes with it. From the stress of the dating landscape to the harm of being diagnosed with ADHD later in life, Bradford doesn't shy away from the important topics.
2.
The Hilarious World of Depression
Hosted by radio personality John Moe, The Hilarious World of Depression gives listeners an inside look into the lives of comedians who've struggled with depression and how they cope. Although the podcast is no longer running, there are 96 binge-worthy episodes for you to enjoy. Bring on the laughter and the tears, because one lesson you'll learn: You're never alone and there's always hope.

3.
The Mental Illness Happy Hour
From abusive relationships and psychopathy to the trauma of divorce and sexual assault, The Mental Illness Happy Hour tackles the hard-to-talk-about topics of mental health. The weekly, hour-long podcast is hosted by comedian Paul Gilmartin, who interviews friends, experts, and artists on their struggle and continuous journey dealing with past trauma. One episode, "#529 Shopping Addiction" focuses on Julie K., a woman who shares her struggle with a shopping addiction and the unhealthy ways she dealt with her parents' neglect. It's a must-listen.
Read More: How Positivity Can Change What You See
Co-hosts Katharine Heller and Sally Tamarkin talk self-care, well-being, and mental health in The Struggle Bus. Every episode features subject matter ranging from therapy and the presidential election to volunteering and roleplaying video games. No topic is off-limits. What makes them so unique is that they answer questions from their listeners after every few episodes — showing that you matter and your voice is heard.
Latinx Therapy is a weekly podcast hosted by Adriana Alejandre, a licensed marriage and family therapist with a passion for shedding light on mental health in the Latinx community. Alejandre interviews mental health experts, writers, and entertainment figures to teach listeners how to cope with mental illness and how others in the community can support their progress. The episode, "Substance Abuse in the Latinx Community," is particularly impactful and highlights the myths around alcohol in Latinx culture and how alcohol abuse affects individuals and their families.
Researcher and #1 New York Times best-selling author (of five books) Brené Brown, provides vulnerable and honest conversations on what it means to be human. Unlocking Us features interviews with people in different fields who discuss their brave and traumatic moments — including an interview with author and activist Glennon Doyle on the importance of chasing your dreams and walking away from what people want you to believe is your purpose. In other episodes, Brown talks directly to her listeners about what she's learning and how she's changing how she thinks and progresses in the world.
The Lavendaire Lifestyle
was created by YouTuber and entrepreneur Aileen Xu. In it, she shares inspirational discussions on personal growth and creating positive change, while her guests dive into their own stories of success, hardships, and lessons they've learned throughout their life journey. Cultivate inner calm and listen to how guest Meera Lee Patel copes with anxiety and life changes in the episode, "Create Your Own Calm‬," or participate in a 12-minute guided meditation in "Guided Meditation for Self Lov‪e‬." Every episode will leave you motivated to start your day and push back against the mental, physical, and spiritual barriers holding you back.
Read More: How (and Why) to Make Your Own '5-Minute' Journal
If you or someone you know is struggling with mental health, know that there are always people and resources you can reach out to for help. Here are a few we recommend.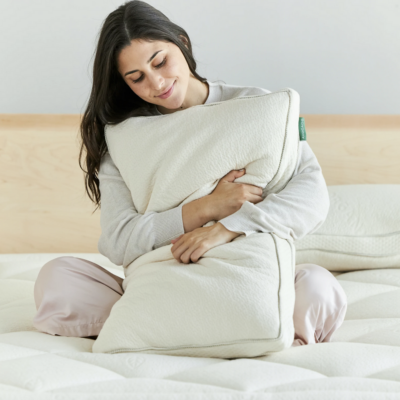 Shop Pillows
The Essential Organic Pillow Collection
Gentle, breathable, non-toxic support.
Buy Now