Avocado is proud to donate 100 percent of the proceeds of our Natural as Love Organic T-shirt to Brave Trails and LGBTQ+ youth. 
At Avocado, we believe in doing what's natural. Like natural fabrics. Like helping people. Like supporting the planet. Like love. That's why we're proud to support Brave Trails — a nonprofit, leadership-focused summer camp for LGBTQ+ youth and allies. We're donating 100 percent of proceeds from the sale of our limited-edition Natural as Love Organic Cotton Tee to Brave Trails. 
Hass
Natural As Love Organic Cotton Cause Tee
40.00
Shop
When co-founders, executive directors, and partners Jessica and Kayla Weissbuch founded Brave Trails in 2015, they wanted to create an experience that combined both of their loves and made a positive impact on the world. Jessica is a licensed marriage and family therapist and founder of COLORS LGBTQ+ Youth Center in Culver City, CA, with a passion for queer leadership. Kayla spent every summer from the time she was eight years old attending summer camp and dreamt of becoming a camp director. After hosting a spaghetti dinner fundraiser among friends, they had the money to officially register Brave Trails as a nonprofit.
That first summer, Brave Trails' week-long camp in Los Angeles hosted about 43 campers, and every staff member — Jessica and Kayla included — was a volunteer.
First and foremost, Brave Trails is a summer camp for LGBTQ+ youth. It's a safe space where, for 10 days at a time, queer youth can have fun, connect with kids in their community, and be themselves. But if you ask any of the campers, counselors, or parents, they'll tell you that the impact of the Brave Trails extends far beyond a week's worth of arts, crafts, adventures, and kumbayas around the campfire.
Read more: The Nonprofit Building Homes for the Black Trans Community
"There weren't a ton of spaces for youth to experience pure joy, which is one of the main reasons why our camp exists," says Jake Young, communications director at Brave Trails. "We give them the opportunity to access a community of people that can support them in their growth and self-reflection. We help them find their people, place, and passion and then take it with them."
That's the magic of Brave Trails. In between talent shows, stargazing, and archery, they develop valuable leadership skills through workshops like LGBTQ+ history, body positivity, identity and gender exploration, environmentalism and sustainability, public speaking, mindfulness, starting an LGBTQ+ school club, and more. Brave Trails' Passion to Action program also helps campers learn how to use their personal stories as a tool for activism outside of camp. And service projects provide them hands-on experience for things like managing a team and budgeting. By helping campers build this foundation, they're able to leave camp and become leaders in their own communities.
"We provide the tools to advocate for things like gender-neutral restrooms in their schools and what it looks like to have safe environments for LGBTQ+ youth to thrive," says Young. "Many of our campers have started GSAs (Gender-Sexuality Alliances) in their school and started clubs to get to know other LGBTQ+ youth, which has been super impactful."
But camp isn't just for youth. Brave Trails also offers a weekend-long Family Camp for LGBTQ+ parents and their children and LGBTQ+ kids and their family. It's an opportunity to bond, learn, make memories, and meet other families in the community.
"It's so important to have that community for the parents and also for the kids and the campers to know that they're not alone," says Jessica Weissbuch. "That there are other people out there who have the same kind of makeup of a family that they have."
Read more: What is Intersectional Environmentalism?
Of course, the spirit of camp continues even after campers have packed their bags and gone home. Brave Trails offers year-round programming to keep campers engaged and connected to each other. They host beach bonfires in the L.A. area, where they have a concentrated camper population, queer youth leadership conferences, and virtual movie or poetry nights to connect with campers across the U.S. and internationally. You don't have to be a camper to join, either. Meet-ups are open to all LGBTQ+ youth and allies ages 11 to 18.
Since its inception, Brave Trails has grown tremendously. In summer 2022, they plan to host five, 10-day camps — four in Southern California and one in Maryland — and serve at least 300 campers. They're not slowing down anytime soon. Most recently, Brave Trails launched a Mental Health Program to offer LGTBQ+ youth and families queer-focused therapy. One-on-one, as well as group therapy sessions, are available, and their goal is to have 25 clients by the end of the year — which they're on their way to achieving, says Weissbuch.
And because they believe everyone who wants to deserves to go to camp and experience pure joy, they have a scholarship program for those who may need financial assistance. Each year, Brave Trails awards $40,000 to $70,000 in scholarships.
"It goes without saying, partnerships with companies like Avocado are so incredibly important for us," says Weissbuch. "We would not be able to do the work without them. Not only the financial part but also the support to do it, the support to put our name out there, and to have other people be aware of what we do is so important. It brings in staff members, it brings in volunteers, it brings in role models for our campers." 
Read more: Being An Ally Means Facing Some Hard Truths
Support the impactful work of Brave Trails by purchasing an Avocado Natural as Love Organic Cotton Crewneck Cause Tee, signing up to volunteer, or donating directly at BraveTrails.org.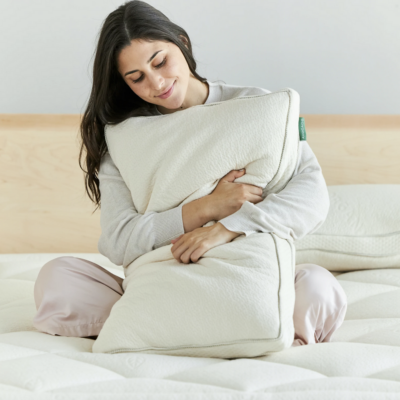 Shop Pillows
The Essential Organic Pillow Collection
Gentle, breathable, non-toxic support.
Buy Now