People and lands are deeply connected, and both are fundamental to a sustainable future. Our friends at the conservation organization Forterra work across landscapes in Washington State to protect keystone places that are at risk—from working farms to iconic wildlands and urban neighborhoods. They believe that the healthiest communities are economically and culturally diverse.
This idea has led them to one of their latest projects—an affordable housing and business space in Tukwila, a Seattle suburb that is home to a large and thriving community of Somali refugees.

Forterra has worked in Tukwila for the past twenty years, and they've watched as the region's growth has started to displace local residents and businesses. In 2016, leaders from the community approached Forterra about helping address displacement. In response, the organization purchased a piece of land and began working with the community to design Wadajir, a building that will provide affordable commercial and residential space to local residents.

"In part, Forterra's mission is to secure land where people can create places like this. A place for community to grow. A place for people to flourish."

Forterra is working with Mithun architects to design a building made from modular Cross Laminated Timber, which allows for quick, sustainable, and inexpensive construction. Initial plans call for a 20,000 square-foot space for businesses on the ground level, while the upper floors will offer family-sized apartments at an attainable price. The interiors will feature exposed wood and abundant natural light.
In the Somali language, the word "wadajir" means "together." And that embodies Forterra's vision for the building—a project created together with the local community, and a place where people can come together to meet, work, and live.
This is only one aspect of Forterra's work. Through its holistic approach, Forterra is building regional sustainability in a number of dimensions.
LAND CONSERVATION
For almost 30 years, Forterra has joined forces to bring, "powerful, practical, and positive change by conducting land transactions, stewarding land, engaging communities and conceiving and advancing forward-thinking policies."
AN ENGAGED COMMUNITY
Their goals include working with a variety of communities—urban, rural, and tribal—to help propose new ways to explore economic growth and development. They believe this all starts with nurturing relationships.
ECONOMIC DEVELOPMENT
While economic growth is a plus in today's day and age when it comes to building a thriving community base, Forterra aims to make all opportunities sustainable for everyone in the area. This includes providing possibilities for growth in small towns while keeping green landscapes.
As part of its vision for healthy communities, Forterra helps invest in towns, neighborhoods and properties with potential to create jobs and sustainable economic growth.
INCREASED ACCESS TO NATURAL AREAS
Many of Forterra's staff prize spending time outdoors. They also collaborate to develop and improve access to camping, hiking trails, riparian corridors, community gardens, and other extraordinary natural resources in the Pacific Northwest.
We're honored to have supported their mission during the month of May by naming them our giving partner for the month. If you're feeling as inspired as we are, you can read all about their current campaigns and learn how you can get involved and start making a difference today!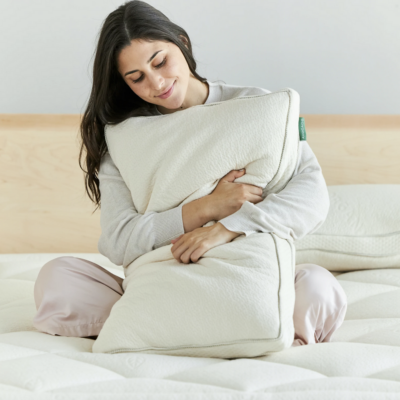 Shop Pillows
The Essential Organic Pillow Collection
Gentle, breathable, non-toxic support.
Buy Now