Use your money for good and ignite social and environmental action by switching to sustainable banks.
This article is part of our Financial Series, where we explore complicated money-related topics and their connection to our mental well-being, sustainability, and future. Read our first two articles in the series, How to Financially Prepare For Children and Why Financial Wellness Is Self-Care.
You support sustainable brands. You've cut back on meat. You compost. You even walk or bike to your destination whenever possible. For all your efforts, you're still likely contributing to climate change in a major way: through your bank. Luckily, there's an alternative — sustainable banks, or banking institutions that operate with social and environmental purpose at the forefront.
Banks aren't just a secure place to store your hard-earned money. Banks are a business. And your money doesn't simply sit in your account waiting for you to withdraw it. The funds you deposit are used by banks to drive profits. They do this by investing in projects and other companies and by providing loans to individuals and businesses.
But everyday consumers don't have control over where banks invest their money. As a result, you could be unknowingly propping up corporations that don't align with your values. For instance, the fossil fuel companies accelerating the climate crisis.
"Banks are the economic engines of society, with nearly all companies and business sectors depending on them for working capital," says Zak Gottlieb, director at Bank.Green, a consumer resource and advocacy group focused on sustainable banks and empowering action. "Through their financing activities, they have an outsized impact on the behavior of companies and society at large. If we stand any chance of maintaining a liveable planet for future generations, it's absolutely critical that capital is allocated to initiatives that advance climate and sustainability agendas rather than those that put the planet at grave risk — such as the fossil fuel industry."
Read more: Why Creative Agencies Are Boycotting the Fossil Fuel Industry
Despite their promises to go net-zero by 2050, big banks, including JPMorgan, Wells Fargo, Citi, and Bank of America, were the top four U.S. lenders to the fossil fuel sector in 2021, contributing a quarter of financing over the prior six years, according to a report from the Rainforest Action Network. And since the Paris Climate Agreement was signed in 2016, the world's 60 largest banks have supplied the fossil fuel industry with $4.6 trillion in financing, including $742 billion in 2021. Not only does this investment boost their bottom lines, it roadblocks meaningful efforts (like renewable energy infrastructure) to reduce the warming of our planet and the effects of a worsening climate crisis.
Sustainable and ethical banks, on the other hand, are driven by a triple bottom line strategy, one that puts equal emphasis on profit, people, and the planet. This new type of institution pledges never to use funds to support fossil fuel companies, oil pipelines, coal mining, or offshore drilling, and instead, promises clean investment in environmental and social initiatives.
"One only needs to look at the recent heatwaves in Europe to observe the increasingly tangible (and terrifying) effects of climate change. As public awareness grows around the urgency of the crisis, consumers are beginning to understand their collective power to influence companies' behavior, via the ways they spend, and store, their money," says Gottlieb. "Eco banks are taking advantage of this trend, offering consumers the opportunity to use their money as a force for good by financing climate-positive initiatives, which to many is becoming a really attractive proposition."
The most well-known are sustainable financial tech banks like Ando and Aspiration, which both plant a tree with every purchase, effectively offsetting emissions from everyday actions like driving your car. Ando also invests 100 percent of customer deposits in projects that fight climate change like renewable energy, green buildings, and regenerative farming. Aspiration donates one percent of annual revenues to environmental nonprofits through its partnership with 1% For the Planet.
Read more: The Green Banks That Help You Divest From Fossil Fuels
Other banking platforms like Amalgamated focus on both environmental causes and social change. The socially responsible bank has financially supported efforts related to climate, racial, economic, and criminal justice, LGBTQ+, immigrant, reproductive, voting, and workers' rights, along with anti-violence and gun safety. And currently, customers who use a debit or credit card through Amalgamated automatically contribute $.10 for every qualifying purchase of $10 or more to their social impact fund, which supports organizations working for social, racial, economic, and gender justice.
Many green banks also hold trusted third-party certifications to provide an added layer of authenticity and transparency for customers. Ando, Aspiration, Amalgamated, and ethical bank Beneficial State Bank are all Certified B Corporations, the gold standard for responsible businesses. Other certifications include Fossil Free, Global Alliance for Banking on Values, and Green America.
It's not complicated to make the switch, either. With Beneficial State Bank and Amalgamated, opening an account only takes a few easy steps, much like a traditional bank. And while consumers can expect a longer lead time with Ando and Aspiration — typically several days — once your application is approved, you can start transferring money and using your account immediately.
Green banks also offer many of the same perks as the big names. To start, your money is totally safe. Beneficial State Bank and Amalgamated are both FDIC insured and Ando and Aspiration leverage partner banks to insure your money through FDIC. Enjoy zero ATM fees at tens of thousands of in-network ATMs and no overdraft fees (at Amalgamated your account must be in good standing). And when it comes to annual percentage yield — aka interest you stand to earn on your savings account — Beneficial State Bank, Amalgamated, Ando, and Aspiration offer up to .2 percent, .55 percent, 5 percent, and 3 percent, respectively. The average APY for traditional banks is .1 percent.
Customers can collect cash back rewards, too. Amalgamated and Ando both offer 1.5 percent cash back on purchases while those with a Climate Card through Beneficial State Bank earn one point for every dollar spent that can be redeemed for travel, cash back, and other purchases. At Aspiration, customers make 3 to 5 percent in cash back rewards for debit card purchases at its Conscience Coalition merchants — or those "that put 'doing the right thing' at the heart of their businesses," most of which are Certified B corporations.
Of course, the ultimate perk is igniting tangible change through everyday purchases. Aspiration customers have enabled the company to plant close to 76 million trees and its Planet Protection program has offset 36,548 metric tonnes of CO2. Amalgamated has donated more than $1.5 million to progressive causes and nonprofits while Beneficial State Bank has provided $789 million in loans to organizations involved with affordable housing, environmental sustainability, education and youth development, and social justice. And Ando has pledged to match the first 100,000 trees planted through its new Change that Counts program with 100,000 more.
"There is a strong, direct link between the issues of climate change and social justice. Not only are the most impoverished communities typically those who suffer the most at the hands of the polluters, they are also the most vulnerable to the disastrous health and safety risks caused by climate change," says Gottlieb. "By prioritizing environmental action, we are also protecting the interests of those at greatest risk in our society, who are also the least responsible for the mess we're in."
Read more: Why Bitcoin Mining Is So Bad For The Environment
Have feedback on our story? Email [email protected] to let us know what you think!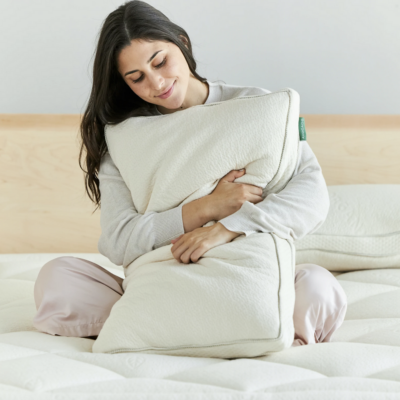 Shop Pillows
The Essential Organic Pillow Collection
Gentle, breathable, non-toxic support.
Buy Now