By refusing to work with fossil fuel clients, creatives and ad agencies can single-handedly dismantle the industry's decades-long disinformation campaigns about their impact on the climate crisis.
Big oil and gas are responsible for three-quarters of global carbon emissions. And a recent study found that more than 8.7 million people die each year as a result of fossil fuel-caused air pollution. For decades, the fossil-fuel industry has used calculated advertising strategies to deceive the public about their impact on the environment and human health.
Every year, fossil fuel companies pour enormous amounts of their budgets into disinformation campaigns touting their commitments to clean energy, responsible practices, and consumer-first initiatives. For example, ExxonMobile currently has targeted Facebook ads in New York promoting petroleum-based natural gas and warning customers that electric energy will increase their utility costs. And a report by Greenpeace found that over an 18-month period, 63 percent of advertisements by Shell, Total, Preem, Eni, Respol, and Fortum highlighted their environmental credentials. At the same time, these companies pump billions into new pipelines and oil refineries. By 2030, BP, Chevron, Shell, and ExxonMobile — all of which claim to have ambitious climate commitments — plan to increase oil production by eight percent, 11 percent, 22 percent, and 52 percent, respectively.
The goal of this dishonest advertising — along with aggressive lobbying — is to win public support by diminishing the climate crisis, and the oil and gas industry's culpability for causing it, so they can continue to profit from burning fossil fuels.
So what if advertising agencies, PR firms, and creatives refused to take on fossil fuel companies as clients altogether? That's the mission of Clean Creatives, a climate campaign and activist group putting pressure on agencies and creatives to decline to work with fossil fuel companies.
Read more: The Green Banks That Help You Divest From Fossil Fuels
"Advertising and public relations agencies are the engines of fossil fuel disinformation," says Duncan Meisel, campaign director at Clean Creatives. "They are the people that come up with the messages, decide the strategies, place the ads, target the ads. They are the core of the strategy of disinformation, so we think they have a really unique role to play in addressing that disinformation as well."
To hold companies like the Washington Post Creative Group accountable, Clean Creatives has published an F-List, or rather, a roll call of 90 agencies and PR firms that work with fossil fuel clients, including their trade associations and front groups. The aim is two-fold: to provide transparency about which companies are propping up the fossil fuel industry's disinformation campaigns and to make it easier for freelance creatives to identify potential clients that have a connection to oil and gas.
"I worked in climate communications for a long time, and every time we would try and do something good — like the Paris Climate Agreement, or pass climate legislation, or stop a pipeline — there were always really well-run, well-funded PR and ad campaigns that would arise to oppose us," says Meisel. "That's the function of these ads, to demobilize and demoralize people who are asking for change, to make them feel like there's nothing that can be done, that the problem is unfixable. And a large function of the ads is to just keep people from engaging in the political process."
To add insult to injury, a handful of the large advertising and PR firms that count fossil fuel companies as clients have aggressive climate pledges of their own. In 2021, advertising holding company WPP announced an extensive and detailed plan to go net-zero by 2030, pledging to fuel the entirety of its operations with renewable energy by 2025. Here's the snag. Advertising firms Ogilvy, WundermanThompson, Hill + Thompson, and Burson Cohn and Wolfe, all of which are owned by WPP, are the agencies of record for BP, Shell, and Exxon, respectively. According to Clean Creatives, these fossil fuel clients account for 423 times the carbon impact of WPP's operations, effectively making their net-zero commitment an empty promise.
Read more: The Truth About Greenwashing
The same goes for New York-based holding company Interpublic, which has pledged to reach net-zero emissions by 2040. Meanwhile, Carmichael Lynch, an agency owned by Interpublic, spearheaded a campaign for oil company Conoco Phillips, which resulted in 40 million gallons of gasoline sold and represents a greater carbon impact than the entire holding company generates, according to Clean Creatives.
"The first target of disinformation is the agency. They have to be persuaded and misled in order to lead the work," says Meisel. "So the most important thing people can do is start the conversation with the leadership of the agencies they work with about why working with fossil fuel companies is not in their best interest. There are legal risks, there are reputational risks, there are recruitment risks — this work is actually more dangerous and more misleading than it's worth to an agency."
But change is happening. So far, 157 agencies have taken Clean Creatives' pledge not to work with fossil fuel companies and 53 elected officials in the U.S. Senate and U.S. House of Representatives have signed the No Fossil Fuel Money Pledge.
In March 2020, the State of New Jersey filed a resolution announcing that 14 municipalities including the State of Massachusetts and Rhode Island were pursuing legal action against "companies that produce, promote, market, and profit from the sale of fossil fuels." Connecticut, Delaware, Minnesota, New York City, Vermont, and Washington, D.C. have also filed legal action aimed at fossil fuel companies' misleading ad campaigns. And at the end of September, the House Oversight Committee launched an investigation into the fossil fuel industry's disinformation efforts about their role in the climate crisis.
Read more: The Most Important Climate Legislation Ever
"We really want to invite anyone as an individual to take our pledge and use that as your jumping-off point to begin the conversation with your professional contacts about working with fossil fuel companies," says Meisel. "It's going to start cutting into their ability to pick contracts, to decide who to work with, and force an extra layer of scrutiny on the bidding and pitching process that agencies are going through. I like to think that the long-term impact of Clean Creatives' campaign is friction, making it that much harder to create these ads without any kind of second thought."
Have feedback on our story? Email us at [email protected] to let us know what you think!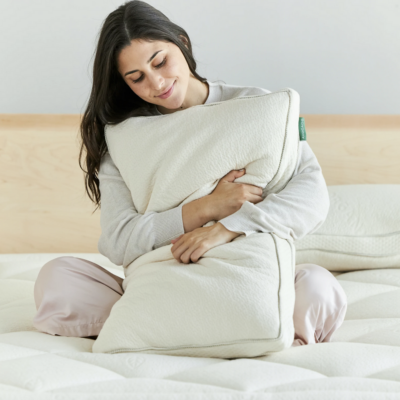 Shop Pillows
The Essential Organic Pillow Collection
Gentle, breathable, non-toxic support.
Buy Now