Green banks are a new type of banking institution that put the environment at the forefront of their operations.
$3.8 trillion. That's how much money 60 of the world's largest banks have invested in fossil fuels since 2016, according to the most recent Fossil Fuel Finance Report by Rainforest Action Network. Yes, trillion with a 'T'. The banks that contribute the most? Well, they're names we all know — JPMorgan Chase, Citibank, Wells Fargo, Bank of America.
Although it's not widely publicized, banks are allowed to use the money you deposit to invest in whatever projects or industries they choose — without any accountability to the customers that use their services. So while communities and individuals lose their homes to wildfires and flooding and grapple with hotter, more intense weather patterns, big-name banks are propping up the very industry that is fueling the climate crisis. If we continue to burn coal, oil, and gas that emit climate-changing carbon dioxide and greenhouse gases into the atmosphere, it's all but certain things get worse.
The good news? The household names that dominate the banking industry have some environmentally focused competition: green banks. Green banks are a new type of banking institution that put environmental and social responsibility at the forefront of operations. And there's one, in particular, that is upending banking as we know it: Aspiration.
"Aspiration helps people spend, save, and invest in ways that are good for the planet," says Aspiration CEO Andrei Cherny. "Moving your money to Aspiration from one of the Big Banks means knowing it'll never be used to fund pipelines, drill for oil, or other planet-destroying projects."
For Aspiration — a certified B Corp that balances purpose and profit through social and environmental accountability — "clean rich is the new filthy rich." In other words, they put the planet and sustainability first and ensure your money is never invested in dirty industries like fossil fuels. Instead, they leverage your everyday transactions — like using your debit or credit card — to combat climate change. For instance, every time you swipe your card, they plant a tree, which in turn offsets your carbon footprint. And those swipes add up. If you use your card 10 times per week, you'll plant 520 trees a year through Aspiration and offset 28,080 driven miles. The bank also automatically offsets the CO2 emissions from every gallon of gas purchased — a free perk when you sign up for Aspiration Plus.
Read more: How Drones Can Help Replant Forests
"In the past year alone, Aspiration individual and business customers have funded the planting of over 15 million trees, planting more trees than there are in New York's Central Park every day," says Cherny. "The cumulative climate impact of the Aspiration community thus far is the equivalent of taking every car in Connecticut off the road for a year."
Meanwhile, the Aspiration Redwood Fund allows you to invest in sustainable businesses that have been vetted by Aspiration to ensure their social, environmental, and governance practices align with the bank's values. As of last year, 22.8 percent of their investments went into information technology, including Cadence Design Systems and Keysight Technologies; 15 percent funded healthcare, including AbbVie Inc. and American Well Corp; and 2.3 percent was invested in clean energy companies like Bloom Energy Corp and SolarEdge Technologies.
If investing isn't for you, you're making a difference simply by having an Aspiration account. Through the company's Dime's Worth a Difference commitment, they give 10 percent of the monthly fees their customers pay to worthy environmental causes. They're also members of 1% for the Planet. As a member, Aspiration donates one percent of their annual sales to environmental causes while allowing customers to track the impact of their daily spending with Aspiration Impact Measurement in the app. It's another way for customers to see first-hand how powerful it is when investments are made in social and environmental causes that matter.
"The four biggest banks in America lend more than $240 billion of their customers' money to fossil fuel projects, every year," says Cherny. "And when you spend or invest your money at companies that do better for the planet, you send a powerful signal to them — and to those that need to do better."
Aspiration isn't the only company making the banking industry a force for good. Here are a few more of our favorite green banking institutions making the banking world more sustainable.
Read more: The Businesses Championing Climate Change Legislation
If you're wondering what Gen E stands for, you might be surprised that it's a fun pun, "Generation Environment." The app is on a mission to help our generation, and those that come after us, using our dollars to help the environment. So how does it work? When you download the app, you can pledge either a percentage of your daily purchases to be donated to nonprofits fighting for climate change — or choose to round up change to the nearest dollar. Then, you can track how your money is contributed over time while learning about the constant actions being made to fight back against climate change. As the app promotes, #WeAreAllGenE.
Although Pocket Change Pools isn't its own app, its goal is sustainability. This initiative pools funds for mutual aid. Through mutual aid efforts and small donations, Pocket Change Pools drives a constant and sustainable reallocation of funds. You can donate whatever amount you can to their pools — which they announce via Instagram a few days a week. The organizations they donate to are all public, and their volunteers expand across the U.S. Initiatives they supported include Covid-19 bailouts in NYC, prison abolition, and prison library support. Overall, their initiative shows that if we want change to happen, it takes a community of like-minded people coming together to make it happen.
Invest your money in green initiatives with Ando, a banking app hoping to reduce carbon emissions while providing a cleaner future for our world. Unlike other traditional banking apps, with Ando, you can see where and what your money is being invested in. This includes renewable energy, sustainable transportation, and clean energy. You can also say goodbye to monthly fees and enjoy an interest rate as low as 5.00% APY when you invite five friends to join and they become active members. That's a benefit for you, your friends, and the environment.
Have feedback on the story or know of another green banking institution we should check out? Let us know what you think by emailing [email protected]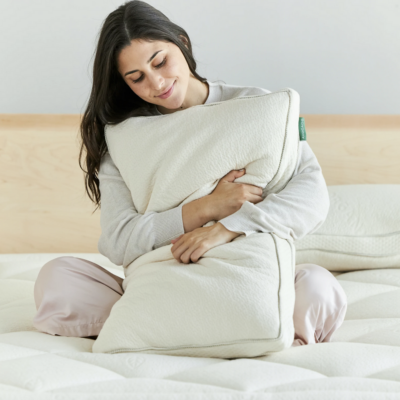 Shop Pillows
The Essential Organic Pillow Collection
Gentle, breathable, non-toxic support.
Buy Now