Whether you're a vegetarian or simply trying to cut back on your meat consumption, these plant-based meats are just as good (and sometimes better!) than the real thing.
About four years ago, three friends and I decided to go plant-based. We all had different motivations — animal cruelty, the environment, to eat healthier — but for a full year after that fateful day, we embarked on a collective meat-free journey.
Some weeks were easier than others (Thanksgiving was a real test of willpower). But the fun was going through it together, swapping recipes, cooking tips, and our new favorite plant-powered snacks. Over the course of our 12-month experiment, we discovered that thanks to innovations in the culinary space, there are tons of delicious meatless 'meats' that come surprisingly close to the real thing.
Whether you're looking to quell a hankering for barbecued pulled pork, can't imagine breakfast without crispy bacon and smoked sausage, or need a substitute for your go-to turkey sandwich, these plant-based meats will trick your taste buds every time. Here are eight fake meats we love.
Read more: Our 7 Favorite Vegetarian Cookbooks 
1.
The Jackfruit Company Jackfruit
This tropical tree fruit is native to Africa, Asia, and South America. It has made a name for itself among vegetarians because it so closely mimics meats like shredded pork or beef in its appearance and texture. And with a little marinade or barbecue sauce, the taste isn't far off, either. Jackfruit is also a reliable source of fiber and potassium, so it's an all-around win. You can buy jackfruit plain by the can at Trader Joe's, but if you don't want to go through the trouble of marinating it, The Jackfruit Company offers pre-marinated packs in flavors like lemon garlic, bbq, curry, tex-mex, and teriyaki.  
Made primarily from wheat gluten and high in protein, seitan is traditionally a Chinese and Japanese meat substitute. It's gone mainstream due to its versatility and ability to transform into whatever meat you're craving. Seitan easily soaks up spices and sauces and can be sliced thin (I love to make philly cheesesteaks with it), chopped into chunks to make buffalo bites, or molded around a wooden skewer and fried to make chicken 'wings'. You can find Upton's Naturals GMO-free seitan at most grocery stores.
Crispy, crunchy, and featuring that smokey, savory taste that makes bacon so appealing, Lightlife Smart Bacon has these plant-based breakfast essentials down to a science. Sliced ultra thin, they sizzle, pop, and lightly char in minutes — and even require a few flips to ensure they cook evenly. The best part? This bacon is heart-healthy because it's made with zero cholesterol. 
Read more: Our Essential Plant-Based Pantry Guide
Thanksgiving is a particularly difficult time for vegetarians since the star of the holiday meal is typically a whole turkey. The solution: Tofurkey Turkey Roast. It may not look like the traditional bird — it's shaped like a small bread loaf — but the seasoned blend of wheat and tofu is filled with wild rice and bread crumb stuffing, so the experience of cooking and carving it up is much the same. It even comes with vegan gravy and a recipe for a baste on the side of the packaging.   
There are plenty of meatless crumbles out there, but the Impossible brand is far superior. With the look, feel, and taste of ground beef, it's been known to fool even the most seasoned meat-eaters. What sets this brand apart is the addition of key ingredient soy hemoglobin, which makes this meat made of plants bleed just like its cow-based counterpart. Use it for tacos, burgers, and sloppy joe's. They also offer burger patties that you can buy in bulk and freeze for later. 
Breakfast sausages, sausage patties, bratwurst, or dinner sausages, Field Roast has you covered. Created with a blend of vegetables, grains, and legumes — and seasoned to perfection — their sausages come in a variety of bold flavors that make for an ultra-delicious vegetable stir-fry. Think spicy Mexican chipotle, caramelized onion, Italian garlic and fennel, and smoked apple and sage. And if you're feeling adventurous, their plant-based pepperoni is a must-try.
Read more: 3 Easy Ways to Make Crispy Tofu
7.
Plant Provisions Deli Slices
Sandwiches are one of life's great culinary gifts, but when you're plant-based, the options are slim. Enter: Plant Provisions deli slices. Their deli meats will upgrade your sandwich game with mouth-watering signature flavors, including smokehouse, tuscan, chipotle chili, and wild truffle. They're also gluten-free, soy-free, non-GMO, and vegan. When's lunch?  
Tofurkey has done it again with a ham-inspired, protein-packed version of a main course usually reserved for special gatherings and get-togethers. This ham roast comes complete with a salty, satisfying taste and the netting that typically comes wrapped around ham. And because they thought of everything, there's even an amber ale glaze to pour over top. 
Read more: Easy Ways to Eat Less Meat
Have feedback on our story? Email [email protected] to let us know what you think!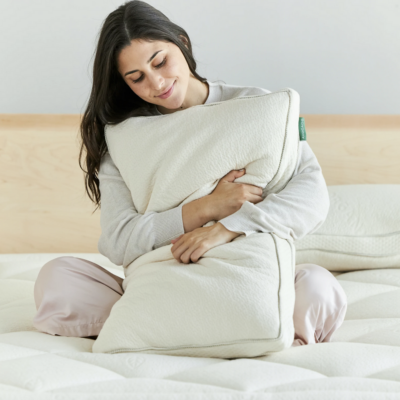 Shop Pillows
The Essential Organic Pillow Collection
Gentle, breathable, non-toxic support.
Buy Now