Eating plant-based doesn't have to be boring. These are our go-to vegetarian cookbooks featuring delicious meatless recipes everyone can enjoy.
Research shows that cutting meat out of your diet a few times a week has myriad health benefits, like a lowered risk of heart disease, diabetes, and excessive weight gain. In fact, a study by the American Heart Association found that going semi-vegetarian can reduce your risk of stroke and heart disease by 20 percent. It's also an easy way to reduce your carbon footprint — animal agriculture is responsible for 10 percent of greenhouse gas emissions in the U.S.
But going plant-based doesn't mean committing to kale salads and cold, raw vegetables. Thanks to the many talented chefs out there, vegetarian cookbooks filled with delicious, healthy, meatless recipes are more plentiful than ever. And the Avocado team is sharing our favorites.
Whether you're taking the plant-based plunge, trying Meatless Mondays, or going flexitarian, these seven vegetarian cookbooks will inspire you to test out new vegetarian dishes that make plants the star of the dinner table.
Impossible Foods has created plant-based "beef" that tastes pretty darn close to the real thing. Even better, the Impossible Burger — made with soy protein concentrate — uses 96 percent less land, 87 percent less water, and produces 89 percent fewer emissions than beef from cows. And now that their ground beef and burger patties are available at grocery stores (for a long time you could only snag Impossible meat at restaurants), you can make recipes like their Thai Laab with Fresh Herbs, Ethiopian Spiced Meat with Hummus and Cashews, Korean Bulgogi with Spicy Scallion Pancakes, and more with this Earth-friendly alternative. In my house, the Asian Lettuce Wraps are always a hit.
This cookbook put renowned chef Yotam Ottolenghi on the map and it's a must-add to your recipe collection. Featuring 120 mouthwatering recipes, it combines French-inspired cuisine, Ottolenghi's Mediterranean background, and inventive ingredient combinations for a fresh take on vegetables. And the chapters include cute titles like "Funny Onions," "Zucchini and Other Squashes," and "Mushrooms," so you know exactly which vegetable you'll be focusing on. Word to the wise: This cookbook is not for beginners.
Read more: Colorful Fall Harvest Sheet Pan Dinner Recipe
3.
Dada Eats Love to Cook It
Dada Eats is the first cookbook from Samah Dada, a New York-based recipe developer, wellness enthusiast, and food photographer — and it does not disappoint. The 100 healthy vegetarian dishes bring together whole foods and unprocessed, anti-inflammatory ingredients to create vibrant plates based on authentic Indian recipes. Highlights include Sweet Potato Aloo Tikki, Creamy Black Lentils, and Chocolate Chip Tahini Cake.
Author and chef Jocelyn Ramirez has created a meatless cookbook for anyone who loves the savory, spicy, comforting flavors of authentic Mexican food. Influenced by the traditional Latin recipes passed down through her family for generations, her 60-recipe cookbook will take your taste buds on a culture-filled food tour featuring healthy vegan dishes like Ceviche de Palmitas (Heart of Palm Ceviche), Mole Verde Con Champiñones (Mushrooms in Green Mole), and Tacos de Yaca Carnitas (Jackfruit Carnitas Tacos).
Read more: Filling and Flavorful Spicy Chickpea Salad Sandwich Recipe
Southern cooking — veganized. Chef and author of Sweet Potato Soul Jenné Claiborne grew up in Atlanta, Georgia, where she cultivated her love of sweet potatoes and classic soul food. Now, she's taken those same beloved flavors and staple, home-cooked recipes and put a plant-based spin on them. Each dish in her cookbook is as delicious as the next, and they're all made with traditional soul food ingredients like turnip greens, okra, and, of course — sweet potatoes. If you're not sure where to start, the Coconut Collard Salad and Fried Cauliflower Chicken are showstoppers!
6.
The Forest Feast Mediterranean
Like the rest of her cookbooks, The Forest Feast Mediterranean combines chef Erin Gleeson's love of watercolors and cooking. The beautifully illustrated cookbook is inspired by a three-month family road trip through Spain, Italy, France, and Portugal and is chock full of captivating photos and vegetarian versions of the dishes she experienced along the way. The easy-to-follow recipes rely on authentic Mediterranean flavors and regional produce and feature appetizers and meals — like the Onion + Fog Tartines — that you'll come back to time and time again.
Read more: 3 Flavor-Packed Recipes You Won't Believe Are Vegan
7.
Ruffage: A Practical Guide to Vegatables
After flipping through this cookbook, you'll know just about any and every way to prep, cook, and store some of the most common vegetables, plus a few varieties you may have never heard of. Organized in alphabetical order — from Charred Head Lettuce to Poached Radishes with White Wine — author Abra Berens shares the knowledge she's gained as a seasoned chef and farmer in 300 thoughtful recipes that will make you rethink how you approach vegetables.
Have a favorite vegetarian cookbook that's not on our list? Tag us @avocadogreenbrands on Instagram or Facebook to let us know!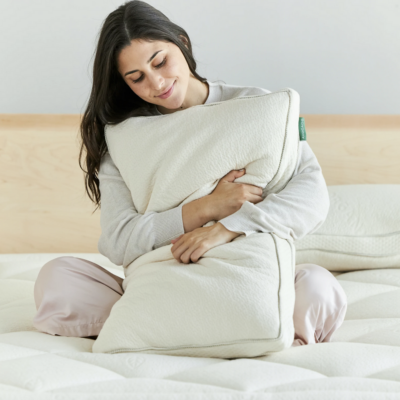 Shop Pillows
The Essential Organic Pillow Collection
Gentle, breathable, non-toxic support.
Buy Now