Content creator Todd Anderson shared his favorite vegan recipes with us — they'll convert even your most die-hard meat-eating friends. 
Recently, we caught up with Todd Anderson — the mastermind behind Instagram account Turnip Vegan — to chat about his meat-free journey, what inspired his passion for content creation (he also co-owns San Diego's Spoiled Vegans Cafe), and the connections between Black history and plant-based eating.
Afterward, he filled us in on his go-to vegan recipes, and they did not disappoint. So, as Anderson would say "check the vibes" — here are all the details.
1.
Vegan Bulgogi-Style Crumbles Made with Walnuts & Cauliflower
This savory blend of spices, protein-packed walnuts, and cauliflower is easy to make and guaranteed to become your new favorite dinner recipe.
Ingredients
½ cup cauliflower, chopped
2 cups walnuts
¼ cup soy sauce or coconut aminos
⅓ cup brown sugar
1 tbsp olive oil
1 tbsp sesame oil
1 tsp red chilli flakes (dried)
1 cup of chopped onions
4 cloves garlic, minced
2 tbsp chopped ginger
½ tsp ground black pepper
1 tsp sesame seeds
Green onions sliced thinly (for garnish)
Jasmine rice
Directions:
Add chopped cauliflower and walnuts to a food processor and blend until the mixture turns to crumbles. (Don't over blend.)
Sauté onions with olive oil until brown.
Add garlic and walnut/cauliflower crumbles. Cook for 4-5 minutes on medium heat.
Add brown sugar, soy sauce, sesame oil, chopped ginger, dried red chili flakes, and ground black pepper. Cook for 4-5 minutes.
Serve with jasmine rice , chopped green onions, and sesame seeds. I used Everything But the Bagel seasoning from Trader Joe's.
2.
Air-Fried Po'boy using Oyster Mushrooms
For all our sandwich-lovers out there, this meat-free po'boy is perfect for lunch, dinner, and anytime the sandwich craving hits.
Mushroom Ingredients
Oyster or Maitake Mushrooms
2 tbsp ground flaxseeds
1 ½ cups water
½ cup flour
⅓ cup tapioca starch
1 tsp creole seasoning
½ tsp cayenne pepper
1 tsp garlic powder
Dry Batter
½ cup cornmeal
2 tsp creole seasoning
1 tsp garlic powder
Buffalo Sauce
¼ cup buffalo sauce
1 cup vegan mayo
½ tsp dill (Optional)
Other ingredients
Pickles
Baguette
Vegan coleslaw
Directions:
Prep mushrooms and set to the side.
Mix ground flaxseeds, flour, tapioca starch, creole seasoning, cayenne pepper, garlic powder, and water to create your wet batter.
Mix corn meal, garlic powder, and creole seasoning to create your dry batter.
Dip mushrooms into wet batter followed by the dry batter. (The wet batter is thick, but it will hold up in the air fryer.)
Air fry for 8 minutes at 370°. Spray with oil on both sides.
Mix Buffalo sauce, dill, and vegan mayo for your sauce. 7.Serve on a baguette bun with vegan coleslaw, pickles, and buffalo sauce.
3.
Protein-Packed, Plant-Based Burrito
Burritos are the best — and this one packs a plant-based punch.
Walnut Ground Ingredients
2 cups walnuts
¼ cup cooked lentils
2 tbsp taco seasoning
¼ chopped onions
2-4 dried tomatoes
2 tbsp olive oil
Other Ingredients
Burrito Shells
Cannellini beans
Brown rice
Guacamole
Buffalo aïoli
Directions:
Combine walnut ground ingredients in a food processor and blend until the mixture turns into crumbs. (Don't over blend.)
Sauté crumbles in a saucepan with olive oil until crisp.
Lay burrito shell flat and layer with generous portions of cannellini, brown rice, walnut crumbles, and guacamole.
Fold burrito-style and top with buffalo aïoli.
Follow Todd Anderson on Instagram for all his latest recipes and plant-based concoctions.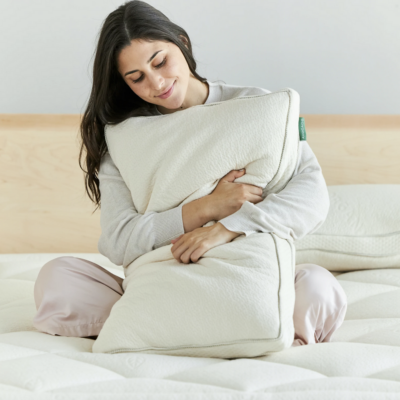 Shop Pillows
The Essential Organic Pillow Collection
Gentle, breathable, non-toxic support.
Buy Now