This nutritious sheet pan dinner recipe combines delicious fall produce and seasonal spices for a savory, filling meal you'll come back to all season long.
Take advantage of colorful fall produce with this fall harvest sheet pan recipe. This savory, nourishing meal combines hearty seasonal veggies and plant protein — plus some of my favorite filling starches — to create the ultimate balanced plate.  
Why You'll Love This Fall Harvest Sheet Pan Dinner Recipe
Roasts all together. To cook this recipe, all you have to do is spread everything on your sheet pan and roast it until it's done. This makes it super easy to put together and a cinch to clean up, too.
Full of classic fall flavors. You'll get a lot of flavor from the garlic and thyme — and this combo, along with the other spices and dry herbs, make for a perfectly yummy bite that tastes just like fall.
A seasonal and nutritious meal. The butternut squash in this recipe is loaded with antioxidant-rich beta-carotene, vitamin C, and vitamin E. And the Brussels sprouts provide many of the same nutrition benefits as other cruciferous vegetables like broccoli, as well as vitamin C, fiber, and antioxidants associated with lower chronic disease risk.
Read more: Welcome Fall With Spaghetti Squash Alfredo
Why You Should Be Using In-Season Produce
This sheet pan dinner recipe is loaded with in-season produce, including butternut squash and Brussels sprouts. Eating with the seasons provides a few different benefits:
The produce is so much more flavorful! Think about a tomato. If you purchase tomatoes at the dead of winter, they often have much less flavor and are more mealy in texture compared to those picked at their ripest in summer. It's the same for fall produce.
It's often packed with more nutrition. Not only is in-season produce tastier, it actually gives a little more nutrition bang for your buck. Produce picked at its peak ripeness tends to have more available nutrients, vitamins, and minerals. This can range from anywhere between 10 to 50 percent compared to commercially prepared produce.
Fall and winter produce is more hardy. Produce this time of year tends to withstand a lot of tough elements, which is great because it won't spoil as quickly.
Read more: A Grounding Golden Turmeric Smoothie Recipe For Fall
Fall Harvest Sheet Pan Dinner Recipe (Serves 3-4)
Ingredients
1 15oz can chickpeas, drained and rinsed well
2 cups butternut squash, cubed
1 cup brussels sprouts, halved
1 tsp garlic powder
1 tsp oregano
1/2 tsp fennel seeds
1/2 tsp ground coriander
1/2 tsp red pepper flakes
6 sprigs fresh thyme, leaves removed from stems
1 tbsp avocado oil
Salt and pepper
Instructions
Set your oven to 425ºF and prepare a lined baking sheet with parchment paper.
Place chickpeas in a clean kitchen towel and pat them nice and dry before adding them to the sheet pan, along with the butternut squash and brussels sprouts.
Top the vegetables with herbs, spices, and oil and give everything a generous toss with your hands until completely coated.
Sprinkle salt and pepper on top to taste, then place in the oven for 15-20 minutes or until vegetables are tender.
Serve vegetables with your favorite grains or starches, and enjoy!
Read more: Try These Simple Baked Apples to Welcome Fall
Did you try out our Fall Harvest Sheet Dinner recipe? Share it with us by tagging @avocadogreenbrands on Instagram or Facebook.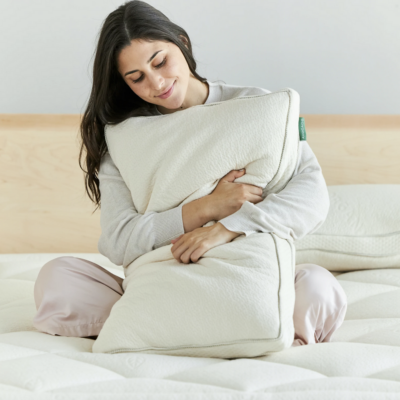 Shop Pillows
The Essential Organic Pillow Collection
Gentle, breathable, non-toxic support.
Buy Now